Part 2 - Lodi
Finishing up the grand tour of the Livermore Valley (actually, we were coming back on our last day for a bit more), we grabbed some lunch at a new place in downtown Livermore, the Firehouse Bistro & Books. Following the quick lunch, we had to hit the road for the one-hour drive over Altamont Pass and north toward the San Joaquin River delta, where we had our next winery appointment just outside the town of Lodi.
Lodi
Lodi and Livermore – they're similar, yet different. In terms of climate, both might be considered too hot to grow quality wine grapes without the benefit they each receive from cooling San Francisco Bay winds in the evenings, but they have very different soils and landscapes. Both areas have long histories with the wine industry, but with Livermore it's mainly the wineries that are historic while in Lodi it's the growers, with many families growing grapes there for generations. And each area has experienced a recent boom in the number of wineries, though in large part for different reasons.
The Lodi area has one of the wider diurnal temperature swings of any California winegrowing region, due to the hot summer days tempered by cool winds from the San Joaquin Delta directly to the west. Areas just a few miles to the north or south of Lodi miss this natural source of cooling. Sure enough, in the short time we were there, we experienced a 30-35 degree shift in temperatures between day and night. The landscape in the Mokelumne River part of Lodi that we visited is typical California Central Valley – flat, flat, flat. At Ripken Vineyards, there's a bench with a shady arbor perched atop a 3-4 foot high mound outside the winery – the most notable hill we saw in the area, the Ripken family refers to it as Mt. Lodi! With this wide-open landscape, many vineyards are very large, considerably bigger than in the hilly coastal or foothill regions. The soil in the area is mostly deep sandy loam, with more red volcanic gravelly soil in the Clements Hills part of Lodi a few miles east.
Mokelumne River, Clements Hills….I should back up here and explain these designations. The Lodi American Viticultural Area (or AVA) was approved by the Federal Government in 1986. More recently, grower/vintner Markus Bokisch began to explore creating sub-AVAs, as a way of distinguishing fruit grown in the different areas of the broader Lodi region. Eventually the influential Lodi-Woodbridge Winegrape Commission got on board with the plan, and seven sub-AVAs were finally approved in 2006: Mokelumne River, Clements Hills, Jahant, Borden Ranch, Cosumnes River, Alta Mesa, and Sloughhouse. A key to the plan's acceptance from the Winegrape Commission and many local vintners is that wineries can use both the "Lodi" name as well as the sub-AVA on their labels – a wise move that helps to keep the growing consumer recognition of Lodi wines from becoming diluted.
The Lodi area has been farmed since the mid-1800s. Early on, grain farming was notable while by the later nineteenth century, Lodi was famed for its watermelons. Both table grapes and wine grapes have been grown there since the 1850s. The Flame Tokay grape (not related to similarly-named varieties from Europe) was once synonymous with Lodi grapes. Used mostly for table grapes but also for jug and fortified wines, the variety fell out of favor and only a few old head-trained Tokay vineyards remain in the area today. Of other grape varieties, Zinfandel has enjoyed the most success in Lodi over the years, and it is old-vine Zin that has had the biggest part in putting Lodi back on the wine map. There are a tremendous number of other varieties grown in the area as well, many of which are not commonly seen in California – in particular, Spanish and Portuguese varieties seem to thrive there.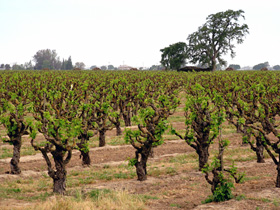 Prohibition was actually a prosperous time for many Lodi growers, as they shipped grapes all over the country for home winemakers. Shipping their fruit has remained a significant business for Lodi growers over the years, and we've seen that Livermore's Thomas Coyne started out making wine from Lodi grapes in New York. And famously, during the Prohibition years many packages of fresh grapes and grape concentrate not specifically intended for home winemakers included detailed instructions on how not to let them "accidentally" ferment into wine – wouldn't want that to happen!
It's fairly well-known that Robert Mondavi turned to Lodi fruit for his Woodbridge line of wines in the late '70s (the town of Woodbridge is just outside of Lodi), but not as well-known that he grew up there, graduating from Lodi Union High School. His father Cesare had established a business that included packing grapes for shipment to the east coast, mainly for home winemakers. Mondavi was widely-admired by local growers for paying good prices for their fruit and for helping to generate greater recognition for Lodi.
Today, Lodi grows an enormous percentage of California winegrapes – data from the 2007 crush shows that 40% of all Zinfandel in the state came from Lodi, as well as 25% of Cabernet Sauvignon, 26% of Merlot, 22% of Chardonnay, 21% of Sauvignon Blanc, and 43% of Petite Sirah. With this huge production, it's no surprise that much of the fruit goes to large outfits such as Gallo and Constellation. But plenty of Lodi fruit is blended into wines from well-known vintners from Napa, Sonoma, and all over the state, and many "California"-labeled wines include some Lodi fruit. With nearly 800 growers and close to 100,000 acres planted (compared with around 5,000 acres in Livermore), vineyard land is plentiful in the area, and there's currently not as much pressure from developers as there is in Livermore.
One way that the Lodi wine region is trying to set itself apart is through the creation and adoption of the "Lodi Rules." These days, with virtually every grape grower saying they are using sustainable farming practices, it's become difficult to know what they actually mean. The Lodi Rules is California's first third-party certified sustainable growing program for winegrapes, and includes a comprehensive set of guidelines that address not just the overall health of the vineyard and its ecosystem but also promotes wider issues of biodiversity, soil, air, and water quality, and employee safety and well-being. The goal is to implement the Lodi Rules throughout the region, and it's being adopted by more and more growers every year. And by permitting wines using at least 85% of Lodi Rules fruit to display a "Lodi Rules" logo on their bottles, the Lodi-Woodbridge Winegrape Commission hopes to turn good farming practices into a marketing opportunity as well.
The Lodi-Woodbridge Winegrape Commission, established by area growers in 1991, has been very effective in raising consumer awareness of Lodi wines. They've been aggressive, and pretty successful, in promoting local wine tourism. The Lodi Wine Visitor Center, which opened in 2000, has become a centerpiece of their efforts. There are now over 70 Lodi wineries, up from only about 10 of them just a decade ago. Creating a critical mass of quality local wineries seems to be a key concern in the area, with hopes that greater recognition of Lodi wine will lead to higher grape prices.
One of the biggest challenges facing Lodi growers has been maintaining grape prices. Following Prohibition and for some years afterwards, wine cooperatives were common in the area, but these had only a mixed record of success. In recent years it's been difficult for many growers to obtain good prices, particularly when selling to the very large wineries – with consolidation in the wine business, there are fewer of these large wineries to compete for the fruit. These buyers also have more options for finding less expensive fruit from other areas, and now have the additional option of buying cheap bulk wine from overseas. For this reason, many Lodi growers have started their own wineries, where they have the potential of earning 2-3 times more by making own wine rather than by just selling their fruit. This has caused an explosion in the number of Lodi wineries in recent years. Even so, it's a rare bottle of Lodi wine that can sell for more than $20-25, and the area may well find itself in the same cycle of low prices limiting capital improvements that could boost quality as Livermore wineries have faced.
Klinker Brick - Current releases:
2005 Old Vine Zinfandel - Lodi. Nice spicy Zin nose with no overt sweetness. Sappy and Zinny flavors, with very nice depth of fruit and smoothness on the palate, with almost a Syrah-like taste. Very nice!. - EA
2005 "Old Ghost" Old Vine Zinfandel - Lodi . Smoky, almost floral scent, with touches of clove and nutmeg. Initially sweet hit in mouthfeel, and a bit less expansive too. But by mid-palate, the wine becomes thick and chewy, with a sinewy boysenberry flavor and very long finish. This one came in a very cool box as well. - EA

We were due to add three more people to our group in Lodi – Bob Summers, April Williams, and Tom Leaf. Despite coming from several different directions, everyone managed to arrive at our first Lodi stop, Klinker Brick Winery, within a short time of one another. Although they are planning to open a tasting room in the future, for now Klinker Brick is open by appointment only, and the only identification was a small sign with the address number across the road from an unassuming house…most of our group passed it by before turning around and finding it. Proceeding along a driveway next to the house, we came to a barn where Steve Felten, owner of Klinker Brick, welcomed us.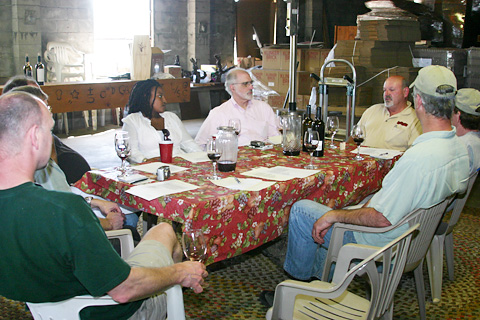 Steve is a 5th-generation Lodi grower, and his family has farmed various wine grapes in the area for many years. In 1996, Steve & Lori Felten started selling Zinfandel fruit to well-known wineries such as Ravenswood, Kenwood, and Rosenblum. In 2000 they began making Zinfandel for their own Klinker Brick label, adding a Syrah to the line-up the following year. Now they use all the Zinfandel they grow, and most of the Syrah. They still grow and sell Chardonnay, Sauvignon Blanc, Cabernet Sauvignon, Merlot, and Malbec as well. Steve farms 15 vineyards, all in Lodi's Mokelumne River sub-AVA, and he notes that yields can be as low as ¼-ton per acre from the old vine Zinfandel. Most of the Zin vineyards that Steve farms are over 90 years old, and all of these older vines are head-trained. Four of the Felten's vineyards are dry-farmed, while the rest have drip irrigation systems.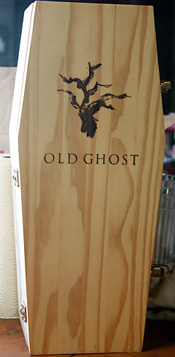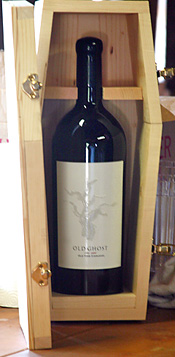 The winery name is a reference to the "klinker brick" construction of the Felten's house along North Alpine Road, a style seen in many old buildings in the Lodi area. Current production is about 30,000 cases per year of two old vine Zinfandel bottlings and one Syrah. The wine is made by Barry Gnekow, who is a consulting winemaker for a number of highly-regarded labels. He works with wineries from Mendocino to Monterey but grew up in the Stockton-Lodi area so he has a natural connection with the area. Klinker Brick uses French oak on Syrah and American oak on Zinfandel – about 60% new for the "Old Vines" bottling, and 100% new for the "Old Ghost." Barrel aging for the Zins ranges from about 12-15 months. The wine is made by Klinker Brick at the Van Ruiten and Lange Twins wine facilities in Lodi.
Steve had a tasting table already set up for us in the barn next to his house, and we all sat down to taste the two '05 Klinker Brick Zinfandels (the '04 Syrah had already sold out). The '05 "Old Vine" Zin was sourced from 11 vineyard blocks, the vines ranging in age from 35 to over 100 years old. The winery's flagship "Old Ghost" Zin is always selected from a single lot, but can be from any of the vineyards. Annual production of the "Old Ghost" is between 1,000-2,000 cases. The '05 vintage is from a 93-year old vineyard, producing a yield of just under one ton per acre. The name is an homage to the oldest Zin vineyards in Lodi – and the wooden gift box for the wine is appropriately in the shape of a coffin! Although we didn't taste the Syrah, we learned that it comes from Farrah Vineyard – named for Steve & Lori's daughter – in Lodi, with a production of only 650 cases for the most recent '04 vintage. They expect around 1,500 cases for the '05.
Steve has a straightforward manner, nothing slick or pretentious about him – not surprising considering his long family history of farming in the area. Those same characteristics were a common thread as we met a number of other long-time Lodi growers-turned-vintners over the next two days. Steve noted that one thing that makes Lodi Zinfandels attractive is that they tend to have relatively soft tannins, making them drinkable right from the start, but that they can age and gain complexity as well. As big as the Klinker Brick Zins are, they display great balance and the current vintage wines are indeed easy to drink – very well-made and some of the best Lodi Zinfandels we tasted.

St. Amant Winery
Our last winery of the day was St. Amant, located in a portion of the enormous old Guild Winery building in Lodi. Parking outside the building, we were glad to head into the tasting room and out of the 90+ degree heat that afternoon. Launched in 1981 by Tim and Barbara Spencer, the origins of the winery are in the vineyard that the Spencers had planted on their 43-acre property in the Jackson Valley area of Amador County. Originally planted with Zinfandel and Sauvignon Blanc, they grafted two acres of Zin vines to five Portuguese varieties in 1979: Touriga, Tinta Cao, Alvarelhão, Bastardo, and Souzão. They made a traditional Vintage Port from these grapes in 1981 and the winery took off from there. Tim Spencer passed away in 2006, and the winery is now run by the Spencers' son Stuart.
St. Amant - Current releases:
2006 Verdelho - Amador Co. Crisp, clean and lemony, with a slight mineral quality. Good acidity and nice finish. - EA
2006 Touriga Nacional - Amador Co. Nice floral, clove and dark fruit aromas. Terrific juicy mouthfeel - very tasty! - EA
2004 "Tres Cachos" - Amador Co. Blend of Portugese grapes and Tempranillo. Slightly coarse and rustic in the nose, but much softer in mouthfeel. Nice juicy center, with a tannic back end. Interesting, in a field-blend sort of way. - EA
2005 Tempranillo - Amador Co. One wiff says this is big. Lots of dark fruit, tapenade, and a touch of meat. Slightly sweet in mouthfeel, and through the long finish - so much so that Paul thought it might not be dry, and he was right - it still had .3RS. - EA
2006 Zinfandel - Mohr Fry Vnyd, Lodi. Interesting, almost Syrah-like nose of earth and herb, with cake spice background notes. A bit sweet and smoky on palate, and through long finish. Had a dose of LH Barbera added. - EA
2006 Zinfandel - Marian's Fry Vnyd, Lodi. Smooth and slightly sweet nose and mouthfeel. Rich flavors, not a big wine, but nice long finish. - EA
2006 Barbera - Lodi. Almost Northern Rhone smoked herb and bark scent. Nice acids and very big fruit. Maybe not your Uncle Guido's Barbera, but nice stuff! - EA
2006 Barbera "Late Harvest" - Lodi. Sweet nose and even sweeter mouthfeel. With 2.8% RS and 17% alc, this is a sipping wine. - EA
2005 "Bootleg" Port - Lodi. Very nice, if a bit coarse initially. Excellent balance and very nice flavors. 8% RS, 18% alc. - EA
2003 "Bastardo" Tawny Port - Lodi. Well, this was just a liquid pecan pie. Tons of caramel and nutty flavors. About 5-6% RS, and extremely tasty. - EA


Barbara Spencer attended to some tasks while Stuart gathered us all around the small tasting bar. An affable character, Stuart told us more about the winery's background as he poured us the its latest releases. The winery was named for Barbara's maiden name of St. Amant. The Spencers moved their winery from Amador County to Lodi in 1996, though much of their fruit is still sourced from their own Amador vineyard. They do buy Zinfandel and Barbera from Lodi, notably old vine Zin from Mohr-Fry Ranch.
Like most Lodi wineries, reds make up most of the production. The Spencers grew Roussanne at one time……although it actually turned out to be Viognier. As was the case with many other California growers, they had been sold mis-identified Viognier vines from a nursery. Eventually the Spencers pulled out these vines as they were virused. Reds are typically fermented in stainless steel at about 75 degrees for 7-8 days, in both open and closed-top tanks. Once in barrel (both French and American oak are used), Stuart does lees-stirring on the reds. Ports have been a specialty since the winery's beginnings. All Ports are made in neutral oak, and some of it is sold to other wineries for their Port programs. Of their total production of around 5,000 cases, old vine Zin is largest production at about 2,000 cases. St. Amant sells about 40% of its wine direct.
Stuart also works for the Lodi-Woodbridge Winegrape Commission. He noted that about 6-7,000 acres are currently grown under the Lodi Rules program, with about 17 growers now conforming to the Rules. He said that the number will increase to about 25 growers this year. Stuart showed us a copy of the Lodi Winegrowers Handbook, a highly detailed reference published by the Commission that would be of tremendous help to anyone growing wine grapes (or thinking about growing them) in the Lodi area, or anywhere in California for that matter.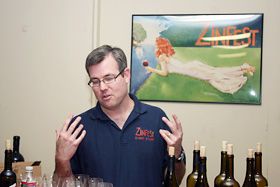 As we tasted through the wines, we noticed the attractive new label design, with each wine having a distinctive label photo (gnarly old vine for the Zin, antique corkscrew for the Barbera, etc.). We finished our tasting with a barrel sample of a stunning Tawny Port - this wine goes into barrel and is never topped and never racked……and it's stored in a non-temperature controlled part of the winery. Sounds like a recipe for disaster, but the resulting wine was outstanding, one of the highlight wines of the weekend.
Overall, St. Amant had an delicious line-up of wines, with a style that was a bit more restrained and understated than most of the other Lodi wineries at which we tasted. Even though a good deal of their fruit is sourced from outside the area, I thought this was one of the most memorable of our Lodi winery visits.
After leaving St. Amant, we relaxed for awhile at the motel where we all stayed in Lodi before heading to dinner. Bob had scouted out restaurants the weekend before our visit, and had recommended School Street Bistro, on a charming street in downtown Lodi. We walked past well-kept older buildings with small shops and cafés, along brick sidewalks with benches and beautiful street-lamps. We spotted the stately Lodi Arch, built in 1907 at the entrance to the downtown area to mark the city's incorporation. Bob made a good call on the restaurant – the food and service were both excellent. The only disappointment of the evening was that two of the bottles of wine we'd brought were badly corked. As we walked back from the restaurant to our cars around 10pm on that Saturday evening, we noted how few people were still out and about…...the restaurant may have been worthy of a sophisticated city, but Lodi still has that small town character.
Bob has a knack for finding good places to eat, and sure enough, he located a fine coffee place on Sunday morning, Java Stop. From there, we drove out west of town where we came to the Phillips Farms fruit stand and bakery/café, which also serves as the tasting room for Michael~David Winery. Like many Lodi grapegrowers, the Phillips family has been farming in the area for generations. They opened their fruit stand alongside Highway-12 in 1975, and it's become something of a local landmark. When the family started to make small amounts of wine from their vineyards in the mid-'80s, they chose the logical brand name of Phillips Vineyard, but had to change that because of R.H. Phillips Winery. The winery was renamed after bothers Michael and David Phillips, who are 5th-generation growers in the Phillips Farms business. Michael's son Kevin and daughter Melissa are now part of the business as well.
Michael~David - Current releases:
2006 Viognier - Lodi. Nice. Lighter nose and fuller mouthfeel, with good flavors and finish. - EA
2005 "Incognito Rose" - Lodi. Nice and clean, hint of sweetness, but refreshingly so. - EA
2006 "Heavenly Chardonnay" - Lodi. Stainless steel fermented and aged, clean and crisp, nice quaffer. - EA
NV "Don's Lodi Red" - Lodi. Very fruity with a nose of fleshy dark cherry, smoky taste on the palate, good flavors and slight grip on the medium-long finish. - EA
2005 "Incognito Rouge" - Lodi. Nice fleshy fruit, good mouthfeel, lots of fruit on sweet-sour finish. - EA
2006 "7 Deadly Zins" - Lodi. Lots of spicy boysenberry fruit, good balance and attentive long finish. - EA
2004 "6th Sense" Syrah - Lodi. Very good Syrah-like nose, a bit soft in mouthfeel, but the balance is good and the finish is quite lengthy. - EA
2005 "Petite Petit" - Lodi. Nose of dense licorice, tar and blueberry compote. Silky on the palate and seems almost underfilled by most standards. But, this is a just restrained version of Petite Sirah. - EA
2005 "Earthquake Zin" - Lodi. Seems Zin-like, but also seems to be carrying some Petite and Syrah traits as well. Slightly sweet mouthfeel, dense and monolithic, this seems to have been whacked with more PS than needed. - EA
2004 "Earthquake Cab" - Lodi. The nose predominates of everything but Cab. Decent taste and mouthfeel, and well made, but it seems that the Cabernet Sauvignon got blended out. - EA
2005 "Earthquake Syrah" - Lodi. Again, lots of indistinct fruit here, decent wine in nose and mouth, but with no apparent attempt to maintain the varietal integrity. - EA
2005 "Earthquake Petite Sirah " - Lodi. Hmmm. Smells like Syrah, tastes like a quaffer Syrah. So, where's the Petite - oh yeah, it's in everything else!
2003 "Rapture" - Lodi. Well, here's the quintessential $59 Cabernet effort. Once again, not particularly Cab-like, but this at least is cassis-oriented. It's well made, but so are several $30 Cabs from Napa. - EA
2005 "Lust Zin" - Lodi. Slightly sweet nose, and good typicity - it smells and tastes like Zin! Good balance, and long if soft finish. - EA

The winery started fairly small but over the past ten years it's boomed to a 250,000 case annual production. The main reason for the rapid expansion – the introduction in 2000 of their "7 Deadly Zins." Originally a clever name for 800 cases of a Zinfandel blended from seven vineyards, this has become a marketing phenomenon and now accounts for about 55% of the winery's total production. Michael~David now produce seven separate brands (though none of them are called "Michael~David") with 27 different wines, and are sold in all 50 states and eight foreign markets.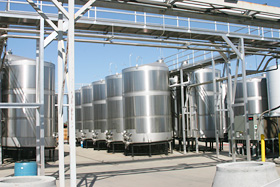 We walked into the fruit stand building and headed over to the small tasting bar where we met Mike Stroh, marketing manager for Michael~David. Mike took us on a brief tour of the winery's facilities. A good-sized building behind the fruit stand was built for case storage, but the winery quickly outgrew it and now it is used for blending trials. Work is proceeding on more tank storage at the facility, and it will ultimately have a capacity of about 1 million gallons. Barrel aging is done nearby – currently about 3,300 barrels – while case storage and bottling are done elsewhere. Behind the fruit stand, there's also a small pond with ducks and geese, a petting animal area for kids, a pumpkin patch, and a shaded area with tables and chairs for various events – it's still a place for local people to socialize while picking up fresh produce and freshly-baked pies. As we walked around the facility, Mike spotted Michael and David's father Don Phillips, and introduced us to him. Spry and amiable, we wouldn't have suspected he was going to be celebrating his 84th birthday shortly after our visit.
Mike told us that the family owns about 86 acres surrounding the fruit stand / tasting room. Phillips Farms grows mostly fruits and vegetables in this area, as well as flowers such as lavender and gladiolas. They also raised cattle up until the mid-'90s. They farm a total of about 500 acres and purchase another 500 acres worth of fruit from 65 growers, mostly on the west side of Lodi. Their vineyards include some of the earliest Syrah plantings in California, planted in the early 1980s. Even with the large acreage involved, about 95% of the fruit for Michael~David's wines are hand-picked. They are moving toward having all their growers comply with the Lodi Rules program – Mike said they will pay more and offer more long-term contracts to growers who comply with the Lodi Rules. Michael~David's senior winemaker is Franck Lambert, originally from the Rhône Valley. Also on the winemaking team is Adam Mettler, a 6th-generation Lodi grower. Early on, the winery made more single-vineyard and single-varietal wines, but now do more blends to better suit their many fruit sources.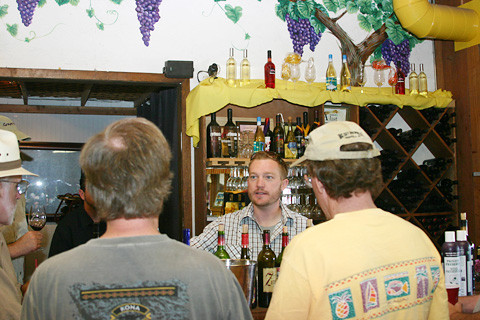 Back at the tasting bar, Mike poured us many of Michael~David's wines, most of which have witty names which they have marketed very successfully. In addition to "7 Deadly Zins", they make a separate Zinfandel bottling each year with a similar theme – "Lust", "Gluttony," "Greed," and so on. There's the white equivalent of "7 Deadly Zins" – "7 Heavenly Chards" (aged for 7 months in 7 different cooperages of French oak). Then there's the Viognier formerly known as Roussanne – mis-identified vines much like at St. Amant and many other wineries – that they turned that to their advantage by creating the Incognito line of wines. And the vineyard source of the first Zin for the family's Earthquake line gave that brand its name – it was planted just about the time of the 1906 San Francisco earthquake. The Earthquake line is essentially Michael~David's reserve wines, bigger and with more new oak (mostly French oak except for the Zinfandel). The family's everyday red wine bottling, "Don's Lodi Red" is a blend of a number of grape varieties, both red and white. To honor Don Phillips' upcoming 84th birthday, the café was selling glasses of "Don's Lodi Red" for 84 cents – quite a bargain!
Like most Lodi wines we tasted along the way, Michael~David's reds tended to be big, with a little bit of residual sugar in many of them. While mostly made for the broader market, there's no denying that the wines are well-made, well-priced, and extremely popular. And of no small importance, Michael~David has shown that an imaginative marketing program may be the big difference in separating a winery from the competition.


Hux
Leaving Michael~David, we said goodbye to Eric Anderson, who needed to get started on his long drive back to Southern California. The rest of us drove back east for a few miles until we reached our next destination, at the house of Tom Leaf's friend Dave Huecksteadt. Dave and Tom met when both of them worked in the oil industry in Texas. After moving to California, Dave started making home wine with second-crop Zinfandel from vineyards near his house. After Tom also moved to California, Dave got Tom hooked on home winemaking too. Dave is also an accomplished ceramics artist, and he's got a good-sized kiln just behind the house. His wife Barb works for the San Joaquin County Agricultural Department.
Hux - Current and upcoming bottlings:
'06 Roussanne: great aromatics of ripe pear, honey, with nutty overtones, a rich mouthfeel and long smooth finish.

'07 Roussanne (from tank): a bit more tart than the '06 but similar aroma, flavor, and texture, with a very long finish.

'06 Mourvédre: medium color, ripe black cherry and plum aromas, big spice component, some oaky undertones, very smooth mouthfeel and not very tannic.

'07 Petit Verdot (from barrel): medium-dark color, very intense ripe boysenberry / blackberry in the nose, slightly sweet fruit flavors with herbal and spice elements weaving through, surprisingly mild tannins on the long finish.

'06 Petit Verdot: medium-dark color, currants and herbs with black pepper notes, along with earth and a touch of oak in the flavors, more structured and tannic than the '07.

'07 Zinfandel (from barrel): medium color, bright boysenberry and wild berry aromas, medium tannins.

'06 Tempranillo: medium color, somewhat shy earthy cherry aromas at first that open up and gain intensity after a few minutes in the glass, smooth mouthfeel with moderate tannins, long finish.

'06 Teraldego: complex earthy and herbal aromas with sweet dark fruits, full-bodied with a tannic grip.

'05 Petite Sirah: muted aromatics, sweet blackberry / blueberry with spice and vanilla/oak overtones, big chewy tannins.

'07 Marzemino (from barrel): medium color, slightly floral nose, tangy red fruit aromas with earthy overtones, dense and mouth-filling with a firm tannic structure.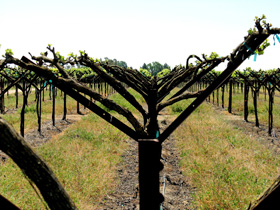 We walked back to a small building behind the house where Dave stores some of his wine. He's a fairly big guy, a somewhat imposing presence in the small space, and he seemed a little reticent talking with our group at first. But he gradually opened up and became more animated, and by the end of our visit he was much more talkative and friendly. He and Barb were both very gracious and generous hosts.
Dave & Barb live on a 5-acre property, formerly an old walnut orchard, with about 3½ acres currently planted with grapevines. Dave has been a home winemaker for about 20 years, with much of his fruit purchased from various Northern California vineyards, but increasingly he's made wine from his own fruit as his vineyard has matured. As his hobby has become more serious, he's made some wine recently at a local custom crush facility that may be bottled commercially. In fact, Dave is in the process of setting up a commercial winery, to be called "Hux."

We walked outside where Dave gave us a tour of his vineyard, as the warm morning was turning into another scorching hot spring day. It was here that it seemed he really began to feel more comfortable with our large group, and he clearly took a lot of pride in his vines. A most distinctive feature of the vineyard is the unusually tall quadrilateral trellising system. We were curious as to why Dave installed the trellising so high and he had an entirely practical reason – besides improving the quality of his fruit, the height makes it easy for him to walk under the trellis wires! No question that it was easy to go from row to row anywhere in the vineyard.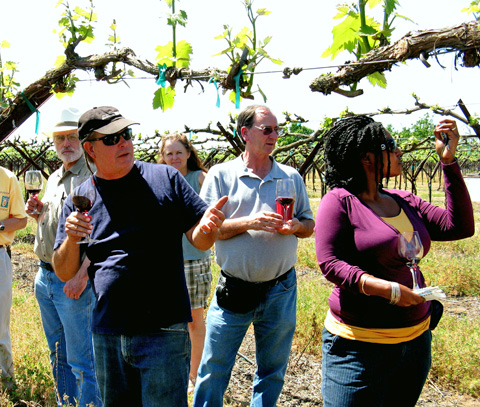 He first planted the vineyard around 2000 and it's grown gradually since then. Dave's vineyard currently has Roussanne, Grenache Blanc, Zinfandel, Petite Sirah, Mourvèdre, Petit Verdot, Tempranillo, Graciano, Souzão, Teraldago, and Marzemino, and he's planning to add Aglianico soon. He uses most of the fruit himself, though he sells a little – some Petit Verdot and Mourvèdre go to Periscope Cellars in Emeryville for example. There's no official name yet for the vineyard yet, though Dave may name it "Ernst" after his father. Dave has about 2,000 vines altogether – the largest planting is Petit Verdot with around 900 vines, then Petite Sirah with around 600. The vineyard is all on a drip irrigation system, and most vines are on 5BB rootstock for nematode resistance, an issue with the sandy loam soil at the property (and throughout much of the area).

We were glad to head back inside out of the heat to taste some of Dave's wines. He loves unusual varieties from many regions – Teraldago and Marzemino, which both originated in the Trentino region of Italy, may be the most obscure of them. Tom had been enthusiastic about having us taste Dave's wines, but the rest of us knew nothing about Dave or his wines. A home winemaker…..hmmm…..well, I don't think any of us had great expectations as we started the tasting, but it turned out to be one of the highlights of our entire trip! Not only were the wines well-made, but they were distinctive and complex, and without the overt sweetness that we found in so many Lodi wines. The Roussanne and Petit Verdot in particular were outstanding. And I can say that Dave makes the best Marzemino I've ever tasted…….well, OK, it's the only Marzemino I've ever tasted, but it was still awfully good.

It was time for lunch by the time we left Dave & Barb's place, and we thought we'd head back to the Phillips Farms Café since it was not far from our first afternoon appointment. A few of us stopped briefly at the corner of the road near the Huecksteadts' house to take a look at some gnarly old Tokay vines. Once the mainstay of Lodi grapes, there are fewer and fewer of the old Tokay vines left as they're pulled out and the land replanted with other varieties. There's no telling when the last of the Tokay may disappear from Lodi so we felt glad to be able to see these survivors from the old days. Lunch at Phillips Farms hit the spot. We all ended up ordering tasty salads and iced tea – perfect for the hot weather.

Ripken Vineyards & Winery
We drove the short distance to Ripken Vineyards & Winery, where we met winemaker Madelyn Ripken. Madelyn's grandfather began the family's farming business in 1950. Her parents, Richard & Nancy, met at UC Davis and began planting grapevines on the family's land, with the first planting in 1967. The family currently farms about 600 acres of vineyards on the west side of Lodi, growing over 20 grape varieties. Like many Lodi-area growers, the Ripkens began making their own wines in recent years. They produced their first vintage in 2003, and opened a small tasting room in 2006. They sell about 99% of their fruit, both to wineries (about 40 of them, including such well-known names as JC Cellars and Rosenblum) and to home winemakers. They keep only about 20 tons of fruit for themselves, and make about 1,000-1,500 cases of wine per year.
Ripken - Current releases:
'03 "Under the Sea" Viognier: light gold color, ripe peach / nectarine, sweet fruit, smooth and fairly simple.
'05 Sangiovese Rosato: dry style, with moderate strawberry and bing cherry aromas plus hints of earth.
'03 Bordeaux Style Red: 40% Petit Verdot, 40% Malbec, 20% Carmine. Smoky plum fruit with tobacco and earth overtones, moderate tannins.
'04 "El Matador" Graciano: intense raspberry and boysenberry, nice acidity, moderate tannins.

'03 "Under the Sea" Malbec: dark cherry fruit with earth and vanilla/oak notes, fairly tannic.
'04 Carmine: dark color, plum and black cherry, spicy, herbal, big mouthfilling texture and quite tannic.
'03 "Rhonalicious Red" Petite Sirah: dark color, jammy blueberry fruit, spice, smoke and vanilla, grippy tannins.
'05 Late Harvest Viognier: 18.6% residual sugar, ripe peach / apricot, very rich and viscous.
'04 Vintage Port: fairly intense ripe blackberry and chocolate in the nose, some alcoholic heat but a smooth sweet finish.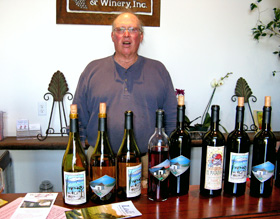 This is very much a family business. During our visit, Madelyn's father Richard was in the tasting room pouring wines for us, while her mother Nancy was busy taking care of some paperwork in the winery. A number of other Ripken family members are involved in various aspects of the business. In addition to growing grapes and making wine, they also have a vine nursery business supplying many different grape clones and rootstocks.
Madelyn led us outside to look at an older vineyard block adjacent to the winery. Planted to Cabernet Sauvignon in 1980, it was grafted over to Pinot Gris three years ago. This block has flood irrigation (using a nearby irrigation canal) but most of Ripken's other vineyards are on more efficient drip irrigation. Madelyn told us that the Ripkens manage all of their vineyards under the Lodi Rules program. She pointed out several owl and bat boxes located at the perimeter of vineyard blocks.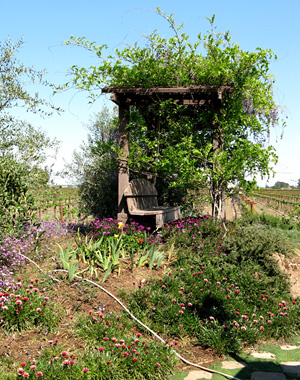 We headed back inside and took a quick look through the small winery. With such a small annual wine production, it was no surprise to learn that the winemaking techniques are very hands-on. White wines are barrel-fermented, while reds are fermented in half-ton macrobins, with hand punchdowns. Almost all wines go into French oak, an average of 2-3 years old, and many wines are bottle-aged for about 2 years prior to release. The Ripken family bottles all wines themselves at their facility. The winery's motto is "No Boring Wines!" – the current wine list shows 17 different wines, reflecting Richard's long-time love of grape varieties not widely seen in California. Wines are produced in tiny quantities, most of them in bottlings of 100 cases or less.
We stepped into the small tasting room, where Richard poured us many of the winery's current releases. While Madelyn had been straightforward and even a touch reserved in showing our group around, Richard was much more outgoing and gregarious, clearly enjoying himself. Besides the wines tasted, Ripken also makes Barbera, Tannat, Tempranillo, Montepulciano, and Maxine Rouge (a new variety that is a cross of Barbera, Grenache, Cabernet, and Zinfandel among others). Another unusual variety grown at Ripken is Carmine, a cross between Cabernet Sauvignon, Carignane, and Merlot. They use it mostly for blending but do a varietal bottling as well. All their wines are estate fruit from the Lodi AVA – all bottlings are labeled "100% Lodi." An unusual fact is that some of the family's vineyards (located on Terminous Island in the San Joaquin Delta just west of Lodi) are located 19 feet below sea level, leading to the name for Ripken's Under the Sea line of wines.
Although the focus of the Ripken family business is still very much grape-growing, it's clear that Madelyn, Richard, and the rest of the family are having a great time making their own wines as well. Although it may take a few more years for them to settle into a more consistent style of wines, they're well on the path that so many other Lodi growers have taken.

Jessie's Grove Winery
Eric Lundblad and Paul had to head home before our last winery visit of the day at Jessie's Grove, leaving just Bob, April, Al, and me. We'd known beforehand that the winery would be holding a wine club event the afternoon of our visit and that we were not likely to get the same personal attention we'd received at our other stops. But fortunately, most visitors were outside behind the tasting room enjoying the music, food, and other proceedings, so the tasting room itself was not crowded at all. Marcie at the tasting bar was very helpful as she poured us the current line-up of wines and told us a little about the winery's background.
Jessie's Grove - Current releases:
'06 "Jessence Blanc", Lodi: 49% Viognier, 42% Roussanne, 9% Marsanne, sourced from Ripken Vineyard. Light gold color, ripe stone fruit aroma with floral hints, touch of spice, crisp acidity, smooth finish, very nice.
'06 Chardonnay, Lodi: vanilla and butterscotch overshadow the apply fruit, big creamy mouthfeel, fairly soft finish.
'05 Carignane, Ancient Vine, Lodi: from 117-year old vines, medium color, dark fruits, smoky, good acidity, mild tannins.
'06 "Earth, Zin & Fire" Zinfandel, Lodi: medium-dark color, jammy boysenberry / blackberry aromas with lots of spice character, a touch hot on the finish but fairly mild tannins.
'05 "Vintner's Choice" Zinfandel, Lodi: medium-light color, chocolate and dark berry fruit in the nose, smoother finish than the Earth, Zin & Fire.
'05 "Westwind" Zinfandel, Lodi: from vines ranging from 63 to 119 years in age, this has more intense ripe, sweet wild berry and darker fruit, spice, and vanilla/oak on the finish.
'05 "Royal-Tee" Zinfandel, Lodi: from 119-year old vines, big blackberry fruit with undertones of earth, tobacco, and spice, nicely balanced.
'05 Petite Sirah, Lodi: dark color, muted nose, blackberry and black pepper, tannic finish.
'03 Costamagna Barrel-aged Port: made at the Jessie's Grove facility for the Costamagna label, this is a Cabernet Port, fortified with grappa. Blackberry and chocolate aromas, with sweet caramel flavors and a slightly tangy finish. We tasted the Port along with "Earth, Zin & Fire" chocolate sauce – yummy!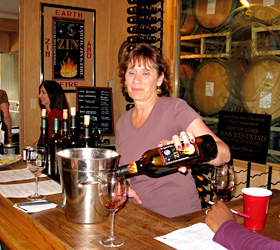 The winery's roots go back to the 1860s, when Joseph and Anna Spenker settled in the Lodi area to farm wheat. Joseph planted his first grapevines in 1888, adding more as the years went on. His daughter Jessie set aside a 32-acre oak grove on the property, for which the winery is named. It turned out that we'd just missed septuagenarian Wanda Woock– Jessie's granddaughter – at the winery. Woock's grandson Greg Burns now runs the winery. Some buildings from the 1870s still stand on the family ranch (including the building that houses the rustic tasting room), and the family's Joseph Spenker museum, located in the oak grove, displays artifacts and photos from the ranch's history. Of particular interest to us was that Jessie's Grove grows some of Lodi's oldest Zinfandel vines on their 320-acre property.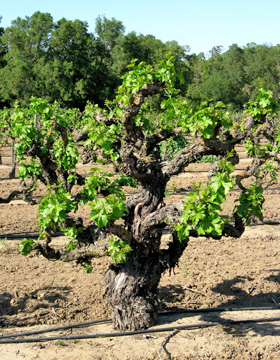 Wine conultant Barry Gnekow – who's been involved with a number of Lodi wineries including Klinker Brick and Michael~David – helped Greg Burns in getting the wine production started at Jessie's Grove. Another long-time family grower that has only recently started making their own wines, their first wine was released just ten years ago.
Tasting through the winery's current releases, we learned that all the wines are made from estate fruit, with the exception of the "Jessence Blanc" – the fruit for that wine is purchased from Ripken Vineyard. The winery's specialty is Zinfandel, and their best-known and largest-production wine (about 25,000 cases) is the "Earth, Zin & Fire" bottling. Marcie told us that the names of the "Westwind" and "Royal Tee" Zins are taken from the names of a couple of family horses. The Zinfandel style is not unlike several of the other Lodi producers we visited – big, ripe but not over the top, and with just a touch of sweetness. Before we left, we asked about seeing some of the old Zinfandel vines, and we were directed to one vineyard block near the winery, where we checked out the sturdy, twisted century-old vines.
I thought that after the long days of winetasting over the hot weekend, some cold beer might be just the ticket, and Bob suggested we travel about 15 minutes south of Lodi to BJ's Restaurant & Brewhouse in Stockton. Some deep-dish pizza and BJ's own excellent microbrew beer was a welcome conclusion to the day's travels. Bob and April both drove home after dinner, while Al and I returned to Lodi before heading out for one more day of wine touring.
Visiting Bokisch Vineyards was the main reason I wanted to extend our weekend visit to Monday, though it was unfortunate that most of our group had to miss this (going back to work on Monday.…..what's up with that?). I'd tasted Bokisch wines several times at the Family Winemakers of California tasting in San Francisco and really enjoyed them – plus I thought the wines, all from Spanish grape varieties, were among the most distinctive I'd tasted from Lodi. Markus & Liz Bokisch were not able to meet with our group over the weekend but Liz said she could see us on Monday, so we arranged a visit for that morning.
Bokisch - Current releases:
'07 Albariño, Mokelumne River - Lodi: medium-light yellow color, intense aromatics of apricot and tropical fruits, very smooth mouthfeel, good balancing acidity and a touch of minerality on the lingering finish - very nice!
'07 Albariño, Clements Hills - Lodi: slightly lighter color than Mokelumne River bottling, apple and pear with floral hints in the nose, more richness on the palate, long smooth finish.
'06 Garnacha, Clements Hills - Lodi: blended with 3% Tempranillo, vibrant medium-light red color, very intense ripe and almost-jammy strawberry aromas with just a touch of spice, medium-bodied with moderate tannins and long finish.
'05 Graciano, Mokelumne River - Lodi: blended with 5% Tempranillo, medium-dark, earthy blueberry/blackberry with cloves and other spice notes, nice acidity, a big wine but with surprisingly mild tannins.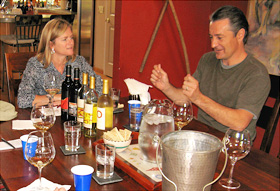 The weather had cooled considerably Monday morning as Al and I drove up to the Bokischs' home on the eastern side of Lodi. I was pleasantly surprised when Markus appeared at the door to welcome us in – Liz had told me that he would be out of town when we were there. It turned out that Markus had indeed been scheduled to be out of town – in Hungary with a crew of vine grafters, as there's not much experience with grafting there – but his trip had been delayed.
Markus and Liz live with their two sons in a beautifully-remodeled house adjacent to their small vineyard. Inside, they told us about their background in the wine business. Markus' father came from Germany, his mother was originally from Spain, and he stayed with his grandmother in the Catalonia region every summer when he was growing up. There he was introduced to Spanish wine. Liz's introduction to wine was through her father, who made wine at home. Later, Markus studied plant pathology at UC Davis, where he and Liz met in the late 1980s. He worked at Joseph Phelps in their "Le Mistral" program, learning about Rhône grape varieties and clones, rootstocks, and soils. It was during this time that he visited the Lodi area looking at fruit sources and saw the area's potential for growing high-quality winegrapes. In the early '90s, Liz took time off from her job teaching school in Napa and she & Markus moved to Spain for 1½ years, learning more about local grape varieties while Markus worked in the Spanish wine business.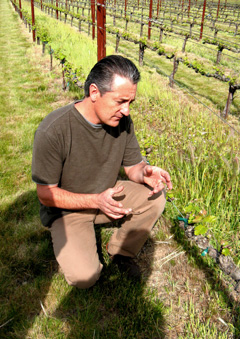 After they returned to California, they looked for land to plant their own vineyard, found and bought their property in Lodi, and moved there from Yountville in 1998. The Lodi area, near the San Joaquin River delta, reminded Markus of Spain, in particular the Delta del Ebro in southern Catalonia where he'd spent his summers. They also purchased another property in the Clements Hills area in the eastern part of the Lodi AVA – that area reminded Liz of the Sierra Foothills where she grew up. Markus and Liz planted the vineyard behind their house in '99.
Markus pointed out that Lodi high and low temperatures are almost identical to those at St. Helena in Napa Valley. Then why is Lodi considered by most people to be so much hotter? The major difference is that the cooling breezes come later in the day in the Lodi area, typically 1 to 1½ hours later, so there is more heat accumulation each day. This results in fruit that has lower acids than fruit of similar brix levels from Napa.
The Bokischs have about six acres of their own vineyards, with three acres behind their house in the Mokelumne River sub-AVA and three in the Clements Hills sub-AVA a few miles to the east. They grow Albariño, Graciano, and Tempranillo behind their house – they cleverly planted the Albariño between the two red varieties to avoid confusion! Their vineyard is planted with 5'x5' spacing, and with unusually low cordon wires compared to most in Lodi. Based on a Bordeaux model, this puts the fruit zone closer to ground for reflected heat, the idea being to try ripening their Graciano and Tempranillo earlier. Vine vigor is controlled partly by the density of vine spacing and by cover crops planted in every other row. We noticed the lack of drip irrigation lines and Markus told us that the lines are installed underground, something I hadn't seen before……..although being underground I guess technically I didn't see it this time either! A number of solar panels installed in the vineyard supply almost all the electricity for their property.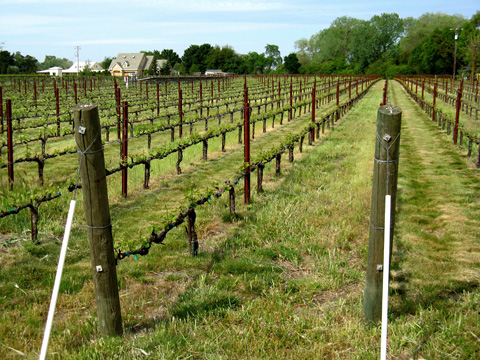 The cuttings for all the Bokischs' vines came from Spain. Markus told us that their Garnacha is different from most Grenache planted in California, most of which is from the Tablas clone. Theirs is from a Priorat clone, which Markus noted has a smaller fruit cluster. In addition to their own vineyard and winery, Markus farms 1,500 acres in 13 separate vineyards for the Bokisch Ranches business. Many of these vineyards are mutually-owned and farmed (an investor in one of their vineyards is from Hungary, explaining Markus' upcoming visit there). They also sell budwood from their vines.
The Bokischs' own vineyards are organically-farmed and are part of the Lodi Rules program, while other acreage that Markus farms uses an Integrated Pest Management (IPM) program. They are aiming toward farming all these vineyards under the Lodi Rules, with about 600 acres becoming part of that program this year. Markus stressed to us that the Lodi Rules represents a more holistic system that goes beyond organic viticulture, including provisions for utilizing alternative energy and fuel sources, specific air, water, and soil quality control measures, and for improved human resources / labor relations.
Markus pointed out that, like their own vineyards, most vineyards in Lodi have vine rows running east-west – something I'd noticed in the area – to take advantage of breezes from the Delta and Bay to the west. I asked about the unusually large number of different trellising systems we'd seen around the area. Markus mentioned that vertical shoot positioning (VSP) trellising seen so many other places in California is not especially well-suited to Lodi since the hotter, sunnier summer days could burn the fruit. He also noted that many growers in the Lodi area were trained at Fresno State University or Cal Poly San Luis Obispo rather than UC Davis, and this shows in both the prevalent trellising systems and also rootstock choices. An example of the latter is that most Lodi growers never went to the once highly-touted AxR1 rootstock – which turned out to be particularly susceptible to phylloxera infestation. Most of the Bokischs' own vines are on St. George rootstock.
In addition to everything else, Markus was one of the key people behind the the recently-approved Lodi AVA sub-appellations. The process was started in 1999 but not approved until 2006. In that time, the number of wineries in Lodi exploded from about 10 to 70. So far, most Lodi wines we saw still carried only the "Lodi" appellation, but the Bokischs believe that labels with the new sub-appellations will soon become more common.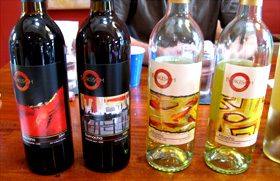 We returned to the house with Markus & Liz to taste some of their latest releases. Their current production is about 1,800 cases per year, with an ultimate target of 2,500. Their wine is made at the facility of a friend at Starry Night Winery in Novato, but they would eventually like to make their wine closer to home. Their Albariño is fermented in stainless steel with no malolactic fermentation. Garnacha is fermented about 16 days on skins in half-ton bins. The '06 Garnacha used all neutral barrels, while other vintages have averaged about 25% new oak. The Graciano is challenging to make as it ripens quite late and is prone to reduction during the winemaking process. Markus notes that Graciano probably originated in the Rioja area, and is widely used for blending in Spain – they also use some to blend with their Tempranillo. Markus & Liz are putting together a solera-style Garnacha-based dessert wine (which is where the new barrels of '06 Garnacha have gone). This is still a few years away from release. They are also planning to make Verdehlo and Monastrell (the Spanish name for Mourvèdre), and are currently working on TTB approval of the Monastrell name as an accepted grape variety for wine labels. They note that they did this for both Graciano and for Garnacha (the Spanish name for Grenache).
We sat down with Markus & Liz and tasted four new Bokisch releases. They also have a Rosé that we didn't taste, and they will be releasing their '06 Tempranillo in June. The new releases have very attractive label artwork, much more colorful than their older labels. Markus & Liz were exceptionally gracious hosts, and are tremendously passionate about both their vineyards and wines. Tasting their new wines confirmed my belief that Bokisch is right at the top tier of Lodi wineries, with some exceptional wines from grape varieties not commonly seen in California. And Lodi wine prices being what they are, these are some of the best QPR wines in the state.

Lodi Wine & Visitor Center

Lodi Visitor Center - Selected tasting notes:
'06 Gustavo Thrace Sauvignon Blanc, Mohr-Fry Vineyard, Lodi: light color, apple and melon aromas, crisp acidity, smooth finish, very pleasant.
'06 Peirano Estate Tempranillo, Lodi: medium-dark color, intense earthy raspberry/blackberry aromas with a bit of spice, full-bodied and tannic.
'05 Bokisch Tempranillo, Lodi: dark color, brighter aromatics than the Peirano, boysenberry and blackberry with hints of earth and clove/spice, big wine with firm tannins.
NV Peirano Estate "Red Shorts" Red, Lodi: 70% Syrah, 20% Petite Sirah, 5% Cabernet, 5% Viognier, dark fruits with a distinct mushroom/earth element, some smoky oak, medium-bodied with a moderately tannic finish.
'06 Macchia "Delicious" Barbera, Lodi: medium color, bright ripe cherry/red fruits on the nose, medium-bodied with sweet fruit with vanilla/oak flavors, lots of acidity and a touch of heat in the finish.
'06 Crystal Valley Cellars "The Med" Red Wine, Lodi: made by one of the labels from Cosentino Winery, this is a blend "Mediterranean" varieties – Tempranillo, Dolcetto, Touriga Nacional, Barbera, Alvarelhão, Tannat, Valdique, Alicante Bouschet. Bright aromas of both red and black fruits with a touch of vanilla/oak, medium-bodied with a moderately tannic finish.
'05 Valhalla Cellars Old Vine Zinfandel, Mohr-Fry Vineyard, Lodi: medium-light color, sweet and slightly tangy raspberry and boysenberry fruit, a generous helping of vanilla/oak, and fairly mild tannins.
'05 Joel Gott Zinfandel, Mohr-Fry Vineyard, Lodi: from 50-80 year old vines, medium color, intense blackberry aromas with black pepper and spice notes, an underlay of rich oak, and moderate tannins on the long finish.
'06 m2 Old Vine Zinfandel, Soucie Ranch, Lodi: medium-dark color, ripe jammy raspberry and wild berry nose, sweet fruit and spice flavors, big and mouth-filling with a some heat on the finish.
'06 Macchia "Mischievous" Old Vine Zinfandel, Lodi: a blend from four Lodi vineyards, medium-dark color, lots of upfront spicy, sweet blackberry fruit, a big wine that pushes the ripeness envelope but nicely balanced with well-integrated oak, and a long finish.

After saying goodbye to Markus & Liz, Al and I drove to the north side of town to stop at the Lodi Wine & Visitor Center. Walking from our cars to the entrance, it was stunning to feel how much the weather had changed in one day, from being around 90 degrees on Sunday to the low 60s with a strong and chilly wind on Monday.
The Lodi Visitor Center is an impressive facility, with lots of exhibits on vineyards and wine, including a fascinating one on local soil types. It would be a great place for any Lodi wine visitors to learn more about the area. There's also a tasting bar featuring wines made with Lodi AVA fruit, including some from wineries in Napa and elsewhere. Ed Lavin of the Visitor Center staff poured us a number of wines, mainly the reds that the area is known for.
Leaving Lodi, we drove back to the Livermore wine country, grabbing a quick bite to eat along the way. We had scheduled one last visit, at Concannon. Along with Wente, this is one of the great historic wineries of Livermore Valley. The winery was founded 1883 by James Concannon, an Irish immigrant, who planted 40 acres with Sauvignon Blanc and Semillon sourced, like several other plantings in Livermore Valley, from Château d'Yquem. In 1911, the first known Petite Sirah vines in the United States were planted here, and this would become Concannon's signature wine (the winery bottled the first varietally-labeled Petite Sirah in 1961). Among other notable achievements was the development of Cabernet clones 7, 8, and 11 at Concannon. In 1950, Concannon hired the first technically-trained female winemaker in the US, Hungarian-born Katherine Vajda.
Concannon - Current releases (& library wine):
'06 "Assemblage," Central Coast: 56% Sauvignon Blanc, 44% Semillon, nectarine and melon aromas with just a touch of grassiness, rich, oily texture, smooth finish.
'06 Reserve Sauvignon Blanc, Monterey County: more herbal/grassy than the Assemblage, grapefruit, slight bitterness in finish.
'06 Chardonnay, Central Coast: citrus aromas with a touch of oak character, fairly straightforward style.
'06 Reserve Chardonnay, Livermore Valley: apple/fig, lots of spice, richer on the palate than the Central Coast but nicely-balanced – not a big oaky, buttery style.
'04 "Stampmaker's Red," Central Coast: a Syrah-based blend, ripe plum and dark fruits, touch of herbs, and an overlay of smoky oak, with moderate tannins and smooth finish, good QPR.
'04 Reserve Syrah, Livermore Valley: ripe blackberry and spice aromas, a little thin in the mid-palate, and some firm tannins on the long finish.
'04 Petite Sirah, Central Coast: blackberry with some black pepper notes, medium-bodied with moderate tannins, tasty and fruit-forward but fairly simple.
'04 Reserve Petite Sirah, Livermore Valley: more intense aromas of earthy and spicy dark fruits, touch of black pepper, more full-bodied and tannic than the Central Coast bottling.
'04 Reserve Merlot, Livermore Valley: black cherry, herbs, and smoky oak on the nose, dusty tannins and a long finish.
'04 Reserve Merlot, Napa Valley: brighter fruit than the Livermore Valley bottling, with more herb, spice and black pepper notes, richer mouthfeel and more grippy tannins.
'04 Reserve Cabernet Sauvignon, Livermore Valley: medium-dark color, blackberry, spice, herbs, moderate tannins.
'99 Reserve Cabernet Sauvignon, Livermore Valley: medium-dark color, dark fruits, hint of bell pepper.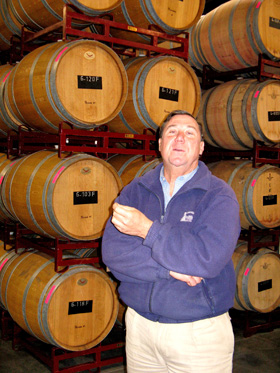 Like Wente, Concannon was one of the few Livermore wineries to survive Prohibition, producing sacramental wine, but unlike Wente they have not remained under the original family ownership. After a series of ownership changes (the Wente family themselves owned it for a time), Concannon was purchased in 2001 by the Wine Group, one of the country's largest wine companies. The winery is currently headed by Jim Concannon, grandson of the founder. About 300,000 cases are produced annually for wide distribution, with 10,000 cases for the tasting room, and another 15-25,000 cases for limited release. Concannon wines are sold throughout the country and in 17 other countries as well.
Al and I walked into the tasting room, inside the century-old original winery building, where we met Jim Ryan, Concannon's direct sales manager. Jim led us outside for a brief tour of the vineyards and winery facilities. Concannon grows 8 red varieties and 5 whites in their estate vineyards. About 200 acres are planted, of which 110 are Petite Sirah. They are also the largest buyer of winegrapes in Livermore Valley, and have grape contracts in Monterey County and Edna Valley as well. The original winery building dates from 1895, with a 1906 addition that is currently being renovated. A new winery building, just opened last year, is located nearby the old building – at 43,000 square feet, it's twice the size of the old winery. Concannon had to build an entirely new building rather than add to the old one because the old winery is a historic landmark.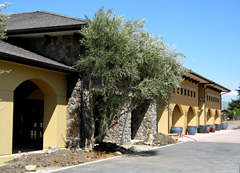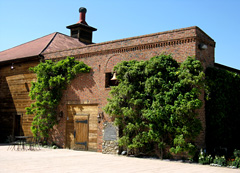 The new facility is an impressive modern winery. Solar panels are currently being installed to power the building. Inside, we saw a row of large oak uprights, about 30 years old, which are still used to add texture to wines as an alternative to aging in tanks. A number of puncheons are also used for aging, in addition to French, Hungarian, and American barrels. Even most of Concannon's lower-end wines are barrel-aged, an average of around 11 months. Higher-end wines are aged from 22 to 36 months. Among the variety of fermentation vessels are some new rotary fermenters the winery is experimenting with. All wines go through malolactic fermentation. We took a look at the huge bottling line in the new building – it was designed to bottle not only all of the Concannon wines but also other Wine Group wines, with an expected capability to bottle up to one million cases per year.
Aussie Adam Richardson heads up Concannon's winemaking team. Winemaker Julian Halasz takes a large role as well. Richardson lives in the original Concannon residence between Tesla Road and the winery. Another, more visible old house along Tesla (something of a local landmark, and originally located in downtown Livermore) was recently moved back into the midst of the vineyards and will be renovated as a guest house for visiting Concannon VIPs.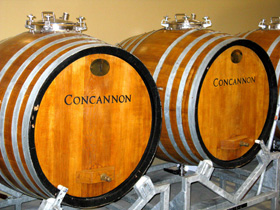 Jim, very friendly and outgoing, has been at Concannon for 3 years – before that he had been at several other wineries including Firestone and Koehler in Santa Barbara County. He also makes some of his own wine from a 4-acre Pinot Noir vineyard in the Santa Rita Hills. As we walked back to the old building to taste some wines, I asked about some horseshoe impressions placed in the new concrete paving that I'd noticed at a few key locations around the new winery. It turned out that Jim had been behind adding this touch, as a link to horseshoe impressions from Morgan draft horses that can still be seen in the original winery building's floor.
Back in the tasting room, Jim poured a number of current releases and one library wine (an older Cab), pairing them so we could contrast different bottlings of the same or similar varieties and blends. Of note was the "Stampmaker's Red" – another link to the past that honors founder James Concannon's pre-wine job of working for a rubber stamp company, where he earned enough money to start his winery. The Concannon wines we tasted were certainly well-made, but not unlike the more basic Wente wines that are primarily aimed at the mass market, most were not especially distinctive. That said, they were pleasant, and many of them offer good value.
This was an enjoyable trip and an eye-opening one. Visiting Livermore and Lodi, I think I can speak for just about everyone in our group in saying that we didn't have especially high expectations, but we were pleasantly surprised to find some very good wines in both areas, and often terrific values for the price. Overall the wine quality was higher than I anticipated….Livermore wines were better than I remember from a few years back, and there were some real highlights among the Lodi wines.
As noted before, Livermore still seems like it's searching for a wine identity – I'm not sure I could pick out a particular variety or style that defines the area. There are a number of long-time smaller producers who seem fairly comfortable in their niche of selling familiar wines to club members and other fans. But there does seem to be a move by some of these wineries, as well as by some newer ones like John Evan and Steven Kent, to break through to a higher quality level, with the higher prices and wider recognition that would bring.
Visiting many of the area's wineries you're quite likely to see the owner or winemaker pouring wines at the tasting bar, and the people and tasting rooms are friendly and low-key. Although Livermore wine tourism is on the upswing, I got the sense that most wine touring is still done by locals, and that some vintners would like to see more done to promote the valley as a wine destination for people from outside the area. Ironically, considering Livermore's long and historic wine history, some vintners see upstart Lodi's recent successes in becoming a wine touring destination as a template for their own efforts. With Livermore's downtown area undergoing a revitalization and more new wineries starting up, the area's appeal will no doubt continue to grow. Yet it may always be a tough sell to convince people from the San Francisco area to visit Livermore Valley rather than that other wine valley to the north.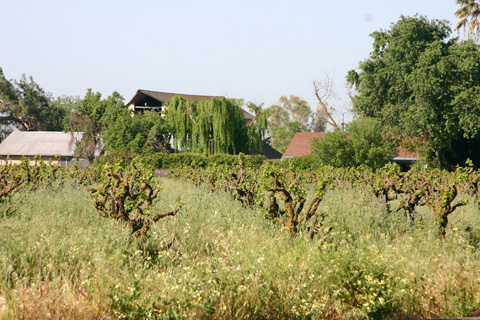 Though lots of varieties are grown in Lodi, big red wines are the region's strength and they look to be the future for many local wineries. Zinfandel is unquestionably the signature wine – often made with a touch of sweetness, the intense old-vine flavors are usually smooth, not very tannic, and easy to drink right off the bat. What struck me about Lodi Zins was their ability to display ripe fruit (and relatively high alcohol) while avoiding an over-ripe raisiny character and also remaining in balance.
As many of the long-time Lodi growers are relatively new at making wine themselves, it will take some time for the wine quality to become better and more consistent across the board. But for now many of the newer vintners have found great markets for their wines, as can be seen from the successes of "Old Ghost," "7 Deadly Zins, " and "Earth, Zin, and Fire" among others. And more up-and-coming wineries such as Hux and Bokisch are further raising the Lodi wine quality bar, while Stuart Spencer and others are pushing hard to promote Lodi as a wine region on the way up.
Lodi has a lot to offer in terms of wine tourism. Many wineries are family businesses, often with two or three generations of the family working side-by-side, and proprietors are welcoming and unpretentious. Downtown Lodi is a compact and fun spot to check out (there's a wine bar and a brewpub within a couple of blocks). For what's essentially still a farm town, there are a surprising number of good dining options in the area…and if you're in the mood for something simple, Lodi boasts the country's very first A&W Root Beer stand.
To wrap things up, Livermore and Lodi share some similar issues of raising both wine quality and consumer acceptance. To achieve these long-term goals, more wineries in these areas will need to set their sights higher. It's clear that both areas are capable of producing higher-quality wines – the bigger question is whether local vintners will be able to develop a market for those wines. With so many choices for wine buyers these days, what will it take to entice buyers to pay more for a wine from Livermore or Lodi? A handful of vintners are already succeeding at this, though it may take more of a critical mass of higher-quality wines to make an impact in the market. But based on what we tasted during our visits, I expect we'll see quite a few more high-quality wines from both Livermore and Lodi in the years to come.
Thanks to everyone for being great traveling companions, and as always, thanks to everyone that we visited for being so generous with their time and their wine!