---
AUSTRIAN WINE TASTING & FOOD PAIRING


I had a unique opportunity to attend an Austrian wine and food pairing held by the Austrian Tourist Bureau.
The event was held at the Museum of Design Art and Architecture (MODAA) in Culver City. The facility is in a relatively new building and a combination architectural studio, model shop, and art gallery, with a small restaurant/café on the corner and live/work lofts above. The place was, well... sort of Frank Gehry meets Herman Miller. Interesting free-standing display pieces too. Each one housed an architectural model of the winery and bottle of their wine - these were scattered about the gallery floor space and also adorned the walls. Someone in the group referred to them as "pods," which sounded like a fairly apt description - although, I thought another's reference to them as "lunch containers" fit even better. But, I digress.
The purpose of the tasting was to acquaint (or re-acquaint) a mixed audience of fifty wine and travel people with the wines of Austria. After a few introductory comments and encouragement to actually visit Austria from the Tourist Office staff, the wine program was handed over to Mike Greene, General Manager of Woodland Hills Wine Co. All-in-all, it was a very enjoyable evening, and I really must say, Mike certainly knew his stuff about Austria and its wines. Looking back on it, I could see where it would take a series of seminars to really cover the ground more fully.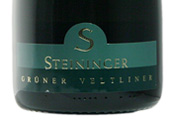 Grilled Prawns on skewers, paired with:
Karl Steininger Grüner Veltliner Sekt 2004
This was an interesting sparkling wine. Dry, but only about Extra Dry on the Champagne scale, there was a slight sweet lemon-lime in nose and mouth, good balance, and a different - almost fresh produce flavor on the finish and aftertaste. With lots of personality, this certainly won't be mistaken for a Champagne, Cava, or Prosecco. Took some getting used to.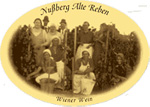 Herring Salad with Fingerling Potatoes, paired with:
Fritz Wieninger Nußberg Alte Reben, Gemischer Satz 2006
Probably the most fascinating food pairing of the evening. On first wiff, this field blend of Riesling, Traminer, and Welschiesling from 40-yr old vines smelled like that scent you pick up when you open the door of a flower shop. Touches of boxwood and lemon-lime aromas start to creep in with some swirling. Initially, the taste tended more to floral and light tropical flavors, with a voluminous almost meaty mid-palate, nice balance, yet a decidedly short finish. It was the food match where this wine really showed its stuff. The herring salad included pickled, sweet-sour dressing on the onion, radish and greens that should have been a major wine killer. Yet, it was quite the opposite, and even added length to the wine's finish. Alc 12.0 %., 6.8 g/l acidity, 1.4 g/l sugar

Sea Bass Carpaccio with Caper Dressing, paired with:
Karl Steininger Grüner Veltliner Loisium 2006
A bigger wine than the Alte Reben, with aromas of boxwood, apple, lemon-lime zest, and snow pea. The snow pea added an interesting element to the nose. In general, the flavors seemed to mirror the aromas, though there was a somewhat more pronounced fresh produce flavor (think artichoke) noted on the palate. I think the food match worked quite well, and felt the caper-olive oil tapenade was a very necessary part of equation, to the point of drawing out the snow-pea-artichoke in the flavor profile.
Cabernet-infused Braised Oxtail with Porcini Mushrooms & Quinoa, paired with:
Leo Hillinger Hill 1 Cuvee 2005
This equal part blend of Cabernet, Merlot, Syrah, and Zweigelt had plush nose of fresh red fruit, cassis and plum. Flavors of lightly tangy red berry, cocoa, and spice. Soft on the palate, yet chewy as well, excellent balance and moderate finish. Very New World in aromas and flavors, yet there was also something old world too in the underlying flavors. The Zweigelt seemed to add a foxy, or wild and feral quality to the blend. The food match couldn't have been better, with the each part of the cuvee playing like pieces in an orchestra.
Apple/Pear Strudel with White Peach and Jasmin Coulis, paired with:
Kracher Trockenbeerenauslese #1 2003
Nose of apricot, peach and pear, with a hint of floral notes. Luscious mouthfeel - silky, elegant, almost delicate on the palate, yet firm in all the right places. Wonderful balance and finish, and a great food match with the strudel.
---
GRAPE RADIO INTERVIEW - Sandro Boscaini, Masi Agricola


GrapeRadio had the chance to visit with Sandro Boscaini, president of Masi winery and vineyards in the Veneto region of Italy. The Boscaini family have been the owners of the Masi vineyards for six generations, and specialize in the production of Amarones and Reciotos. In 1964, Masi rediscovered and refined the technique of double fermentation using semi-dried grapes, essentially updating the style of Amarone by using new vinification techniques. Their Amarones are now considered 'new world' in style, and indeed, Masi has even established vineyards in Argentina, using the same vinification processes with the Malbec grape.
I'll put in a link here when the show is posted, so please join us as we talk with Sandro about the unique method of apassimento, a process of drying the grapes for over 3-months, and hear why Masi isn't making your father's Amarone any more.
---
GRAPE RADIO INTERVIEW - Vicente Dalmau, Marqués de Murrieta


GrapeRadio had the opportunity to talk with Vicente Dalmau, from Marqués de Murrieta winery. If you're into Spanish wine, you're no doubt well aware of probably the oldest Bodega in the Rioja. Founded in 1852, Marqués de Murrieta concentrates on making Reserva and Gran Reserva, each spending multiple years in large oak barrels. The Castillo de Ygay is their Gran Reserva, and is produced only in exceptional years. Incredibly, the current release of this wine is 30 years old! The 1978 vintage was not bottled until 1998, after spending 212 months in oak!
I'll put in a link here when the show is posted, so please join us as we talk with Vicente about Tempranillo, La Rioja, as well as a new property in Rias Baixas (ree-ahs buy-shuss) area of Galicia (Ga-leeth-e-ah), where they are producing Alberiño.
---
2005 Bordeaux - and a few others
Friend and fellow Bordeaux fanatic, Steve Christle, reports back from a 2005 Bordeaux tasting at the Wine Exchange in Orange, CA. Thanks for taking this one for the team, Steve.
2005 Bordeaux
February 16, 2008
Wine Exchange
The bottles were opened the night before, and were double decanted at 9AM the morning of the tasting. All the wines poured were from the 2005 vintage (except where noted), and were tasted in the order listed. Overall, I was very impressed with the vintage, but there are no bargains.
Right Bank
2005 Rauzan Despange $16.99
80% Merlot. Nice medium red/purple color, darker than usual for this price point. Medium body, woody nose. Simple, good fruit, clipped finish with a slight bitterness.
2005 Marjosse $15.99
Another Merlot based cuvee. Great color. Again, straightforward black cherry/blue fruits, moderate tannins, and a reasonable finish. I would buy this.
2005 Puygeraud (Cotes de Francs) 22.95
A well made wine, good depth and balance. Lots of licorice and wood on the nose, but great fruit and a long finish. Good value.
2005 La Vielle Cure (Fronsac) $28.99
The real deal. Can you say tannins? Nice spicyness and cedar on the nose. Inky purple/black color, and a very rich mouthfeel. Mostly black fruits, and a very long finish. One of the best, and maybe the best QPR of the lineup.
2005 La Fleur de Bouard (lalande de Pomerol) $37.99
85% Merlot, Nice nose, and lots of blue/black fruit on the initial attack, but an almost sourness on the finish. I liked it but not as much as the La Vielle Cure.
Saint-Emilion
2005 Vieux Clos Saint-Emilion $17.99
I was a bit disappointed in this. The color was redish purple, with a woody nose. Some decent fruit, but a very short finish.
2005 Faizeau Montagne Vielle Vignes $20.99
Now this is more like it. Nice color, and while there is a very large oak component on the nose, there is lots of sweet fruit on the palate.
2005 Bellefont-Belcier Grand Cru $37.99
And now we have arrived. This is hitting on all cylinders, completely balanced, with fruit and structure. Dark purple color, wonderful nose with cedar, espresso, and black/blue fruit. Tons of fruit, great mouthfeel. While not inexpensive, this is a great value.
2005 Destieux Grand Cru $46.99
I really enjoyed this (I only wish it were less expensive). This had more density than the Bellefont-Belcier. Again, very balanced, with blue/black fruit and oak, significant tannin, and a finish that just goes on and on.
2005 Bellevue Grand Cru $99.99
No rough edges here. Huge, rich, plenty of structure but elegant and layered. Beautiful, long finish.
2005 Troplong Mondot Grand Cru $274.99
I was not sure what to expect with this wine. In my reality, this is an obscene price to pay for a bottle of grape juice. But what juice it is – just stunning. Even coming off the outstanding Bellevue, this took it to a new level of depth, power, and complexity. I loved it. Now I just need to win the Lottery.
Left Bank
2005 Clos Manou (Medoc) $34.99
The Trop is a tough act to follow, but this wine showed very well. It is 50% Merlot, with plenty of richness. Dark purple/blue color, great mouthfeel. Solid core of fruit, lots of tannin, and a long finish. Excellent value at this price point.
2005 Boyd-Cantenac (Margaux) Grand Cru $49.99
What a departure. Mostly Cabernet Sauvignon, and some Merlot, this was big, but had a somewhat rustic nose. Very dense. Lots of fruit, and tannins to match. Good long finish.
2005 Kirwan (Margaux) Grand Cru $69.99
This is balanced, elegant, and simply delicious. First thought - "Smooth as a baby's butt". Great fruit, and a long finish.
2005 Michel Rolland (Haut-Medoc) "The Winemaker's Collection Cuvee No. 1" $44.99
I liked this wine a lot. It is a huge wine, dark purple/black color. Dense, with a beautiful mouthfeel. Lots of tannin, but plenty of fruit to match. Great finish.
2005 Haut-Bages Liberal (Pauillac) Grand Cru $44.99
At almost twice the price compared to 2004, was this going to be twice as good? Well, maybe. Nice dark color. Just a hint of vanilla, and nice fruit and wood components. Not as big or rich as the Rolland wine, but close.
2005 Brainaire-Ducru (Saint-Julian) Grand Cru $99.99
Nice, but certainly not worth the price. Red/purple color. Medium body. Had the mouthfeel of the Marjosse (not bad just not impressive for a wine at this price). Good fruit, and long finish.
Les Vieux Vins
1970 Beau-Sejur Becot (Saint-Emilion) Grand Cru $79.99
After a quick rinse, and some bread and cheese, it was time for the oldies. I was impressed that it was still an interesting wine at 38 years old. The color was more like a thin tawny port. And it smelled like a petting zoo. Not much fruit, kind of a stewed plum with some woodsy notes. Short finish.
1989 Les Tourelles de Longueville (Pauillac) $99.99
Perhaps I was suffering a bit from palate fatigue but this was not impressive or interesting. A little bricking, and not much of anything on the nose. Some muted wood/fruit, but very flat. No finish.
Sauternes
2005 De Cosse (375ml) $19.99
Another rinse, and on to the lone sticky. Well made, and tasty, but not particularly complex or dense. Light honey color, medium sweetness, nice ripe fruit and honey finish, it was a great match for the blue cheese that was offered.
---
'BOTH SIDES NOW' - sames wines - two palates


We've often wondered just how much and how often tasters will differ in their opinions of the same wine. With that in mind, we felt it would be downright interesting, if not instructional, to see the tasting notes from a couple of tasters who have sampled the same wines - just to see how the notes compare.
So, we've put together an initial batch of tasting notes taken by Paul Lin and myself (Eric Anderson) from events that we've both attended during the last several months. We're calling this section "Both Sides Now," to reflect potentially two different viewpoints.
These initial notes will serve as an archive and we'll continue to add additional tasting notes from new events that we both attend in the future. Ultimately, there might different tasters paired together - it will just depend on the event, and of course your thirst for information.
To paraphrase Judy Collins from her song, 'Both Sides Now' :
I've looked at wine from both sides now
From up and down, and still somehow
It's wine's illusions I recall
I really don't know wine at all

---
GRAPE RADIO INTERVIEW - Edouard Moueix, Dominus, Petrus


GrapeRadio had the chance to sit down with Edouard Moueix, of Château Pétrus. If you're a Bordeaux fan, the name Pétrus will not be a stranger to you - although, the wine might be, given it's exalted status and price. But, such is the result of something made in nearly miniscule quantities. Along with Pétrus, Christian Moueix and family own several other "right bank" Châteaux in St. Emilion as well as the Dominus winery in Napa Valley.
Join us as we talk with Edouard about the Moueix properties, Bordeaux vintages and pricing, and the Dominus winery.
---
GRAPE RADIO INTERVIEW - Luca Currado, Vietti


GrapeRadio was able to talk with Luca Currado, of Vietti winery in Piedmont. Luca says, because "wine is in my blood," he could not have imagined anything other than following his father Alfredo as the 5th generation at the Vietti winery in the Piedmont region of Italy. After oenological school, Luca left Italy to intern at several properties in France and the U.S., returning home, as he put it, "when my father stopped sending money."
Join us as we talk with this engaging winemaker and vineyardist about the intricacies of Italian wines in general, and the Borolos, Bararescos, and Barberas of the Piedmont region in particular.