---
NAPLES WINTER WINE FESTIVAL


GrapeRadio traveled to Naples, Florida to cover their annual wine festival and charity auction, the Naples Winter Wine Festival. Although this event has only been held since 2001, they have established themselves as the top fund-raiser in the world - setting a record $15.4M last year.
The event is held at the Ritz-Carlton Golf Resort, and organized by the local Naples Children and Education Foundation (NCEF), this event relies on the generosity of its members and their apparent unflagging ability to encourage donations of fantastic auction lots of wine. One instance of this was a single 12L bottle of Sine Qua Non Inagural Syrah, the 2003 first effort from Manfred Krankl's Eleven Confessions Vineyard.
Day one (Friday) began with a trip out to the see first-hand how the recipient charities were being helped. All who wanted to go filled several busses traveling about 30 miles East of Naples to the PACE Center for Girls. There, the local charites had erected displays and held small presentations to showcase their accomplishments. After a young lady told the hushed room how with the help of charities such as these she was able to overcome her abusive childhood to become a college student next year, there wasn't a dry eye in the house. This was followed by a 'chuckwagon' style lunch at the nearby Collier Ranch, before returing to Naples. We had scheduled an interview with owner Michel Chapoutier of M. Chapoutier for 4:30 back at the hotel, and this indeed a treat. Look for this on GrapeRadio soon.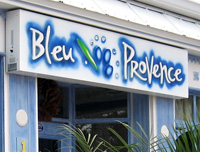 Vintners dinners for attendees followed that evening at several private residences in town. We covered the pre-dinner and interviewed Pablo Álvarez, the General Director of Vega Sicilia in Spain. For dinner, we decided to try out the Bleu Provence restaurant. We'd heard that Robert Parker loved his Friday meal so much at last year's festival, that he returned for more on Saturday. I'm proud to say that we arrived at 7:00pm and didn't leave until 2:00am. Jacques, we can't thank you enough for the fabulous time! In the process we met fellow wine geeks John Vega and Ted Hudgins from the Parker board.
Saturday seemed to come early - real early. We had a morning interview with Erwan Faiveley, then we were off to cover the auction. Quite a spread they put on, and the auctioneers Ann Colgin and Humphrey Butler did a great job of encouraging the $14M, with individual lots going for $45,000 to $1 million. The aforementioned SQN Syrah went for $220,000! Dinner that night was at Ted Hudgins' house. Thanks Ted!
The event concluded Sunday with a hosted brunch. We were able to pick several additional interviews to complete our goals. So, after a brief trip to shoot some "B" roll in town, it was off to the airport and our trip home. We had a fabulous time in Naples - good food, good wine, and the weather was perfect!
---
BURGUNDY TASTING - 2005 Vintage


The highly touted 2005 vintage in Burgundy was reason enough for Rusty Gaffney (Prince of Pinot) to want to hold a tasting to check these bad boys out. As usual, we went through all of the wines first, before digging into the cheeses, smoked pork, sauteed mushrooms, and home-baked bread. With one exception, all are 2005 vintage, except where noted.
2005 Volnay Premiere Cru Domaine Marquis D'Angerville - fleshy, with lots of black cherry and some nice earthy notes. Nice fruity minerality on the palate, very nice balance, and very long juicy and chewy finish.
2005 Fixin Cote de Nuits Clos Napoleon Domaine Pierre Gelin - floral nose, with lots of rose petal and almost a blue-tinged fruit aroma. Ripe and slightly caramelized on the palate, steely almost gunmetal sense through mid-palate, and the finish seems to fall away rather quickly.
2005 Morey St. Denis Premiere Cru Domaine Heresztyn - lots of chalk and minerals in the nose, with lovely back notes of citrus and floral scents and hint of buttery quality. Lovely cherry flavors with just a hint of citrus, excellen balance and very long finish.
2005 Morey St. Denis Premiere Cru Millandes Domaine Michel Mangnien - big rose bush scent - petals, stems, earth, and an almost meaty background note. Fabulous in mouthfeel, if a bit soft and chewy, with a long rich finish.
2002 Morey St. Denis Premiere Cru Ruchots Domaine Frederic Mangnien - nose of chalky minerality, earth and charcuterie. Bit tight on the palate, with lots of the same earthy mineral and chalk qualities accenting the dark fruit.
2005 Pommard Premiere Cru La Platiere Domaine Thierry Violot-Guillemard - a melange of feral and earthy qualities dominate the dark fruit nose, with lesser amounts of mineral. Flavors are very similar to the aromas, with excellent balance and nice long finish.
2005 Chambolle Musigny Priemere Cru Les Charms Domaine Michele & Patrice Rion - fabulous nose of dark fruit, light grilled toast, charcuterie and floral aromas. fleshy and ripe on the palate, with nice flavors and balance - but not nearly as nice as this ethereal nose.
Volnay Campans Priemere Cru Cuvee Camille Rodier Domaine Marquis D'Angerville - nose of chalk, mineral and some earthy scents accent the dark fruit. Amazing acid-based balance on the palate makes the mouth water.
Hospice du Nuits Les Rues de Chaux - nose of spicy orange blossom. Even larger acids that the preceding wine, picks up some of the same orange blossom in flavor, with a slightly tart finish.
Beaune Greves Vigne de l'Enfant Jesus Bouchard Pere & Fils - beautiful meaty quality to the dark fruit. Big and chewy mouthfeel, excellent balance and finish. Seemed a fitting end to the afternoon. From a 375ml bottle.
---
BORDEAUX TASTING - 2005 Vintage


The highly touted 2005 vintage in Bordeaux was reason enough to brave Friday afternoon traffic to attend this trade tasting in Santa Monica. But, vintage notwithstanding, this was a obviously a unique opportunity to taste the wines of 80 Chateaux in one setting.
The 1er Crus were not in attendance (they really didn't have to be - although there were a couple from St. Emilion), but all of the other classe were widely represented. Here are some notes on the 77 wines that I tasted. The downside to tasting this many great wines was the realization that the pricing of most of them were probably going to be stratospheric, relatively speaking.
Okay, here we go some brief notes. I've broken this out by commune:
Pessac-Léognan

Château Carbonnieux - lovely cassis-filled nose was entrancing; I was less enamored about the mouthfeel/flavors.
Château de Fieuzal - nice minerality/chalk quality on the nose. Fleshy and full mouthfeel, beautiful finish.
Château Haut-Bailly - very nice nose; bit tart in mouthfeel and finish.
Château La Louvière - just beautiful! It's all there, great nose, exceptional balance.
Château Larrivet-Haut-Brion - Nice nose; slightly less so in mouthfeel, this one will require more time.
Château Latour-Martillac - very nice, delicious rich mouthfeel
Château Les Carmes Haut-Brion - big hit of sulphur in the nose; but lovely taste and mouthfeel
Château Malartic-Lagravière - beautiful dark fruit and espresso nose; delicious flavors and mouthfeel
Château Olivier - nice nose and mouth; could be one of the affordable sleepers of the vintage.
Château Pape Clement - a definite Wow effort! Excellent coverage on the palate, fabulous flavors and long smooth finish.
Château Smith Haut-Lafitte - excellent effort, with dark fruit and great concentration.


Saint-Émilion Grand Cru

Château Angélus - Wow! Gorgeous throughout, effusive nose, seamless mouthfeel, and long finish.
Château Balestard La Tonnelle - lovely nose, nice ripeness throughtout.
Château Beau-Séjour Bécot - nice nose; seemed a bit simple in mouthfeel and finish.
Château Berliquet - good nose, good flavors, but a bit simple in texture.
Château Canon - knockout nose; seemed a bit reticent in mouthfeel, but great concentration, and very long finish.
Château Canon-La-Gaffelière - very nice wine, with an obvious Cab Franc component in both nose and mouth. Delicious!
Château Clos Fourtet - wonderful nose of ripe fruit and roasted coffee; rich ripe mouthfeel, long tasty finish.
Château Dassault - good, dependable if a bit unremarkable.
Château Figeac - better in nose than in mouthfeel, bit of stewed quality that provided some interest, though seemed out of place.
Château Franc Mayne - very nice nose, concentrated mouthfeel, nice balance and finish.
Château Grand - Mayne - lovely nose, seemingly with a complement of everything; excellent flavors and mouthfeel, long finish. Another sleeper.
Château La Couspaude - major coffee aroma in the nose testifies to the new oak; initially nice mouthfeel and flavors; gets a bit bitter on finish.
Château La Dominique - A wow nose, with plenty of fruit; slightly sweet and ripe mouthfeel, restrained but seemingly packed with fruit.
Château La Gaffelière - big cherry/cassis scent; lovely mouthfeel, freshly crushed fruit flavors, long delicious finish.
Château La Tour Figeac - nicely done, with a bit of everything. Another sleeper.
Château Larcis Ducasse - Wow nose - deep, effusive, complex; nice concentration of fruit, lovely textures but seemingly a bit short on the finish?
Château Larmande - beautiful nose; big mouthfeel, some astringency noted in latter palate.
Château Pavie - Macquin - nice nose; huge mouthfeel! Amazing concentration and texture, a bit astringent on back end, but really packed with fruit.
Château Troplong Mondot - exceptionally well done. Very complete - just drop-dead gorgeous. Name should be changed to Troplong Mon-dieu!


Pomerol

Château Clinet - fabulous nose; seemed a bit soft on the palate, but obviously filled with fruit.
Château Gazin - nice nose (not shy on oak); very good mouthfeel and flavors, nice balance and very long finish.
Château La Cabanne - chalk and mineral-laden nose; toasted herbs quality to flavors. Quite nice.
Château La Conseillante - flat out beautiful from beginning to end. Seamless and mouthfilling.
Château La Pointe - refined and elegant in the nose, if seemingly a bit underfilled in mouthfeel.
Château Petit-Village - very nice if distinctive nose; bit of astringency and thinness at mid-palate, but has nice balance and finish. Something of a disappointment.

Moulis en Médoc

Château Chasse-Spleen - very nice, not overly remarkable, but a nice wine if the price is right.
Château Poujeaux - not bad, but a somewhat reticent nose and underfilled mouthfeel.


Haut Médoc

Château Cantemerle - beautiful nose; the mouthfeel left me wanting more. It wasn't underfilled, just unremarkable.
Château La Lagune - very nice nose; a bit tight on the palate, seeming almost as though it needs some weight.
Château Latour Carnet - surprisingly big, nice textures, very nice balance and finish.

Médoc

Château La Tour de By - nice, but nothing remarkable.

Margaux

Château Brane-Cantenac - lovely nose and mouthfeel, delicious finish.
Château Cantenac-Brown - beautiful effusive nose; jammy mouthfeel; very nice throughout.
Château Dauzac - very nice, slightly funky nose; wonderful mouthfeel.
Château du Tertre - beautifully ripe nose; fabulous in mouthfeel and flavor.
Château Giscours - okay, though I expected more.
Château Kirwan - lovely nose - complex; delicious flavor and mouthfeel, smooth finish
Château Labegorce - nice, good nose, flavors and finish.
Château Lascombes - beautiful nose; huge mouthfeel, very good balance.
Château Marquis De Terme - lovely nose; big mouthfeel, long delicious aftertaste.
Château Rauzan-Ségla - terrific integration in nose and flavors. Still a bit tight, but will reward cellaring.

Saint Julien

Château Beychevelle - very nice toasty nose; excellent mouthfeel and flavors.
Château Branaire-Ducru - lots of tobacco, leather and toast; full mouthfeel.
Château Gruaud Larose - big throughout, with a great nose, delicious flavors and mouthfeel.
Château Lagrange - more than a little funky in the nose, but has great flavors and mouthfeel.
Château Langoa Barton - nice nose; less so in mouthfeel and flavors.
Château Léoville Barton - very, very nice. Lovely weight on the palate and lots to like here.
Château Léoville Poyferré - very nice throughout.
Château Talbot - nice nose; but even nicer in mouthfeel.

Pauillac

Château Clerc Milon - good nose; nice rich mouthfeel
Château d' Armailhac - more expansive in aroma and flavor, seemed better than the Clerc.
Château Grand-Puy-Ducasse - spicy nose; slighlty soft mouthfeel, but tasty through the long finish.
Château Haut-Bages Libéral - beautiful nose; bit sour/tart in mouthfeel.
Château Lynch-Bages - lovely nose; bit soft and unremarkable in mouthfeel. Disappointing.
Château Pichon Baron - a knockout! Lovely throughout, with excellent balance and seamless long finish.
Château Pontet-Canet - wonderful nose, with lots of things to ponder; excellent taste, balance and finish.

Saint Estephe

Château Cos Labory - beautiful nose; very nice throughout.
Château Lafon-Rochet - a bit reticent, with lots of tobacco and leather aromas, good mouthfeel and finish.
Château Ormes De Pez - nice nose, but seemingly underfilled in mouthfeel.
Château Phélan Ségur - nice nose, really drying tannins in mouthfeel, tight, tannic.

Sauternes et Barsac

Château Coutet - lovely, refined, well integrated.
Château de Fargues - huge, very sweet - overtly sweet.
Château Doisy Daëne - exceptional, lots of floral aspects.
Château Guiraud - very concentrated and spicy.
Château La Tour Blanche - elegant, refined, a bit soft.
Château Lafaurie-Peyraguey - very floral, exotic, lovely finish.
If you want to see more, check out the GrapeRadio video we shot at the event.

---
GRAPE RADIO INTERVIEW - Hervé Berland



When Baron Nathaniel de Rothschild, a member of the English branch of the Rothschild family, purchased Pauillac's Château Brane-Mouton in 1853, he founded what would become a Bordeaux powerhouse. Classified in 1855 as a second growth ("a first among seconds"), it would take almost 120 years to gain back what arguably should have been Mouton's in the first place - classification as a first growth. Through most of the 20th Century, Baron Philippe de Rothschild was the guiding force of Mouton. From his decision to bottle the wines at the Château (1924), to his inventive use of artists and sculptors to design new wine labels for each vintage (1945), and from his successful campaign to obtain first-growth status, to his daring partnership with Robert Mondavi to begin Opus One in 1979, Baron Philippe worked tirelessly for Mouton.

I'll put a link in here when the show is posted, so please join us as we talk with Hervé Berland, Managing Director of Château Mouton Rothschild. From his 30 years with Mouton we get a unique perspective of one of Bordeaux's most famous Châteaux.
---
AUSSIE TASTING - high scoring Aussies


AUSSIE WINES OFFLINE - Canyon Lodge American Grill - Laguna Beach

Theme was to bring an Aussie wine rated 94+. We did that, and after a few warmups, here are the results.

Whites
2005 Dehlinger Chardonnay - Russian River Valley. Very nice, especially since I tried this AFTER the Pride...that is to say the oak and butter on the Pride (which actually I do like) probably numbed my palate before getting to really tast the nuance here. Notes of lemon, lime, minerals, and a seething elegance about it.
2005 Pride Mountain Chardonnay Vintner's Select Cuvée Mountain Top Vineyard - Sonoma County. Big, maybe not the biggest, but certainly right there with the rest of the creme de California Chardonnays - buttery oak, copious amounts of tropical fruit, and the sense that ML is a come hither symbol. Actually, I like this style of Chard as well as the...oh...more restrained style of the Dehlinger.
2006 Trevor Jones Chardonnay Virgin - Barossa, Barossa Valley. Quite nice, with smooth texture, and almost a subtle sweetness throughout.
Reds
1998 Fox Creek JSM Shiraz Cabernet Franc - McLaren Vale. This one surprized me. I've tasted this on a few times previously and wasn't expecting much this time out. I was wrong. Smooth clove-laden spicy aromas aromas betray the Shiraz inside, but there is also this almost undefinable scent of roasted herb as well. Tasty on the palate, with spicy dark fruit, a surprising amount of [smooth] tannins, and nice long finish.
1999 Kilikanoon Shiraz Oracle - Clare Valley.

I think this sucker was corked. With some heavy swirling (back away!) I could sense that something like TCA was present. But, how long are you going to deny that, yes, the garbage disposal smells foul and do something about it.

2001 Glaetzer Shiraz Amon-Ra Barossa Valley - Barossa Valley. Another [mini] surprise. Gorgeous refined nose of ripe seductive dark fruit. Very smooth and tasty on the palate, full rich and concentrated throughout...almost. The finish did die off a little quicker than desirable, but this was a terrific wine.
2001 Torbreck Shiraz The Factor - Barossa Valley. Wow! Okay, this wine starts off attractive and just builds from there. Focused dark fruit and spice in the nose, with a spicy, rich and chewy mouthfeel and long smooth finish - despite its obvious youth. This is gonna be an exceptional wine in a few more years.
2001 Shirvington Cabernet Sauvignon - McLaren Vale. This was the Cab version of Shervington's dymnamic duo from '01, and it was worthy. Nose of ripe cassis, bitter chocolate and toast, with the barest hint of iodine. Smooth, refined and with lovely texture on the palate. Nice stuff!
2003 Shirvington Cabernet Sauvignon - McLaren Vale. After tasting the '01, I could easily see that this was just a younger version of the same wine. Seems a little bigger right now, but I would imagine this will be just as lovely in a couple of years, as the '01 was tonight.
2002 Henry's Drive Shiraz Reserve - Limestone Coast, Padthaway. Fascinating nose of herbs, toast and stewed fruits, in addition to a distinct Cote Rotie roasted quality. It tasted a bit more fruit-driven than it smelled, nevertheless, this didn't seem like what ought to be in the bottle - and yet, there it was. Flawed? Probably. But, I could concoct a story to go with this wine. Imagine the winery got to the end of bottling run and needed something top off the last bottle. "Hey, how about this Cab Franc," Mick probably said, and Viola (to mix metaphors)!
2002 Gibson's Shiraz - Barossa. Beautiful spicy dark fruit, with an interest hint of mint. A bit astringent in mouthfeel, with chocolate-infused dark berry fruit, excellent balance and very long finish. Very, very nice!
2002 Marquis Philips Shiraz Integrity - McLaren Vale. Gorgeous nose of dark fruit, spice and toast. This is obviously infanticide, but what a beautifully textured mouthfeel. Lots of seamlessly woven fruit, spice and undefinable components seem made for each other. Delicious!
2003 Oliverhill Winery Shiraz Jimmy Section - McLaren Vale. Lovely nose of dark fruit, glove leather, and A-1 sauce spices. Terrifically integrated mouthfeel, with the fruit, acids, and background notes all being in harmony.
2003 Yalumba Cabernet Sauvignon The Menzies - Limestone Coast, Coonawarra. Nice roasted herb quality to the cassis nose. Bitter chocolate and toast seem to be taking the front seat here, with the fruit doing the backseat driving. A slight bitterness creeps up in the otherwise long finish.
2004 Binder Mitchell Shiraz Gunslingers - Barossa Valley. Nose of spicy dark berry, with almost a dried sage component and a bit of licorice. Smooth and nicely ripened fruit seems almost understated...but nice.
2004 Kilikanoon Shiraz Covenant - Clare Valley. Obviously fruit-driven nose, with a dense mouthfeel of blackberry and toasted herb.
2004 Schild Estate Shiraz Barossa Valley - Barossa Valley. Very nice throughout, but the wine seemed not to know what it wanted to be. There was a youthful quality in the nose, but it seemed more mature on the palate.
2004 The Colonial Estate Emigré - Barossa Valley. Ripe and rich in both nose and mouth, this seemed a bit plodding to me. The spiciness didn't seem to cut through to balance the fruit, and the fruit itself didn't seem to distinguish itself. Maybe just too young right now.
2005 Glaetzer Shiraz Amon-Ra Barossa Valley - Barossa Valley. Beautifully melded nose of fruit and spice, Glaetzer obviously has this down pat. This is a beautifully made wine that has it all. I can't imagine how this could be any better.
2005 Mitolo Shiraz G.A.M. - McLaren Vale. Unfortuantely, it was this wine's unenviable task to follow the Amon-Ra, and it suffered by comparison. Seemingly well-made, it nevertheless flat by comparison.
2005 d'Arenberg Shiraz The Dead Arm - McLaren Vale. I couldn't warm up to this wine. A bit weedy/herbal in nose, all of the tar/asphalt/licorice components were hiding somewhere,leaving me with a the feeling that I'd missed my turnoff.
2006 Mitolo Shiraz Savitar - McLaren Vale. Nice beef jerky component to the black fruit. A slightly Cote Rotie quality of charred manzanita made it even nicer. Big and chewy, this Mitolo made up for the GAM's shortcomings.
2006 Mollydooker Shiraz Carnival of Love - McLaren Vale. Where is the love? Right here! Teriffic nose of charcuterie, tar and blackberry, with some fascinating brown spices and hint of herbs. Full, rich, and plush in mouthfeel, this was firing on all 12 cylinders. As The Band said, Life is a Carnival.



---
GRAPE RADIO INTERVIEW - Frédéric Magnien


Frédéric Magnien always felt destined to follow in his father's footsteps - indeed, he is the 5th generation in his family to farm vineyards or make wine in Burgundy's Morey-St-Denis. As winemaker for both his father's label (Domaine Michel Magnien) as well as his own négoce wines (Maison Frédéric Magnien), Frederic approaches both vineyard management and winemaking with an obvious zeal.
Join us as we talk with this introspective yet confident Burgundian winemaker about terroir, balance, and the intricacies of Burgundy.