March 22-25, 2007
---
ROAD TRIP - MID-ATLANTIC WINERY VISITS & INTERVIEWS
Since GrapeRadio was going to be on the East Coast for a press conference, we thought, "hey, why not visit some east coast wineries." When Jay first suggested the idea, I must admit my first thought was "Please don't make me taste any those French hybrids!" Well, to cut to the chase, what we discovered over the course of 3 states in 4 days was a definite eye-opener.
I've always held to the mantra, 'good wine is where you find it,' and yet I frankly have viewed most non-California domestic wine as something of an oxymoron. Well, this trip knocked that attitude out of me. The wineries weren't chosen randomly; we'd done our due diligence with some research ahead of time about who to visit. Some were larger wineries (30k cases); others smaller (3k cases). Nevertheless, each seemed to be doing something compelling - much to our surprise and delight.
Thursday - Pennsylvania
We began on Thursday leaving DC to visit two wineries in Pennsylvania. First off, Chaddsford, in Chad's Ford, PA. Meeting Eric Miller at his winery, we took a brief tour to get a sense of where to begin the interview. Housed in a 200 yr-old former dairy barn, this was just one of many places with historical backgrounds, with the property being part of the original William Penn Estate. Interesting and articulate, Eric shared with us his pet peeve with some wines from the area. Brett! He offered (and we didn't disagree) that this was a flaw, and shouldn't be tolerated to any degree. We of course countered that some Brett was considered by many to add to the complexity of certain wines, and besides, perception might be subjective. Ultimately, we agreed to accept each other's views - subjectivity being what it is.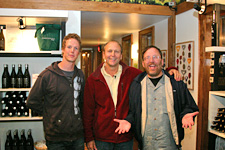 Chaddsford has been around for 25 years, and though it started small, it now produces about 30,000 cases annually -- all of it sold locally, and mostly out of the tasting room! Price points range from $12-40. Most of the wines are bottled as varietals: Pinot Grigio, Chardonnay, Pinot Noir, Cabernet Sauvignon, Chambourcin, and Merlot - mostly from Estate or local vineyards, though the '05 Pinot Grigio was 70% outsourced from New York. In addition, Chaddsford also works with a variety of other grapes, including: Petite Verdot, Cabernet Franc, Barbera, Sangiovese, Dornfelder, Seyval, and Vidal. Some of these are bottled varietally; others are in blends. Of course, there were the usual sweet/seasonal wines as well, made from Niagra, Steuben, Concord, and Vignoles.
Acidity seems to be of little of no problem, and grapes are picked at substantially lower brix than in CA (21-23). Thus, alcohols ran lower as well - from the low to the high sides of 13%. We had a good time, and one of the hoots of the visit was seeing a small plaque that Eric had placed on a wall in the winery. It was a quote from our own Peter Cargasacchi. Here we are on the other side of the country and what do we find? One of Peter's myriad mantras about god, sex, drugs, reincarnation and terroir...and it's FRAMED!
"So sleepy, so very sleepy... damn it's cold.... days are warmer now... and longer... wow time to start catching photons and making carbohydrates... gotta get to the top of this damn tree and find the sun... what the f... what's this wire cage I'm stuck in...? Sex. Sex... gotta have sex... ah... nice... gotta make them foxes and birds help spread my sexy seeds... cover seeds with sweet aromatic flesh... ouch... stop exposing my sweet fruit to sun... days getting shorter, make fruit sweeter and more aromatic... gotta make sure I have enough food to survive the winter.... arginine transport systems go... damn not much water left... better suck nutrients out of leaves and put them in the fruit before leaves drop... get back you goldamn yeast bastards... days are short... getting colder... so sleepy, feeling tired... woods getting hard now... (lignification...) sex.. neeed more sex... come here baby lemme... snore... zzzz....snip snip... ...Ouch!!!!"
Affirmation that the world continues to be a smaller place than we think. And yet, as I recall, they did not ship to California.
Next, we were off to Allegro, in Brogue, PA. The drive to Allegro ran us right through Lancaster County - Amish country. Were it not for the occasional passing car, one might have thought we'd taken a trip back in time. Finally getting to Allegro, we were now in York County, which ironically was now a dry county (Although Allegro was grandfathered in, the apparent purpose of the county fathers was to keep other wineries from coming in). We met with owner/winemaker Carl Helrich and assistant w/m Ray. After intros, Carl immediately led us out to the vineyard to see some old vines. Here were Chardonnay and Cabernet Sauvignon planted in 1973. Purchased in 1978 by John and Tim Crouch, a winery building was built in 1980, and tasting room in 1981. "European-styled" is the best way to describe the wines here, with good acids and slightly lean fruit. Priced from $12-25, Carl bottles most as varietals: Pinot Grigio, Chardonnay, Pinot Noir, Cabernet Sauvignon, Cabernet Franc, Chambourcin, and Merlot - again, mostly from Estate or local vineyards. Here too the ubiquitous sweet/seasonal wines as well, though Carl frankly admits that sales the "party wines" are what subsidizes his love for and ability to work with the vitis vinifera.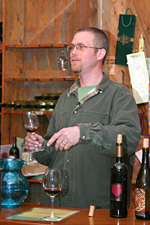 Affable and quite knowledgeable, it seemed to us that Carl had a fanatic passion for both the vineyard and the winemaking. Judging by his description of the diligence needed to farm grapes here, this level of zeal would seem to be a prerequisite. The challenge here is the mid-Atlantic climate is quite humid, making the grapes stay warmer through the shorter growing cycle. Additionally, this gives the vines about triple the susceptability to plant disease, and it's not uncommon for vineyards to get sprayed 15 or more times during the season against various types of rot. Carl mentioned it was a 24/7 kind of job - you have to love it. So, you don't take a vacation, we asked. "Take some time off? You leave here for 7 days and the whole thing could be lost!"
It was a slightly warm, and definitely humid day - apparently more than average for this time of year. He and Ray had opened up the doors to let in some warmth to this otherwise cold winery. This was a mixed blessing, as Carl explained that the winery was a micro-flora haven. The walls certainly showed it, with more creeping crud than you'd see at a mushroom nursery. It was balmy outside too, and this was at 6:00pm. Carl said it took some real vigilance to make wine in a facility such as this. But, he seemed up to the task, and we were looking forward to trying his wares. But, before we did, Carl had something to show us... a old Allegro label. It was from the early '80s and said "Allegro - Opus One." Apparently, when the Mondavi-Rothschild partnership came up with their name, they failed to note that it had already been taken. As Carl related, he didn't know what amount of compensation had been paid to Allegro, but it was allegedly only part of the "understanding" between Mondavi and John Crouch. The balance of the agreement was supposed to have Robert Mondavi pay a visit to Allegro - something that apparently never happened. I love stories like that. Another example - it's a small world.
This was our last visit of the day, so we had plenty of time, as did Carl and Ray. We did still need to drive to our hotel (we were headed to Manassas, VA - about 2.5 hrs away), and traffic would be lighter the later we left. We tasted through some barrel samples that seemed impressive, and headed for the tasting room to try some special bottles that Carl had pulled for out for us, an '82 Cab and a '95 Cab. I must admit, I hadn't any particular expectations about these wines - well, other than I thought the '82 would be long gone. Surprise! 'It's alive, it's alive,' Baron von Frankenstein would have said. Okay, how about the '95. Very, very nice...very Bordeaux-like. I was smitten. Something good is happening here.
Friday - Virginia
We got an early start to see Jim Law at Linden. Admittedly, expectations were higher than the day before. You've got to see Jim Law, it was suggested at both Thursday visits. We will, we assured everyone.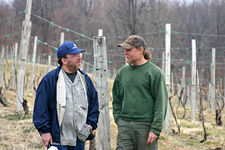 This was a fabulous followup to our last visit on Thursday, as Jim is obviously one of the most talented, dedicated and knowledgeable individuals we've met - anywhere! We were fascinated by the fact that Jim purposely purchases off-vintage Bordeaux to see how the winegrowers handled a "challenging" vintage, and he loved to seek out extraordinary producers in difficult areas - just to see how each managed to push the envelope to get the best wine possible. Jim seems to enjoy the same challenge himself, and the Blue Ridge climate and growing conditions apparently afford him that very "opportunity."
Purchasing an abandoned farm in 1983, Jim began planting vines from cuttings and grafts in 1985. Varieties included Cabernet Sauvignon, Cabernet Franc, Chardonnay, Vidal and Seyval. The first vintage was 1987 and the winery was opened in 1988.
The relatively small 5,000 case production is Jim's "sweet spot," and to exceed this he'd have to sacrifice his winegrowing time - not something he's prone to do. It was an interesting dichotomy out in the vineyard. Jim had recently replaced a block with new denser plantings - like babies, small and petite; while back behind us, stood an army of tall wooden lyre trellises, waiting for the older vines to climb to the top. They've been experimenting here with different varieties, placement, trellising, and som on over many recent years, and from the end product, it seems they're getting closer to defining the mid-Atlantic region. Jim seems to be at the forefront of all of that. "We're still young. We don't have all the answers yet," he would say. Not too dissimilar to what one hears from almost any winegrower on the West Coast. But somehow when Jim said it, it seemed more mystical, as though he looked forward to coming back some generation later, reincarnated as... what else, a winegrower, to see the fruition of his and others' labors.
Everywhere we went, Jim's name came up. It was easy to see that he'd become something of an icon in the region - and deservedly so. How about some wine, he asked us. We thought you'd never ask, we replied. Jim invited down to the cellar to try some of his wines, we could see another reason he's so respected. The wines all had lovely structure, texture, and flavors, and were somewhat soft-spoken, just like Jim. Marvelous time!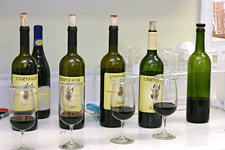 Next, we were off to Chrysalis, near Middleburg. The beautiful countryside around this area is entirely engrossing. It takes no imagination to picture Civil War soldiers running through fields of tall grass bordered by leafless trees, attempting to scale stone fences before flying bullets might claim them. As if to punctuate the time-capsule quality of the countryside, when we first met Chrysalis winemaker Mark Bunter, my jaw almost dropped. Mark was sporting something akin to a Jefferson Davis mustache and goatee, which, when combined with his small steel rim spectacles just fit the mold. I found myself wanting to ask if he himself actually participated in Civil War re-enactments. It turned out that Mark was actually from Napa, and had worked with a few wineries there - which of course prompted the thought (if not the question), 'so why did you leave?' It seems the grass is greener on the East Coast for some of us.
Owned by Jenny McCloud, Chrysalis was one of the larger winery/vineyard operations we visited, with lots of acreage under vine - including a huge planting of Norton, arguably the most well-known non-vinifera in the US. Jenny insisted we try three of their Norton bottlings - from basic to something blended with a little Tannat and Petite Verdot, and meant for some aging. The basic bottling reminded me of something nouveau, a red that hadn't gone through ML, or a Beaujoloais on steriods. The others had a little more complexity, but suffice to say they weren't going to become a fixture in my cellar.
Final stop of the day was Barboursville, in the town of the same name. We met with Luca Paschina, General Manager and winemaker for the past 17 years. Owned since 1976 by the Zonin family of Italy, this historic estate is named after the town, which in turn is named for James Barbour, a former governor and senator from Virginia in the early 1800s. In fact, Barbour's old estate (which burned in a fire in 1884), was designed by Thomas Jefferson, and had the familiar octagon-shaped parlor, a design used often by Jefferson. The Zonins ushered in the first successful vitis vinifera plantings in the state (Jefferson gave it more than a few tries, but wasn't successful).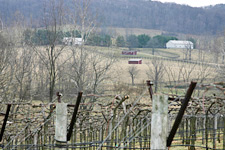 Luca patiently led us around the grounds and over to the estate house ruins, and then through their very modern winery. The tank room was huge, and I asked Luca if they did custom crush here as well. No, he said, it's like a kitchen. If you have extra pots and pans when you cook, you don't need to wash anything out to use it. In other words, they had as much space as they needed without having to empty this or that tank for a new load of fruit. Nice. As we walked through the barrel room, I noticed barrels of both Nebbiolo and Barbera. Grows well?, I asked. Oh yes, he said. How about Sangiovese, I wondered. Nope, not so good, was his answer.
Luca feels that they are beginning to figure out what grows best here, and what makes the best wine. Interestingly (yet, maybe not so surprisingly), he named both Barbera and Nebbiolo, and Viognier is his choice as most successful white. Also produced are Cabernet Sauvignon, and Cabernet Franc, as well as Sauvignon Blanc, Reisling, and Pinot Grigio.
From here, it was off to dinner with some GrapeRadio fans. Ted Burns had arranged for us to meet at a small restaurant nearby in Gordonsville. We were joined by Ted's wife Bonnie, Joe Ward, and Andrew Greene. A nice touch was this opportunity to try nothing but Virginia wines with dinner. We started with a Horton Viognier, then a Chard from a producer I didn't recognize, and a 2004 Barboursville Octagon (a Bordeaux blend), and finally a sparkling Viognier. The first bottle of Octagon was particularly delicious, though the second one seem "off." Everyone's hospitality was the perfect ending to a particularly successful, if long, day. Finally, a big thanks for the generousity of Joe Ward, Director of the Orange County Dept. of Tourism and Visitors Bureau, for hosting this event.
Saturday - Maryland
We'd been going almost non-stop since Wednesday, so to give us a break (let us sleep in past 6:00am), we scuttled one of the three visits scheduled for Maryland. Good thing, too, as we still managed to fill the entire day.
Our first stop was Boordy Vinyards, located in Hydes. Founded by Philip and Jocelyn Wagner, known for introducing new varieties of French hybrid grapevines throughout the United States in the 1930s. They established Maryland's first commercial winery in 1945.
Since 1980, Boordy has been owned by the R.B. Deford family, and is located on their historic 240-acre farm in the Long Green Valley of northeastern Baltimore County. The winery is housed in a 19th century stone barn whose thick walls keep the wine at cellar temperatures throughout the year.
Housed in a cluster of farm buildings from the 1800s, the winery and tasting room have a nice feel to them. We met Proprietor and winemaker Rob Deford inside. Rob attended UC Davis, but as he put it, "there was never any doubt that I'd come back here to Maryland to make wine." This was his home.
We headed over across the street to see three generations of vines, and conducted part of our interview there, before heading back to a large back room just off the tasting room. We tried something a little different, and had Rob on camera most of the time - similar to our Russian River interviews. During this time, we could hear some traffic in the tasting room, and it sounded like someone was having a lot of fun. jay went to investigate, and decided to bring back two ladies that were visiting - and tasting - for an impromptu interview of them, and we had some fun with it.
Boordy currently produces 70,000 gallons of wine annually. Forty acres of grapes are cultivated in the Long Green Valley (Central Piedmont region) and in the Catoctin Mountains of western Maryland. Varieties grown include chardonnay, cabernet sauvignon, cabernet franc, merlot, petit verdot, seyval blanc, and vidal blanc. Boordy's winemaker since 1986 has been Tom Burns.
We were off to our last stop at Black Ankle Vineyards in Mt. Airy. I hadn't heard much about Black Ankle, other than the name was cool and they apparently didn't have any wine to see as yet.
Ed Boyce and wife Sarah O'Herron are doing something special here. Quitting their respective careers in Management Consulting, they decided to go back to the earth. The pair began doing armchair research beginning in 2001, and traveled through Virginia, Maryland, New York, Pennsylvania, California, France, Italy, and New Zealand in hopes of establishing a vineyard and growing wine. They finally found a beautiful 146-acre farm in Frederick County, with about 40 acres suited to grape vines. The site was sloped, well-drained and had low vigor soil. The couple purchased the property in 2002 and immediately began preparing the site for planting.
They started in 2003 by planting a block of red varieties: Syrah and the five Bordeaux reds (Cabernet Sauvignon, Cabernet Franc, Merlot, Petit Verdot, Malbec). In 2004 they added additional acreage of Cabernet Sauvignon, Cabernet Franc, Merlot and Syrah as well as a small parcel of Pinot Noir. In addition, they planted some interesting white varieties: Gruner Veltliner, Albarino, Viognier, and Chardonnay.
They also decided to practice Biodynamics. This organic farming movement was spawned by Austrian philosopher Rudolf Steiner in the 1920's. Working as much as possible by the rhythms of the moon, planets and seasons, it emphasizes biodiversity with a goal of self-sufficiency for the farm as a whole. Biodymanics is semi-controversial, primarily because it pushes the envelope on organic methods. And, we even chided Ed a bit about the moon and cow horn thing. But, he and his family have embraced the concept and when Ed explains their rationale, it makes plenty of sense.
Ed welcomed us, and invited us into a nice moderized room in one of the otherwise older farm buildings on the property. Rob said you guys would be hungry - want some cheese and crackers? You bet, thanks. The vineyard manager and crew live on the property, but Ed and his family live about an hour away - at least until they can build another house on the property. Getting started, we walked up the hill into the vineyard behind the farm building.
After checking out the vineyard, Ed led us over to the winery, where he grabbed a wine thief so we could do some barrel tasting. Right out of the gate, we could see that something was different here. These wines had much deeper color that what we'd been seeing. Nice qualities too, though by this time my head cold was starting take over my nose and palate. Ed has hired Lucien Guillemet from Bordeaux, as a winemaking consultant. They use a long cold soak, and then ferment warm. Ed also developed a thing he calls a "cannonball" tank. It's a small loading tank with a pneumatic valve on the bottom. The tank is filled with lightly crushed fruit, and put into place above a fermentation tank, and the valve is released to let the fruit drop with gravity into the tank.
So, where'd the name Black Ankle come from? Well, it's located on Black Ankle Road, but Ed's research really couldn't come to a definite conclusion as to why the road had that name. I suppose sometimes mysteries are better left unsolved.
Sunday - Virginia

After a good breakfast, we headed out for our last winery of the trip - the Winery at LaGrange, just outside of Haymarket, Virginia. After several miscues (the driver, me, thought he knew best), we finally made a call and found the place. Fabulous digs, it seems the proprietors had recently bought this beautiful estate, just west of Manassas and about an hour from Washington DC.
We met with Fletcher Henderson, general manager of the winery, who let us know that they were having a barrel/futures tasting very shortly, so we'd have to work fast to get in our interviews. We started by talking to the winemaker, Rob Cox. Rob pretty much echoed what others had said - the East Coast was a great place to be, and Virginia in particular was poised to make a breakthrough. Fletcher suggested we start with some wine (always a good suggestion) while he tended to a couple of details, and we headed for the tasting room. A lovely young lady names Lilia poured us through the entire lineup as we chatted a bit about with her about our trip thus far.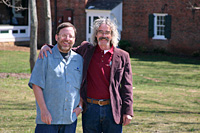 Ironically, a local free-lance wine writer, Walker Elliott Rowe happened into the tasting room with friend named Holly, and Jay got a terrific idea. Jay asked if Lilia would mind being interviewed as she poured wine. Jay suggested he and I each take a side of the tasting bar - he with Lilia, and I with a lady Holly to ask about their experiences. Not sure if the video will make the cut, but a fun experience nonetheless.
We finally were able to pull Fletcher aside to get an interview with him. Interesting fellow, and he too sees a bright future for Virginia wine - in fact it's been keeping him busy 7 days a week for the last several months.
meanwhile, back in winery, things were getting moving along with the barrel tasting and tours for customers. We were going to take the opportunity to do a little barrel tasting ourselves, but were running out of time. We still needed to drop Mark at the train station and catch our plane at Dulles Airport. Sadly, barrel tasting would have to be left for next time - and we definitely decided there would be a next time.
Wrap-up:
Yep, this was an eye-opener. No, these wines weren't powerhouse examples of fruit, or blockbusters of extraction and texture. What they were was somewhat leaner, less alcoholic, more feminine, and possibly more delicate or elegant. They seemed to be a fascinating bridge between "old world" and "new world," almost in direct proportion to their geographic location between Europe and California.
More than once I found myself asking these folks, "Why here?" I was certain that they must all be natives - a few were, but the vast majority were not. I wondered (sometimes aloud) if these talented people somehow felt like they were playing in the Minor Leagues by not going West. They indulged me, and down to the last person explained that the challenge of growing wine here held its own rewards. One of them did admit that they were indeed the Minor Leagues - but, hastened to add they were not making Minor League wines. It was beginning to sink in, and at one point I looked at Jay, "these guys aren't undiscovered - they're hiding out! I'll bet they're part of some winegrower-witness relocation program."
March 21, 2007
---
JOINT DECLARATION - WASHINGTON, DC
GrapeRadio was invited to come to Washington DC to cover the press conference and reception for the Joint Declaration to Protect Wine Place Names & Origin. What began in 2005 with the regions of Napa Valley, Oregon, Washington, Walla Walla Valley, Champagne, Porto, and Jerez forming a coalition to promote truth in labeling, picked up additional signators with Sonoma County and Paso Robles, California; Chianti Classico, Italy; Tokaj, Hungary; and, Victoria, and Western Australia.
A reception and wine-tasting was held in the Capitol that same evening, and we were there at the Cannon House Office Bldg to interview most of the signatories, as well as some attendees and Congressman Mike Thompson from Napa Valley.
Check out the press conference at GrapeRadio, and we'll have the interviews and a short video up in the near future. You can also find more info at their site: http://www.protectplace.com.
March 10, 2007
---
WINE CASK - SANTA BARBARA FUTURES
Attended the annual Wine Cask presentation of the 2007 Santa Barbara Futures - mostly offering the 2005-06 vintages at pre-buy pricing. I'll work up a full tasting profile of most of the wineries present, and post it in my tasting note section - hopefully by early April.
Meanwhile, here were some of my highlights:
Alta Maria Grenache
Arcadian Dierberg PN
ABC Isabelle Morgan PN
Cargasacchi Jalama PN (the Jalama bottling? go figure)
Carhartt Sauvignon Blanc (another surprise)
Carlson Ashley's PN (yet another surprise)
Core Mourvedre (both of the Cores were very good)
Core "Ground Around"
Drew Jalama PN (another Jalama mama)
Foley 2a PN
Kaena "Hapa" (nice)
Kenneth Crawford Syrahs
Paul Lato Gold Coast PN
Longoria Tempranillo
Longoria Fe Ciega PN
Margerum Alondra Syrah
Native 9
Piedrassi Syrah (very nice)
Qupe X Blk Syrah (50% whole cluster syrah!!)
Rusack PN
Sea Smoke Southing
Vino V PN
March 4-6, 2007
---
SONOMA & MENDOCINO - visits and interviews
The GrapeRadio guys were dispatched to the north country to get more in-depth interviews with vineyard and winery owners in and about the Russian River Valley. This time out, we had a couple of visits scheduled in Mendocino County as well.
First off, it was up to Mendo, where we had the very good fortune to meet with Burt Williams. The name sounds familiar, doesn't it. Yes, it's Burt Williams, as in Williams Selyem. As you might imagine, we were both eager and more than a little anxious to sit and talk with this well-known figure - a legend in the wine world. Burt had some great stories and memories to share with us.
After the interview, we sat down to a bottle of '92 W-S RRV and '95 W-S Summa, and an '04 Brogan - made from the fruit here at Burt's Morning Dew Ranch. His wife had put out some artisan breads, home-grown olives, and pruscutto, and we just hated to leave. Needless to say, we thoroughly enjoyed the time we spent with Burt and his wife at their Mendocino hideaway (and vineyard).
We also met with David Hirsch at his vineyard out on the Sonoma Coast, near Cazadero. When they came up with the phrase "can't get there from here," they must've been talking about the drive to David's vineyard, because it is way, way out there! I'd been here before, but still managed to get lost getting here again.
David's a fascinating guy, and can turn a phrase with the best of them. I found myself laughing way too much of the time.
We also sat down with the with a very gracious Helen Bacigalupi, who along with husband Charles own Bacigalupi Vnyd on Westside Road in the Russian River Valley. And, we headed back up to Mendocino County to visit with Bill Weir at Weir Vineyards for our final visit of the trip - and a good one it was, too. After our interview, Bill broke out bottles of both the '03 and '04 Williams Selyem Weir Vineyard bottling, and we sat on the deck for an hour just enjoying the company and the wine. Life is good!
GrapeRadio headed north to cover the 7th annual World of Pinot Noir, held in Shell Beach on the Central California coast each Spring. We'd covered this event and its seminars in 2006 (see: All About Clones, Tribute to Bien Nacido Vnyds, The Wines of Maison Jadot), and were looking forward to this year's events as well.
For 2007, we've recorded seminars and discussions with author John Haeger, a panel of luminaries such as David Hirsch, Josh Jensen, and Richard Sanford, a discussion and tasting of Domaine Comte Georges de Vogue - with Allen Meadows, and an Iron Sommelier Challenge. In addition, we spent some time interviewing plenty of attendees and winemakers. So, stay tuned to GrapeRadio for the seminars and interviews. The wines? Oh, they were fabulous.