May 30, 2006
---
TWO CENTRAL COAST VISITS
Visits to Ortman, Claiborne-Churchill
World of Pinot weekend - Friday, March 3rd. After finishing up the Arcadian barrel tasting on Friday morning, Gerry Frayer and I had some time to kill before meeting about 18 other people for the offline dinner in SLO. We'd arranged to meet Ken Zinns, Eric Lundblad and Al Osterheld at the Ortman tasting room in Edna Valley. We figured we could get in a few visits to wineries before heading up to SLO, and there was no sense burning daylight.
Ortman - the tasting room was nicely appointed and reasonably spacious. Good thing, because it was getting hammered (with people, not alcohol) all during the time we were there. But the staff treated us quite well, as we largely hung out in the back of the room to allow the hordes of other visitors to get to the tasting bar. I only wish the wines were as good as the ambiance.
2003 Ortman Pinot Noir - Santa Rita Hills. From Fiddlestix and Rancho Santa Rosa (Foley) sources. Floral and some clove notes in the nose. Nice enough body and texture, but a bit more tart than expected. I had this same wine a year ago, and was more impressed at the time.
2003 Ortman Pinot Noir - Willamette Valley. Seemingly more in body and a bit more earthy than the previous sample. Nice flavors and finish.
2003 Ortman Pinot Noir - Fiddlestix. Distinctive sappy bark, floral, earthy rose stem scent. Nice front end, a bit softer in mid and latter palate.
2003 Ortman Sangiovese - Paso Robles. A bit too ripe for my palate - even a little Zin-like, and the dried cherry starts to get more like sun-dried tomato.
2002 Ortman Syrah - Nice typical tar-scented nose, but a bit underfilled in mouthfeel.
2004 Saucelito Canyon Zinfandel - Lodi. Considering the source, I fully expected this to over the top in ripeness - but no. Quite nice as a "regular" bottling, with nice balance and flavors.
2004 Saucelito Canyon Zinfandel - Arroyo Grande Valley. Nice floral tones to the herb-infused boysenberry fruit. Very nice balance,flavors and finish.
2004 Saucelito Canyon Zinfandel - Estate. Somewhat riper than the previous bottling, with an old-viney quality of spice and bark. Good balance, slightly sweet mouthfeel and finish.
We headed over to Claiborne & Churchill, a place I'd never been before, but had always wanted to try. Known more for whites, C&C is located on the westside of the valley, conveniently on our way back to SLO.
---
Claiborne & Churchill
- they've built a nice spacious tasting room in a straw-bale barn - which is nothing like it sounds. Rather, the interior looks something like an adobe hacienda, which makes sense, since the stacked bales are covered by stucco and/or plaster. On to the wines:
2004 Claiborne & Churchill Dry Gewrutztraminer - Monterey Co. It seemed a bit worrisome to see they were starting with a Gewrutz - given we usually expect a little sweetness or residual sugar. But, this one was completely dry, with a nice floral nose, and almost a completely neutral palate.
2004 Claiborne & Churchill Dry Reisling - Monterey Co. Nice floral scent and crisp fruity mouthfeel, with a hint of golden raisin.
2005 Claiborne & Churchill Pinot Gris - Crisp nose and mouthfeel, nice light fruity quality, and good balance.
2003 Claiborne & Churchill Strawbale Red - Odd nose of dried fruit and cheese. Decent mouthfeel and flavors, and sort of tasty in the finish.
2002 Claiborne & Churchill Pinot Noir - Twin Creeks. Nice lightly spicy cherry nose, with good mouthfeel and finish.
2002 Claiborne & Churchill Syrah - California. Corked! Pity too, because they'd apparently already poured 1/2 bottle earlier.
2005 Claiborne & Churchill Nektar - Good effort to replicate an Ice Wine, by freezing Riesling juice. Decent 11% dessert wine.
Claiborne & Churchill Port Obispo Port - not bad. Nice sweet fortified Cab-based wine delivers a decent Port-style wine, but it's not Oporto either.
May 29, 2006
---
FOCUS GROUP - SYRAH TASTING
Winemaker Larry Roberts had asked a few consumers, a winemaker and a retailer to participate in a blind tasting - as a focus group to see how his own Syrah (Redline Wines) compared to several other brands. (Redline is an homage to his former racing photography days; his wines were previously under the Caernarvon Cellars label.) Larry selected all of the wines and bagged and labeled them. He had arranged to use the upstairs of a local San Luis Obispo grill for the tasting. Nice surroundings, and we were completely undisturbed.
We knew all of the bagged bottles were Syrah/Shiraz, but we unaware of the brand names, vintages, or AVAs. We were asked to make notes, rank the wines from 1-9, group them by quality, decide whether or not we would buy them, and at what price. Finally, we were asked to estimate a selling price.
Here are my own tasting notes of the wines - tasted blind.
| | | | | |
| --- | --- | --- | --- | --- |
| Wine | Tasting Notes | Score | Rank | Group |
| 1 | Dark ruby color, thick appearance. Nose of blue and blackberry, herbs and lavender, with a hint of vitamin. Full mouthfeel, off-sweet black cherry blackberry fruit, good balance, medium-long finish. Maybe Aussie? | 88 | 8 | C |
| 2 | Medium-ruby garnet color. Slightoold-vine - almost Zin-like quality. Meaty, and a bit hi-toned with predom red fruit. Hot climate? Notes of tar and asphalt, with a touch of funk. Nice sweet/sour fruit, very good balance, medium-long slightly soft finish | 89 | 6 | C |
| 3 | Dark ruby color. Slightly shy, but lovely nose of smoked meat, ash, and roasted Cote Rotie scent. Off-sweet smoky flavor, excellent balance, slightly hi-toned, with very, very long and slightly hot finish. | 90 | 1 | A |
| 4 | Dark ruby color. Nose of meat, tar and asphalt, with a light licorice hint. Big and rich mouthfeel, very good balance, tons of fruit, lots of spice and dark olive. Very long finish,but the fruit seems to drop out a bit early. | 90 | 3 | B |
| 5 | Medium-dark ruby garnet color. Correct nose, with a bit of everything - meat, tar, licorice, ash but somehow not inspirational. Off-sweet fruit, good balance, light spicy pepper, very long grippy finish. Nice, just not shining right now. | 89 | 5 | B |
| 6 | Dark ruby color. Nice nose, with light chalk and mineral component, tar and licorice. Off-sweet fruit, nice body and mouthfeel. Holds together through long finish. Meaty, tasty, nice long finish and aftertaste. | 89 | 4 | B |
| 7 | Dark ruby-garnet color. Big blackberry nose, slight funk, tar, and asphalt. Nice flavors, not showing much complexity right now. Lots of blackberry on the palate, possibly a touch cloying in mouthfeel, big up-front, but lacking a bit on back end. | 88 | 7 | C |
| 8 | Medium-dark ruby color. Nose of blackberry, baking spices, tar, licroice and a hint of chocolate. Slightly sweet mouthfeel, nice fruit, fine-grained tannins, long smooth finish. Big on fruit, smooth, showing moderate complexity. | 90 | 2 | A |
| 9 | Medium ruby color. Somewhat candied and chocolate-laced blackberry; a bit primary. Sweet/sour mouthfeel - nice fruit initially, but seems to fall off on the back end to a relatively short finish. | 88 | 9 | C |

Here are results, which Larry averaged and summarized based on our responses for the 9 wines tasted.
| | | | | | | | |
| --- | --- | --- | --- | --- | --- | --- | --- |
| Wine | Avg Rank | Avg Score | Group | Buy? | Price | Actual Price | Review |
| 1. 2003 Beckmen Block 6 Purisima Mtn Syrah - SYV | 7 | 89.3 | C | 60% | 28 | 45 | 94 - WA |
| 2. 2003 Palm Cellars Syrah - Paso Robles | 8 | 88.9 | C | 70% | 26 | 30 | n/a |
| 3. 2003 Herman Story Larner Syrah - SYV | 5 | 88.7 | B | 67% | 26 | 30 | 90 - WA |
| 4. 2003 Novy Syrah - SLH | 3 | 90.2 | C | 75% | 30 | 27 | 90 - WS |
| 5. 2004 Redline Eagle Point Ranch Syrah - Mendocino | 3 | 90.5 | A | 89% | 32 | n/a | n/a |
| 6. 2004 Redline Cedar Ln Syrah - Arroyo Seco | 1 | 90.1 | B | 87% | 27 | n/a | n/a |
| 7. 2004 Two Hands Angel Share Shiraz - McLaren Vale | 6 | 88.6 | C | 78% | 26 | 25 | 95 - WA |
| 8. 2003 Taz Goat Rock Syrah - SMV | 1 | 89.6 | B | 87% | 27 | 25 | 90 - WS |
| 9. 2004 Redline Blue Oaks Syrah - Paso Robles | 9 | 88.7 | C | 67% | 23 | n/a | n/a |
So, what's to be learned from all this? Well, first off it's a sobering experience (no pun intended) to go through the exercise of blind tasting a wine, only to find out once the bottles were unmasked, you gave a lower rank to one or more of your presumed favorites. But, such is the capriciousness of blind tasting. That said, I'm sure Larry was somewhat elated, as two of his wines finished in the top four.
Now of course we can also argue the relative merits/pitfalls of tasting together different vintages, different appellations, and different winemaking styles. On the other hand, this was essentially a shootout - a competition of selecting what tastes best right now - regardless of vintage, AVA, or style. When all is done and said, it all comes down to a matter of taste!
May 21, 2006
---
NEW CONTRIBUTING WRITERS ADDED TO GRAPE-NUTZ
GrapeNutz is pleased to announce that we will now host the Tom Hill tasting note archive - an impressive tome of tasting notes spanning back to 1996. Tom is a "venerated icon" in the California wine scene - if not the USA, and these notes should prove a valuable reference to anyone with a passion for wine.
We are also pleased to announce that Ken Zinns will be contributing to the wine travelogs, with touring and tasting notes from his own travels through California wine regions. Ken is a Bay Area architect who has been making wine-tasting trips to the Central Coast since early '92, and has come to love the area - not only for the wines, which just get better year by year, but also for the people.
May 20, 2006
---
WINE SPECTATOR GRAND TOUR
The GrapeRadio crew received an invitation to cover the 2006 Wine Spectator Grand Tour on May 6th in Las Vegas. This is an annual road show type of event presented by the Wine Spectator to showcase some of the world's best wines - all in one setting.
The event is $200 per ticket, but as the Wine Spectator (WS) management pointed out, there are 200 wineries in attendance, and "...that's about a dollar per taste." I had to give them that - though I can't recall ever tasting 200 wines at one sitting, or standing, as the case may be. So, how do they determine the wines that are being poured? We were told that producers - any producers - could submit 1 (one) wine to the WS for review, and the WS would chose the first 200 that they deemed worthy enough for the event. Therefore, each table was only pouring one wine - something that on the surface may seem short-sighted, but if you think about it, is ingenious.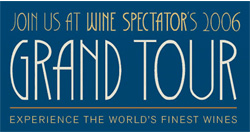 Having not attended this event before, I really wasn't certain what to expect: would there be long lines at each table - would there even be tables, for that matter. We arrived at the appointed time at the Venetian Hotel on the Strip to an already looming crowd. A few interviews later (we're working this event - remember), we got into the long line with the rest of the patrons and made our way to the door. Surprisingly, it only took about 20 minutes to make our way inside.
I went over to get a glass...Ticket please, I was asked. They'd torn my ticket in half at the door when I entered, but I needed the other half-ticket to get a wine glass. Luckily, I hadn't thrown it out...or had I? After checking pockets twice I finally found the ticket to redeem my Reidel, and off I went to try a few wines.
The wineries were all set up in rows, more or less like a vendor exhibition, with backdrops separating each aisle. As it turned out, the WS had strategically set up the order of things (assuming you knew where the starting point was) so that the tasting started with Champagnes and sparkling wines, and if you meandered through the aisles in the correct order, you came upon white wines, followed by lighter red wines, then medium to full bodied reds, and finally - you guessed it - to the Aussies, Italians, and ultimately the dessert wines. Very nice, indeed!
The list of producers in attendance reads like a who's-who of the wine world. Names such as Bollinger, Chapoutier, Dominus, Caymus, Antinori and Ornellaia were around every corner. Bordeaux was representated with names like Leoville Barton, Lynch Bages, Margaux, Gruaud Larose, Angelus, and Mouton. And what were they pouring? Well, Phelps was pouring an Insignia, Caymus was pouring a Special Selection Cabernet and everyone else had brought out something memorable. There were a few areas that jammed up a bit, but with only one wine per table, people moved along nicely. The only actual line I encountered was the one at Margaux. And even at that, the line moved along very quickly.
In addition to sampling a few wines here and there (sorry, no notes - but lots of memories), we interviewed several attendees as well as producers. It was fascinating to speak with Anthony Barton, of Chateau Leoville Barton, as well as the assistant winemaker at Poliziano. A funny moment was finding Paso Robles friend Stephan Asseo, of L'Aventure winery, slotted into an aisle near the beginning of the red wines, and ironically next to Chateaux Petite Villages and Pichon Longueville (French-born Stephan used to be a Bordeaux winery owner). What a coup this was for a Paso Robles winery, I thought. However did you get this spot, I asked Stephan incredulously. He smiled back with a knowing shrug, obviously pleased. He was also pouring his '03 Estate Cuvee, a Syrah-Cabernet blend, which was showing drop-dead gorgeous.
The tasting ran from 7-10pm, and we'd made plans for a late supper at Pinot, one of the Venetian's premier restaurants. Although there was lots of attractive food available at the tasting, we really hadn't had time to eat since a late lunch at Famous Dave's BBQ, so dinner did hit the spot. What a great evening!
May 06, 2006
---
ARCADIAN BARREL TASTING
Recently, Joe Davis of Arcadian winery had arranged to have Gerry Frayer sample me on several '04 & '05 barrels of different Arcadian wines. Our goal was more one of research - an excercise to see what differences we could detect in different clones and different barrels or lots. Instructive, to say the least, this is always one of my favorite things to do, and this was no exception. Most of the various lots of wine from the same vineyard will ultimately be combined into a final blend - but it's really neat to taste the individual components beforehand.
Barrel Tasting: even though barrel tasting is one of the most educational ways to sample wine, it is also something that causes more than a little angst among winemakers. The fact is that the wines being sampled from barrel haven't finished their infancy yet - they are still going through growth and development in the barrel. Therefore, winemakers are often reluctant to expose their barrel samples to the public - concerned the wines may be misjudged or unappreciated by tasters during this growth stage.
Kudos to Joe Davis and the many other winemakers that allow and encourage wine lovers to taste these wines while still in their primal stages. I was especially fascinated at this tasting to find that - all things being equal with barrel and clone, there can still be substantial differences between lots from the same vineyard.
(Wines tasted March 3, 2006)

Pinot Noir
2005 Arcadian Solomon Hills Pinot Noir - (Dargaud et Jaegle (DJ) barrel, 667 clone) gorgeous nose of black cherry and strawberry, lots of structure in the mouth, chewy fruit and very long finish.
2005 Arcadian Solomon Hills Pinot Noir - (Sirugue barrel, 667 clone) similar fruit profile in nose and mouth, but with noticably gaminess throughout.
----------------------
2004 Arcadian Fiddlestix Pinot Noir - (lot 1) fascinating floral nose, nice structure, full bodied, slightly sweet and ripe.
2004 Arcadian Fiddlestix Pinot Noir - (lot 2) similar to above, though somewhat more structured and a bit less ripe.
2004 Arcadian Pisoni Pinot Noir - lovely dark fruit nose, fabulous balance and seemingly perfect ripeness. Very nice stuff!
2004 Arcadian Pisoni Pinot Noir - (François Freres barrel) slightly riper nose than the previous sample, there also seems to be more structure and sterness in mouthfeel.
2004 Arcadian Pisoni Pinot Noir - spicy in nose and mouth, delicious fruit and mouthfeel. "Goldilocks" kind of nose and mouth - with just the right amount of everything.
2004 Arcadian Pisoni Pinot Noir - (François Freres barrel) nice dark cherry nose, with touches of citrus and mineral noted on the finish.
2004 Arcadian Pisoni Pinot Noir - (Sirugue barrel) gorgeous nose of dark fruit, line sap and forest floor. Rich and tasty in mouthfeel, with smooth long finish.
Syrah
2004 Arcadian Westerly Syrah - (Sirugue barrel, 877 clone) nose of dark berry, mineral and anise. Plenty of acids balance out this fruit nicely.
2004 Arcadian Westerly Syrah - (Sirugue barrel, 174 clone) dense and brooding nose of dark berry. The acids seem to have the upper hand here, and continue on through the long tannic finish.
2004 Arcadian Westerly Syrah - (François Freres barrel, 877 clone) lots of tarry accents in the blackberry nose. Good balance and body, though the wine does seem to soften up a bit on the back end.
2004 Arcadian Westerly Syrah - (383 clone) very complex nose of dark berry, toasted herb, and a hint of glove leather. Beautiful mouthfeel from front to mid-palate, but seems to fall off rapidly on the latter palate.
2004 Arcadian Westerly Syrah - (383 clone) destined to become the "Max Cuvee" bottling, this barrel embodied the best of the previous barrel, but with significantly more depth on the palate, and a smooth velvety texture through the long full finish. Mmmmmmm!
2004 Arcadian Westerly Syrah - (877 clone) also destined to become the "Max Cuvee" bottling, this, smells and tastes riper than the previous 383 barrels, but in a nice way! Somewhat sweet and toasty, with lovely weight and balance, and a sweet tasty finish.
------------------------
2005 Arcadian Westerly Syrah - (877 clone) slightly funky nose, nice dark fruit, very good balance and finieh.
2005 Arcadian Westerly Syrah - (174 clone) "pressings" noted on barrel. Very nice dark fruit, lots of mouthfeel, and very chewy finish.
2005 Arcadian Westerly Syrah - (174 clone) "not pressed" noted on barrel. Really nice nose - more tar and anise accents than the previous barrel. Nice textures and flavors, juicy acids and long finish. Lovely!
Leigh Cellars - this project is Gerry Frayer's own label.
2005 Leigh Cellars Sleepy Hollow Syrah - (DJ barrel, Estrella clone) lots of gamey espresso notes, very nice dark berry and light herb flavors, and smooth long finish.
2005 Leigh Cellars Sleepy Hollow Syrah - (DJ barrel, Estrella clone) different barrel - here's an interesting example of 'all things being equal.' Same type of barrel and clone, yet this sample seemed to exhibit much more substance and structure throughout. Go figure! Oh, it's very nice, too.
2005 Leigh Cellars Sleepy Hollow Syrah - (Sirugue barrel, Estrella clone) a bit restrained at first, the nose of dark fruit loosens up with some air. Plenty of structure, somewhat primary fruit, good balance and finish.