2005 HOSPICE DU RHÔNE - PASO ROBLES, CA -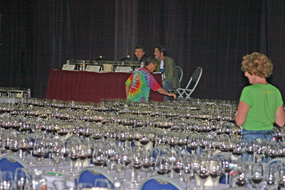 Sommeliers wade through a sea of glasses
Held Friday & Saturday, May 13 & 14, 2005, the 13th annual Hospice du Rhône drew Rhône wine producers and enthusiasts from around the world to see, hear and taste what is new (and old, for that matter) in Syrah, Grenache, and twenty other Rhône varietals. This two-day event features wine seminars that include vertical tastings, two very large Library and Grand tastings, and the unique opportunity to meet and talk with the producers and winemakers who are at the forefront of the burgeoning Rhône varietal movement throughout the world. Seminar presenters, wineries and attendees come from all over the U.S., France, Australia, South Africa and several other countries to attend this annual festival.
The seminars are included in the "complete weekend package;" tickets are not available to attend the individual presentations. The HdR seminars are always a cut above any others, because they are moderated and paneled by established growers, producers and winemakers - each of them industry legends. Were that not enough, the wines assembled for each seminar are matched to the seminar theme, and are frequently assembled from the remaining stocks or libraries of the presenters.
Funny Business
Despite the instructive nature of these seminars, they never border on stiff or boring. In fact, there are always one or more surprises - often gags played on or by presenters, or the HdR organizers themselves. This year was no exception. John Alban started off the festivities with a welcome and introduction of this year's seminar program. Noting that it took "big balls" to start an HdR on Friday the 13th, John rhetorically asked Executive Director Vicki Carroll, "...speaking of 'big balls,' where's Mat?" Vicki played along, shrugging that she didn't know. At that moment, Mat appeared at the back of the hall, dressed as Dorothy from the 'Wizard of Oz,' (this year's theme 'there's no place like Rhône') and proceeded to skip up to the front of the room to join John and Vicki. Standing there in a gingham size 22 dress and pig-tailed wig, Mat asks in a surprised tone, "you didn't get the memo?" John replies deadpanned, "no, obviously, you didn't get the memo." (Mat was to recount later that a size-22 was the biggest dress they could find, and the sleeves still had to be cut to get his arms into them. "My arms were turning blue - I told them 'cut me, cut me.'")
Later, after the end of the second seminar, Mat continued with his annual 'drink pink' mantra - his own personal campaign for Rose wines. With their rendition of 'Pink Gun,' Mat and his troup parodied the movie 'Top Gun,' in a nearly-professional video that ran about 15 minutes after the second seminar. Needless to say, Mat's wife Amie played the Kelly McGillis role.
Another stunt took place just before the last seminar. John Alban introduced the panel and began to describe the lengths to which he had to go to get Alvaro Palacios to come to HdR. John had apparently been calling the Bodega frequently, asking to speak to Alvaro. The answer from his assistant, Blanca, always seemed to be the same - thank you, but Señor Palacios doesn't like to speak to large crowds.
However, never wanting to miss an opportunity to call (although he was afraid he was starting to look like a stalker), John glanced at his watch one night, while he, Mat and Vicki were out on the road. Considering the time zones, John announced, "Hey, it's 1:00 in the morning here - it must be Alvaro time," and started dialing the phone. "Hi Blanca, is Alvaro there," he asked for what was probably the upteenth time. Let me see if he'll speak to you, she said. Blanca then came back to the phone to tell John that "he'll speak to you next year about attending." Wow," said John jumping up and down and turning to tell Mat and Vicki the good news - "Alvaro's coming next year, Alvaro's coming next year." Over-hearing this, Blanca corrected John, "no, no, he'll talk to you next year about coming some time in the future."
Long story short, Alvaro Palacios decided to come to HdR in 2005. There was just one hitch - Palacios was not used to speaking in front of a "crowd." Well, it's not really a 'crowd,' it's more of a mob, John recalled thinking to himself. But, John decided he needed to set his guest at ease when he arrived for the seminar. So, at the start of the seminar, Alban reminded all of us of the old axiom about how speakers should imagine the audience in their underwear. "So, Alvaro," he said, addressing Palacios, "I'll start first." John then proceeded to strip down to his underwear, a pair of "Bazooka" bubble gum boxers! Were it not enough to witness John Alban standing there with pants to his knees, a band of "extras" then came marching out in their underwear, turning around to reveal that their backsides spelled out "WE [HEART] ALVARO." Now there's an opening you won't see at your average stuffy wine festival.
The Wines of Kilikanoon and Pike - Friday, 10:00AM
PIKES :

1998 Pikes Shiraz - Clare Valley. Has a light cedar infusion to the dark fruit nose. Rich mouthfeel, with lots of spice and a nice smooth finish.

2004 Pikes "Gills Farm" Viognier - Clare Valley. Lightly floral scent, with notes of white peach and jasmine. Crisp mouthfeel, light peach/apricot flavor with a honeysuckle taste to the long finish.

2002 Pikes Shiraz Mourvedre Grenache - Clare Valley. Rich, lightly spiced chocolate/vanilla scent to the nose. Fleshy and slightly sweet mouthfeel, with lingering spices on the palate. (French oak only. Neil attributed the chocolate to the Grenache.)

2002 Pikes Shiraz - Clare Valley. Deeper, and more brooding in the nose, with lots of spice and pepper and a hint of chocolate mint. Full and rich on the palate, Neil said that while he didn't try for a big wine intentionally, the excellent vintage was delivered by perfect weather.

2003 Pikes "EWP" Shiraz - Clare Valley. Light minty spices in the blackberry nose. More refined on the palate than some of the preceding wines, the spiciness still came through in the flavor profile, and lingered through the long very smooth dark berry finish.

KILIKANOON :

2002 Kilikanoon "Killermans Run" Shiraz Grenache - Clare Valley. Nose of dark cherry and blackberry, with hints of cedar, mint and a touch of spice. Much more Grenache-like in mouthfeel, with lots of raspberry and sweet/sour dark cherry.

2002 Kilikanoon "Medley" GSM - Clare Valley. Very similar to the Killermans Run, the nose seems darker in fruit that the mouthfeel. Still plenty of spice throughout, with a light chocolate tinge on the finish.

2002 Kilikanoon "Prodigal" Grenache - Clare Valley. Lots of raspberry, spice, and a dollop of chocolate in the nose. Initially sweet mouthfeel, that gets more sweet/sour toward mid-palate, leading to a long spicy finish.

2002 Kilikanoon "Parable" Shiraz - Clare Valley. Somewhat closed in the nose, with background notes of black raspberry and spice. Full in mouthfeel, lots of dark fruit, somewhat chewy textures and long finish.

2002 Kilikanoon "Covenant" Shiraz - Clare Valley. Wow! Big and bold aromas of dark fruit, with lesser notes of roasted nuts and cake spices. Very smooth and tasty on the palate, lots of fine-grained tannins, smooth luxurious finish.

2001 Kilikanoon "Oracle" Shiraz - Clare Valley. Right now, this bottling is somewhere between the Parable and the Covenant in terms of size and structure. Beautiful spiced dark fruit nose, and lots of tasty fruit on the palate, and nicely balanced finish.

2002 Kilikanoon "Oracle" Shiraz - Clare Valley. Gorgeous nose of blackberry pie, big rich mouthfeel with masses of fruit on the palate, and very long tasty finish.

2002 Kilikanoon Barossa Reserve Shiraz - Clare Valley. Fabulous nose of blackberry, mint, toasted bread, and spices. Very concentrated mouthfeel, with wonderful balance and long seamless finish.
(Moderated by Peter Kasperski of Cowboy Ciao, this seminar gave us a look at the wines from the Kevin Mitchell of Kilikanoon and Neil Pike of Pike's Wines.)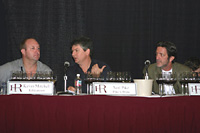 (l to r) Kevin Mitchell, Neil Pike, and moderator Peter Kasperski
Moderator Peter Kasperski (owner of several restaurants and wine bars in Arizona) began by telling us of his own admiration for Clare Valley, and then introduced Kevin Mitchell and Neil Pike, the respective owners of Kilikanoon and Pikes - two of Australia's pre-eminent labels.
Through the aid of slides, Neil covered the geographical and geological positions of the Clare Valley, a growing area located in South Australia, just north of Adelaide. Both wineries are located just south of the town of Clare. The overall climate of the area was described as quite similar to Paso Robles. The days are hot, but the nights are very cool, often requiring a 'jumper,' or sweater, according to Neil. Apparently, summer rain is a rarety, thus allowing the fruit to ripen fully without fear of mold growth.
Settlers from England, Ireland and Poland first moved into the region in the 1830s, and wine grapes were first planted in the 1840s. The area focused on fortified wines until the 1960s, and the '70s and '80s saw the emergence of a large number of family wineries. Currently, about 1/3 of the Valley is planted to Rhône varieties.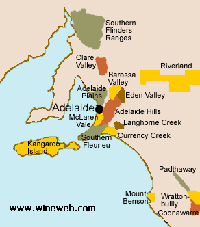 Established in 1984 by brothers Neil and Andrew Pike, Pikes Wines is a family owned business that now produces about 35,000 cases annually. Located in the Polish Hill River sub region on the eastern side of the Clare Valley, the climate here is considerably cooler and the soils are somewhat unique to the rest of the region - a well-drained red brown earth (Terra Rosa) over clay with slate and broken bluestone sub-soil. The 90 acre vineyard was planted in stages between 1984-1998, with the majority planted on its own rootstalk with various clones. Also a small amount of Viognier planted on rootstock. In winemaking, everything is lightly crushed and destemmed, natural yeast is used on the whites, with innoculation on the reds. French barrels are the preferred cooperage. Pikes also prefers to hold the reds in both barrel and bottle for 18 months each. Neil likes to point out that despite his name, "some people think it's a trout" on the wine label.
Kevin Mitchell was born and raised in Clare Valley, and has been a grower for more than 30 years. After stints with Hardy and Kendall Jackson, in 1997, Kevin purchased Kilikanoon in the Skillogalee Valley, and produced his first vintage in 1997. Dry-farmed, the soil is Terra Rossa (red-brown clay) soil over limestone allowing excellent drainage and according to Mitchell, nearly perfect pH. The main vineyards for the Shiraz, Riesling and Cabernet were all planted 25 years ago in the Leasingham District of the Clare Valley, where Virtually all of the wines are dry-farmed and all are picked by hand. All of the fruit is basket-pressed, before going into mostly French barrels, along with some American oak. The inclusion of a Barossa Shiraz led to another little tidbit - Kevin is apparently working on joint projects with Rolf Binder, of Veritas-Binder wines.
Impressions: I'd been a fan of both of these wineries for a long time - well, at least since the '98 vintage anyway. The slideshow presentation on the geography and geology of both properties was enlightening, and both owners ably articulated the growing conditions of the Clare Valley. As for the wines - well, tasting these wines would always be an enjoyable experience, but, tasting these wines with the winemakers is definitely an unforgettable experience.

The Wines of Pierre Clavel - Friday, 11:30AM
DOMAINE CLAVEL :
2002 Domaine Clavel Vin Blanc Cascaille - Languedoc. Light buttery citrus in the nose. Very substantial mouthfeel, with lovely balance, and long lingering finish. A blend of 3 varieties: Grenache Blanc, Roussanne, and Rolle (aka Ugni-blanc and Trebbiano). Spent 10 months in stainless steel.
2004 Domaine Clavel Vin Rose Mescladis - Languedoc. Fresh, floral and crisp in the nose. Very nice fleshy mouthfeel, with a nice meaty sensation on the palate, and a very long crisp finish. Made in the saignée method. 60% Cinsault.
2003 Domaine Clavel Vin Rouge Le Mas - Languedoc. Rustic nose of red and black fruit. Very meaty in mouthfeel and taste, with a nice roasted nut and meat quality to the long finish. 60% Grenache, 40% Carignan.
2003 Domaine Clavel Vin Rouge Les Garrigues - Languedoc. Even more than the Le Mas, this wine showed a roasted meat quality, and the wine picked up a nice sweet touch toward the finish. 50% Syrah, 30% Grenache, 20% Carignan.
1998 Domaine Clavel Vin Rouge Copa Santa - Languedoc. Deep cassis-filled nose. Sweet red raspberry on the palate, excellent balance. Seems predominently Grenache in texture and taste.
2002 Domaine Clavel Vin Rouge Copa Santa - Languedoc. Surprising to me, this wine had a very similar profile to the '98 - that is, seemingly more Grenache than Syrah. Not sure if I got a double pour of '98 or what, but the correct blend on this wine should be 80% Syrah, 10% Grenache, 10% Mourvedre.
2003 Domaine Clavel Vin Rouge Copa Santa - Languedoc. Huge and fruit-filled, and definitely riper in the nose as well. Sweet and ripe in mouthfeel, with a touch of flabbiness at mid-palate, and anotherwise long finish. (The product of a heat wave during the vinatge.)
(Moderated byChristophe Baron of Cayuse Vineyards, who also served as interpreter for Pierre Clavel.)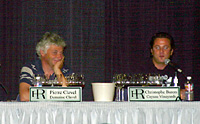 Pierre Clavel (l), Christophe Baron
One of the world's oldest winegrowing regions, the Languedoc-Roussillon is also the largest winegrowing area in the world, extending from the Rhône to the Pyrenees, with nearly 400,000 acres under vine. And, while the region had once been known more for the quantity of its wines - rather than the quality, that situation began to change over the last few decades. Quality and price are now the mainstays in the region - thanks in no small part to the winegrowing of Pierre Clavel.
After leasing land for 6 years, Pierre Clavel established Domaine Clavel in 1992. Current vineyards total 116 acres in two sites, La Méjanelle and St. Christol. The 90 acre La Méjanelle Vineyard in on stony, open ground not too dissimilar to the soil of Châteauneuf-du-Pape. Subsoils are composed of underlying layers of red-brown clay and sandstone, but the top soil is covered with fist-sized round rocks, giving it the appearance of an ancient riverbed. Current varieties planted include Grenache Noir, Syrah, Mourvèdre, Carignan, and Cinsault, and Grenache Blanc, Marsanne, Roussanne, and Rolle for white wines.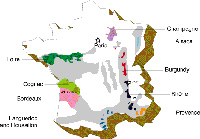 Fermenting is done in 20,000-50,000 gallon glass-lined concrete tanks, and the wine left in contact with the skins for for 25-40 daysof maceration. Minimal new oak is used during cellar storage for 12-18 months. The La Copa Santa wines come from lower yields, see smaller tanks and longer maceration times, and lengthier barrel aging. The white grapes are lightly pressed along with stems, fermented separately and then processed together into the wine. Domaine Clavel produces about 15,000 cases of red wines, and a mere 300 cases of whites annually.
As we tasted through the wines, Christophe asked Pierre, "why not Grenache in the Rose?" Pierre explained that the 'components were not fixed' in a given wine. It would depend on 'how he felt about the fruit.' He would sample the barrels and determine the wine without concern as to the makeup of the final blend.
It was interesting to watch Christophe Baron and Pierre Clavel interact. Aside from their mutual French origins, they obviously had a great deal of respect for each other, and it also seemed obvious they enjoyed each other's company. As the deminar progressed, Christophe would translate questions from the audience into French, and re-translate Pierre's French reply back into English. The two would act almost impish from time to time, as Christophe would repeat the question in English to Pierre, who would then reply or otherwise nod, prompting Christophe to exclaim, "ah, see, you do speak English."
Impressions: despite having to translate English into French and vice-versa, I really appreciate this type seminar. There is always something special about having a winemaker from France tell you about his wines and winemaking. But somehow it's even more appreciative when the winemaker isn't conversant in English. This told me that meant Pierre Clavel really wanted to be here, and wasn't going to let language barriers stand in the way.

The Next Generation: the Wines of Linne Calodo and Pax - Saturday, 9:00AM
LINNE CALODO :
2004 Linne Calodo "Contrarian" - Paso Robles. Lightly sweet tropical fruit, with slightly honeyed nose. A bit waxy and thick in mouthfeel, with honeyed spices, touch of pineapple and apricot, and ling finish. 62% Roussanne, 38% Viognier.
2003 Linne Calodo "Slacker" - Paso Robles. Mostly blackberry in the nose, but it seems more hi-toned or punched up than straight Syrah. Big mouthfeel, quite spicy on the palate, with lots of dark fruit, and a bit of game. 68% Syrah, 22% Grenache, 10% Mourvedre.
2003 Linne Calodo "Rising Tides" - Paso Robles. Nose of blackberry, shoe wax, and a touch of toast. Nice ripeness on the palate, very spicy and grippy mouthfeel, huge long finish. 42% Syrah, 37% Grenache, 21% Mourvedre.
2003 Linne Calodo "Nemesis" - Paso Robles. Nose of blackberry, bittersweet chocolate, mint/camphor, and toast. Gripping mouthfeel, lots of dark fruit, huge long finish, with nice bittersweet chocolate aftertaste. 82% Syrah, 10% Mourvedre, 8% Grenache.
2003 Linne Calodo "Sticks and Stones" - Paso Robles. Effusive black and red raspberry nose. Slightly sweet and warm-flavored in the mouth (not heat from alcohol), lots of grip on the palate, very nice balance, plenty of sweet/sour dark fruit throughout, and very long finish. 60% Grenache, 25% Syrah, 15% Mourvedre.
2001 Linne Calodo "Sticks and Stones" - Paso Robles. Rich and spicy nose - nearly Aussie-like. Big and chewy mouthfeel, still some grip here, lots of bittersweet chocolate and dark fruit, long finish. 60% Grenache, 30% Mourvedre, 10% Syrah.
PAX:
2004 Pax Viognier "Aphrodite" - Spring Mtn. Crisp nose of white peach, with just a touch of nectarine in the nose. Rich feel on the palate, without being too thick or viscous. (From a section originally planted by John Kongsgaard.)
2004 Pax Roussanne "Venus" - Sonoma Co. Minerally and waxy nose, with a honeyed-toast aroma. Light sweetness on the palate, rich mouthfeel, very nice balance, honeycomb flavors through the long finish. Basket pressed.
2003 Pax GSM "Cuvée Moriah" - Sonoma Co. Big effusive nose of red and black raspberry. Very full in mouthfeel, spicy raspberry flavors, very well balanced, and long meltaway finish. About 70% Grenache, with the balance split between Syrah and Mourvedre.
2003 Pax Syrah "Castelli-Knight Ranch" - Russian River Valley. Very dark color - almost black. Big peppery blackberry nose, with a hint of iron or iodine. Big mouthfeel, very chewy with lots of dark fruit and touches of dark chocolate, spiced blackberry, and a hint of asphalt. Mostly whole cluster fermentation; 40% new oak.
2003 Pax Syrah "Griffin's Lair" - Sonoma Coast . Perfumed blackberry and blueberry in the nose, along with a touch of mineral. Big roasted and gamey flavors on the palate, slightly more high-toned in profile, with a seamless long finish. Mostly whole cluster fermentation.
2003 Pax GSM "Cuvée Keltie" - North Coast . Killer nose of blackberry pie, with touches of mint and vanilla. Very gripping on the palate, obvious dark fruit beneath the slightly muted flavors, prolonged smooth fine-grained tannic finish. Usually composed of the best barrels in the cellar.
2004 Pax Grenache "Bennett Valley Vnyd" - Sonoma Co. Deep nose of red and black raspberry. Plenty of tannins on the palate, rich fruit-filled mouthfeel, very long finish. Probably will go into the '04 Cuvée Moriah, since Pax doesn't bottle a Grenache separately (though you never know). Very little new oak used.
2004 Pax Syrah "Walker Vine Hill" - Russian River Valley. Nose of velvety blackberry compote. Sweet and juicy mouthfeel, nice creamy texture, touches of dark chocolate and pie crust through the long finish. On Goldridge soil, from a property near Kistler and Dehlinger.
2004 Pax Syrah "Kobler Family" - Sonoma Co. Lots of blackberry, touches of blueberry and hints of floral aromas in nose. Sweet-sour dark fruit on the palate, very nice acidity, gripping mouthfeel, and very, very long finish. Biodynamically farmed. Co-macerated and co-fermented with 10% Viognier from same vineyard.
2004 Pax Syrah "Alder Springs Vnyd" - Mendocino Co. Effusive nose of black fruit, with light meaty and earthy scents. Chewy, with huge tannins, surprisingly smooth mouthfeel, lots of black fruit, and a long huge long finish. From 3 separate sections, vinified separately for the final blend.

(Moderated by John Alban, this seminar gave us a in-depth look at the wines of Pax Mahle and Linne Calodo's Matt Trevasan.)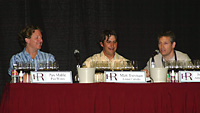 (l to r) Pax Mahle, Matt Trevisan, and John Alban
In his introduction, it was obvious that John Alban very much admired and respected how much these two winemakers had achieved in a relative short time.
Matt commented how he had always told people he'd "never make a white wine." And yet, contrary to that, here he was with a white wine. I guess that was really the whole point of the wine's name - Contrarian. 'Never say never' is probably a good philosophy, since on my last visit, I do recall Matt fooling around with some Rosé juice.
With Linne Calodo, all of the wines are blends of two or more varietals, usually Rhône varietals, though frequently Zinfandel (a Paso Robles staple) is added to the final blend. Mat selects only westside Paso vineyards for his fruit, frequently sourcing from Denner, James Berry, Cherry, Halter, and Lock. Matt is trying to stay to 6-8 barrel lots (132-176 cases), in order to keep tight quality control. His production is currently about 1,000 cases, with the intention of increasing this to 3,000 cases over the long term.
Preferring to use proprietary names for his blends, Matt usually picks a name that means something to him - something about the wine's progress or lack thereof. For instance, he mentioned that his Slacker is made up from "barrels that don't stand alone," meaning - using an academic analogy - that while the other wines were trying to be the best they could be, the barrels for Slacker were just sloughing off.
Moving on to pax, I noticed the two whites on the Pax placemat, which reminded me of a few carboys of opaque white wine we saw sitting on a palette in the winery during our last visit. He was playfully evasive when asked at the time, but it did appear that he was interested in making some white wine(s).
Pax uses indigenous yeasts for all of his fermentations. With his GSM, he used whole cluster fermentation on the Grenache, which after pressing was at 17.9%. He then added Syrah juice to bring the alcohol down. Then, with the Castelli-Knight and Griffin's Lair, Pax used 50% whole cluster fermentation on half the lot, and 100% whole cluster on the other half, finally blending the lots back together.
Selecting vineyards from cooler coastal regions to work with, Pax makes sure they will allow him to farm the blocks or rows in some cases to his own needs. When a winemaker sources fruit from many different locations, I seem to crave information about these vineyards -- the where and why. Thenkfully, Pax covered most of the properties, giving some nice details about each. He talked about the Castelli-Knight Ranch, and how its north face keep the vines cooler, and the bright orange iron-rich soils seem to transfer the same iron/iodine quality to the palate. He also related how the owners of this Russian River Valley property had originally wanted to plant Pinot Noir. We scoffed - well, not really, we actually felt relieved.
The Griffin's Lair Syrah comes from a vineyard in the southern edge of the Sonoma Coast appellation, very near San Pablo Bay, with a Carneros-like climate. The soil here is rocky coarse sand, and the windy conditions produce very small berries (the better to hang-on with, my dear).
Pax's Grenache source is Bennett Valley Vineyard, located near Matanzas Creek, and planted to ENTAV clone 513 and Tablas clone. Soils are clay loam and cobbly clay loam. Given the cooling influences from the Petaluma Valley, the area is actually cooler than the Sonoma Valley and has recently applied for its own appellation as the Bennett Valley AVA. So far, all of the fruit is intended to go into the Cuvée Moriah, since a varietal Grenache isn't bottled -- at least not yet.
Walker Vine Hill in the Russian River Valley is planted in Goldridge soils in a very cool climate, located behind Kistler and Dehlinger. Pax had convinced the woman who owns the property to allow him to farm a "short row" block on a south-facing portion on the top of the hill. Finally, Pax farms three 3-acres plots in well-known Alder Springs Vineyard. Planted in sandstone soils, it's the altitude - about 2500' that keeps things cool here.
Two Pax wines which we didn't taste (I suspect they were left out in order to add the whites to the program) were the Syrahs from the Obsidian Vineyard in Knight's Valley and the Lauterbach Hill Vineyard in the Russian River Valley. But the representative reds told us all we need to know - this is good stuff!
John commented on the distinctive image on all the Pax labels, asking Pax to describe its origin. Pax explained it was a rendition of a continent known as Pangea Ultima, relating that, according to scientists, about 250 million years ago the landmasses of Earth were clustered into a supercontinent called Pangea. Apparently, in another 250 million years all seven continentsare expected to re-form into a single landmass once again, that of Pangea Ultima. The Pax label is a tribute to the fact that despite the varying soils and climates, the vineyards are all from the same piece of land. Finally, as he seemed to reflect aloud on the idea the the continents were all moving back toward each other, Pax said: "This will really piss-off the French when our vineyards are so close [to theirs]." Got a good laugh on that one.
Impressions: one of the most eagerly awaited seminars in the program, this Linne Calodo/Pax tasting showcased Matt Trevesan's adept blending of varietals from Paso fruit, and Pax Mahle's excellent Syrah winemaking from North Coast-based vineyards. These two had each been making notable wines since the start of their enterprises (2000, 2001 respectively), but as with many others became hot properties once discovered by the critics (they know their names). The wines were all impressive, but more than the wines, it was apparent that both are able to impressively handle the increased attention and celebrity.
The Wines of Alvaro Palacios - Saturday, 10:30AM
ALVARO PALACIOS :
2003 Petalos - Bierzo. Nose of red raspberry and vanilla, with a light floral quality. Red and black cherry fruit on the palate, creamy and juicy mouthfeel, nice mineral taste throughout the long finish. Sourced from three villages, 60-100 year-old vines of the Menzia grape. 14-18 months in barrique.
2003 Corullón - Bierzo. Black and blueberry nose. Sweet-sour blackberry and cherry on the palate, juicy minerality, hint of iodine, and lots of fine-grained tannins on the finish. All from Domaine fruit, 100 separate parcels.
2003 San Martin - Bierzo. Similar profile as the first two, though higher toned, with more red fruits. Gripping mouthfeel, seemed slightly more rustic initially, but depth and complexity appeared with more time in the glass. Only about 166 cases made.
2003 Moncerbal - Bierzo. Fascinating nose of black fruit, Herbs de Provence, sage, and lavender. Initally rustic mouthfeel gets very juicy at mid-palate, with excellent balance, and long lightly tannic finish. Rocky soil. Only about 125 cases made.
2003 Las Lamas - Bierzo. Another fascinating nose of black and red fruit, along with Herbs de Provence and floral tones. Red and black fruit on the palate, very juicy acidity, meaty and rich taste, long seamless moderately tannic finish. Rocky quartzite soil.
1998 Las Terrasses - Priorat. Nice ripe nose of black and red fruit. Juicy raspberry, with a touch of minerality, and a slightly soft finish. From vines averaging 25-30 years of age (but some as old as 60). The blend is primarily Garnacha and Cariñena, with the balance Cabernet Sauvignon and possibly Syrah.
2000 Las Terrasses - Priorat. Certainly more gutsy that the '98, this wine had a dark rich nose and beautiful balance, juicy acidity, long lingering finish.
2001 Las Terrasses - Priorat. Slightly sweet nose and initial mouthfeel. Picks up interesting flavors of various herbs on the palate and the more red nose seems to trun toward blacker fruit. Lovely balance and long finish.
2002 Las Terrasses - Priorat. Gorgeous nose of black and red fruit, lightly smoked herbs, and a hint of new leather. Slightly sweet initially in mouthfeel, the wine develops a beautiful balance of flavors as well a long very fine-grained tannins on the long finish.
2000 Finca Dofi - Priorat. Lovely perfumed nose of fruit, herbs and floral notes. Immediately delicious, with perfect balance and sweet juicy fruit, and long seamless finish. Primarily Garnacha, with about 40% Cabernet Sauvignon, Cariñena, Syrah and Merlot.
2001 Finca Dofi - Priorat. Lots of black and red fruit in the nose, with more cassis than the '00. Smooth textures of red and black fruit, fine dusty tannins throughout, long smooth finish.
2002 Finca Dofi - Priorat. More toned down than the '01, with a juicier mouthfeel, fresher (if softer) nose and flavors.
2001 L'Ermita - Priorat. Nose of predominantly black fruit, with tuches of toast, herbs, and light minerality. Smooth, slightly more red fruit on the palate, beautiful balance, long seamless finish. Planted in the late '30s, old vine 80% Grenache and 20% Cabernet Sauvignon. aged in new French oak for up to 20 months. Usually about 250 cases made per vintage.
2002 L'Ermita - Priorat. Nose of cassis, blackberry, vanilla and clove. Much softer in mouthfeel than the '01, al of the flavors are there - just slightly underfilled. Palacios called this an "anguished vintage...lacks the concentration" due to the heat spikes.
2004 L'Ermita - Priorat. Wow! Nose of black and red fruit, cake spices, clove, and an intriguing floral tone. Gorgeous balance of red and black flavors - almost like a berry of its own. Perfect balance, seamless flavors and textures, long fine-grained finish.
(Moderated by Debbie Zachareas, Ferry Plaza Wine Merchant & Bacar, the seminar gave us a closer look at the fantastic wines of Alvaro Palacios.)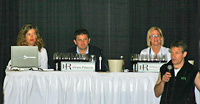 (l to r) Christine Palacios, Alvaro Palacios, Debbie Zachareas, and John Alban
John Alban introduced the panel and began to describe the lengths to which he had to go to get Alvaro Palacios to come to HdR (see above).
After John Alban's very funny introduction, we got down to intently listening to someone who has been called a pioneer, a visionary, and Spain's most important new winemaker. What is apparent, is that he most certainly is making the best wine in Spain, if not the world. Alvaro Palacios was brought up in Rioja, in the family wine business. After spending 2 years at Château Pétrus under Jean-Pierre Mouiex, Palacios set up his own winery in Priorat in 1989. He was drawn to the unique soil and old vines of Priorat, and decided he wanted to make a world-class wine - something he described as a cross between a Pétrus and a Grange. But it was ultimately the terroir that attracted him to this area. The Priorat has very little rainfall. As Palacios likes to say, it has "fresh soil in a hard climate." Palacios explained that phylloxera had descimated the Priorat in the early 1900s, so that there was very little old vine Garnacha left.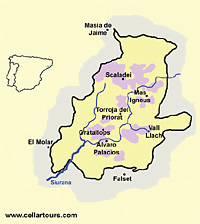 Alvaro Palacios bought his first vineyard, Finca Dofí, in 1990, and followed in 1993 with the purchase of an old vine Garnacha vineyard that had been planted in the late 1930s - this was to become the L'Ermita Vineyard. The combined vineyards are about 75 acres. A third wine, Las Terrasses, is made with fruit specially selected from other small growers in Priorat. Thought the Romans usually are given credit for where they did originally plant grapes, Alvaro tells us that Priorat was not one of them.
The L'Ermita vineyard is made of a very coarse-grained easily broken slated called schist or llicorella. The hillsides here are also very steep - up to 60 degrees steep in the case of the L'Ermita vineyard, so the Palacios vines have to be planted up and down the slope, rather than traversing it. As Debbie Zachareas put it, "Priorat makes farming in Germany look easy." The best vines in Priorat are usually low-yielding old vine Garnacha or Cariñena (Carignan), but Cabernet Sauvignon, Merlot and Syrah are also permitted in the blends. Winemaking methods include separate vinification for each variety.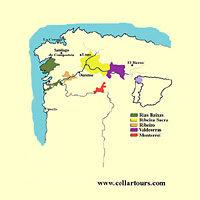 The fruit for Les Terrasses is sourced from estate grapes and also from selected lots of purchased Garnacha and Cariñena grapes from vines averaging 25-30 years of age (but some as old as 60). The blend is primarily Garnacha and Cariñena, with the balance Cabernet Sauvignon and possibly Syrah. The wine is aged for 12 months in 1 to 3-year old mostly French oak. Production is about 10,000 cases. The blends for Finca Dofi are from a 16 acre vineyard of primarily Garnacha, with about 40% Cabernet Sauvignon, Cariñena, Syrah and Merlot. For L'Ermita, planted in the late '30s, the wine is 80% old vine Grenache and 20% Cabernet Sauvignon, aged in new French oak for up to 20 months.
In 1998, Palacios and his nephew Ricardo Perez also begun making wines from small, old-vine vineyards in another part of Spain, Bierzo, tucked into northwest part of the country. Here, the Atlantic, rather than the Mediterrean plays the role of cooling influence on the native Mencía grape. Probably a descendant of Roman vines, Mencía is thought to be an immediate ancestor to Cabernet Franc. There are about 60 acres of old vine (60-100 yrs old) Mencía spread over two separate sites and 128 different blocks.
Impressions: well, this seminar was a fantastic finish to the program. While his wife ran a slide show from her laptop, an articulate Alvaro Palacios went into a thorough description of both Priorat and Bierzo, and took us through the marvelous flights of wines he brought, including three of the cult status L'Ermita bottlings.
2005 HdR : Intro | the Tastings | the Auction Lots | Photo Journal