2005 HOSPICE DU RHÔNE - PASO ROBLES, CA -
Some statistics on the Rhône wine auction lots held at the 11th annual Hospice du Rhône on Friday & Saturday, May 13 & 14, 2005, in Paso Robles, CA. The HdR is a two-day event featuring wine seminars, all-Rhône tastings, barrel auction, all with perhaps the perfect opportunity to meet and talk with the people who are at the forefront of the increasingly visible Rhône movement. Presenters and attendees are from all over the US, as well as France, Australia, South Africa. Many of the wineries donate 1/4 barrels, 1/2 barrels or full barrels of wines from their caves and cellars for this event; others donate case lots or large format bottles. This year included a few other items - a Rhône river cruise and Rhône dinner, as well as another exciting wine auction lot donated by Robert Parker.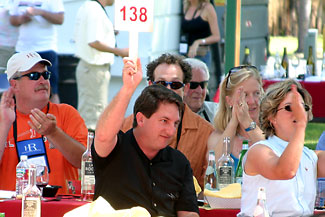 Pinot Noir producer, Brian "The Llama" Loring, becomes the winning bidder on the Saxum auction lot. "I found an amazing amount of wine that I was really excited about," said Brian, promising to make a Syrah under the Loring label, and warning us that we "...might want to watch for next year's HdR Auction List." Can llamas really fly?
On the previous day, as Mat Garretson was calling off his top-10 list of Reasons... the sound system mysteriously went out part-way through, and he asked Jim Fiolek to pitch in. As Executive Director of the Santa Barbara County Vintner's Association, Jim has apparently held a crowd's attention -- or at least held them at bay -- and this time was no exception. Jim continued to amuse everyone as he'd slowly read the poster in his baritone voice, delivering the punchlines with the required disdain.
I've been to a few auctions and done a little on-line surfing of popular auction websites, but these lots weren't something you'd see on e-bay or winecommune. Of course, neither were the final bids for that matter.
Without a doubt, the auction lot that garnered the most excitement was the one donated by Pax Mahle. The name Pax (Pax Mahle from Pax Wine Cellars) has been generating a lot of buzz with big-syrah fans with the advent of some terrific scores from the major publications. Indeed, the mailing list turned into a waiting list as everyone clamored to get on the Pax bandwagon (yes, the wines are that good). Well, the mere 5 cases of Pax Syrah from "The Knob," a small round concentrically-terraced hill that juts out from the ground at the Alder Springs Vineyard, looking more like some mini-Tower of Babel. The wine itself was fabulous, and the lot finally went for magnificent sum of $18,000.
| | | | |
| --- | --- | --- | --- |
| Lot # | Auction Lot | Qty | Winning Bid |
| 1 | Rhône River Cruise for 2 people -- 12 nights - Burgundy & Provence | -- | $3,600 |
| 2 | 2002 Elderton "Command" Shiraz | Imperial - 6-L bottle | $1,200 |
| 3 | 2003 JC Cellars Library of Rhône Selections | 1 case - 12 bottles | $1,100 |
| 4 | 2003 Condrieu "The Conversation" - Yves & Mathilde Gangloff | 4 cases | $5,200 |
| 5 | 2003 Qupe Syrah - Santa Barbara County | ¼ barrel - 5 cases | $3,700 |
| 6 | 2004 Red Rhône Blend (50% Grenache, 50% Syrah) - Collaborative effort from 4 winemakers: Louis Barroul, Yves Cuilleron, Cecile Dusserre, Francois Villard | 1 barrel - 20 cases | $10,000 |
| 7 | 2004 Miner Red Rhône Blend - 75% Syrah, 15% Grenache, 10% Mourvedre | ¼ barrel - 5 cases | $2,800 |
| 8 | 2004 Miner & Villard Syrah - Stagecoach Vnyd | ¼ barrel - 5 cases | $3,200 |
| 9 | 2004 Pax Syrah "The Knob" - Alder Springs Vnyd, Mendocino Co. | ¼ barrel - 5 cases | $18,000 |
| 10 | 2004 Joseph Phelps "Cuvee HdR" Blend - Syrah (49%), Grenache (43%), (3%) Petite Sirah, and (5%) Alicante Bouchet | ½ barrel - 10 cases | $4,600 |
| 11 | 2004 Kunin Syrah "Pape Star" Red Rhône Blend - Larner Vnyd | ¼ barrel - 5 cases | $2,600 |
| 12 | 2000 Chave - from Langdon Shiverick Imports | 3-L Bottle | $3,500 |
| 13 | 2004 L'Aventure & Tablas Creek Red Rhône Blend (60% Mourvedre, 40% Syrah) | 1 barrel - 20 cases | $9,500 |
| 14 | Rhône-Style - Dinner for 12 at the Girl & the Fig | -- | $3,000 |
| 14a | 1978-2001 Mixed case of Ch. Beaucastel from Robert Parker | 1 case - 12 bottles | $6,400 |
| 14b | Rhône-Style - Dinner for 12 at the Girl & the Fig | -- | $3,100 |
| 15 | 2004 Saxum & Veritas Syrah/Shiraz - by Justin Smith & Rolf Binder | 6-Magnums | $4,000 |
| 15a | 2004 Saxum & Veritas Syrah/Shiraz - by Justin Smith & Rolf Binder | 6-Magnums | $4,000 |
| 16 | 2004 Saxum & Veritas Syrah/Shiraz - by Justin Smith & Rolf Binder | 1-Double Magnum | $1,800 |
| 17 | 2003 Pikes "Eastside" Shiraz | ¼ barrel - 5 cases | $3,000 |
| 18 | 2002 Cayuse Vnyds Syrah - 1 case from each Vnyd, Walla Walla Valley | ¼ barrel - 5 cases | $3,400 |
| 19 | 2003 Bassetti Vnyd Syrah - 1 case each from Ellis Bassetti, Edmunds St. John, Garretson, and Hug | 5 cases & 1-Magnum | $3,100 |
| 20 | 2004 Garretson "The Talooski" Grenache Blanc Dessert Wine | ¼ barrel - 5 cases | $2,000 |
| 21 | 2004 Havens Syrah "Wild West" - Block "T" Hudson Vnyd | ¼ barrel - 5 cases | $2,200 |
| 22 | 2003 Alban "Seymour's" Syrah (only 600 bottle production) | 5 six-packs - 30 bottles | $11,500 |
| 23 | 2004 Vina Robles Syrah - You Blend from 5 Different Lots | ¼ barrel - 5 cases | $1,800 |
| 24 | 2003 Spencer Roloson Syrah - La Herradura Vnyd, Conn Valley | ½ barrel - 10 cases | $3,800 |
| 25 | 2004 Turley Grenache - Spencer Ranch, Napa Valley | 6 eight-packs - 48 bottles | $4,200 |
| 26 | 2003 Villa Creek Syrah "There Can Only Be One" - You Choose from Syrah Lots | ¼ barrel - 5 cases & 1 case current releases | $4,800 |
2005 HdR : Intro | the Tastings | the Seminars | Photo Journal