Bevan Cellars
Russell Bevan launched Bevan Cellars in 2005, and he makes Pinot Noir, Chardonnay, and Syrah from Sonoma County as well as Bordeaux-variety wines from Napa Valley. The 2021 Petaluma Gap Pinot Noir displayed bold and ripe darker fruit, lots of spice, and sweet oak aromas, with a moderately rich mouthfeel. The 2021 "Summit 1376'" Pinot Noir, from a site on Sonoma Mountain, was another bigger Pinot with black cherry and darker berry fruit, with floral and herbal notes along with plenty of spice, more subdued oak than the previous wine, and enough structure to suggest that cellaring for at least a few years will be of benefit.
Blue Farm Wines
Noted vintner Anne Moller-Racke (Buena Vista, Donum Estate) planted seven acres of Pinot Noir vines adjacent to her Victorian farmhouse in Sonoma Carneros in 2001. Her Blue Farm label specializes in Pinot from Sonoma County, including a number of top vineyards in addition to her estate planting. Anne poured one wine at the tasting, the 2021 Gap's Crown Vineyard Pinot Noir. This was a real standout, with a more savory profile than many of the other Pinots from this vineyard poured at the event, plus black cherry, floral, and earthy notes, and a lively texture with great structure. Delicious now and lots of potential for further development.
Brooks Note Winery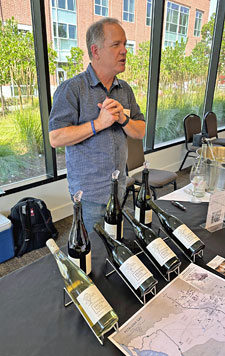 Brooks Note was established in 2011 by Garry Brooks and his wife Joanne. Garry worked for Ravenswood, Acacia, Kosta Browne, and Dutton-Goldfield before launching his own label. He produces a variety of wines from various growing areas, including several from Petaluma Gap vineyard sources. Garry poured the wines at the tasting, starting with the 2022 Paradise Vineyard Riesling – a dry Riesling that featured bright floral and citrus aromas, vibrant acidity on the palate, and showing a touch of the variety's characteristic petrol note on the finish. The 2021 Petaluma Gap Pinot Noir, sourced from Paradise and Panther Ridge vineyards, was a highlight, with bright cherry, tea leaf, and spice on the nose, a lively mouthfeel and fine structure. The 2021 Panther Ridge Vineyard Pinot Noir was bolder, with more upfront fruit along with savory, spicy, and earthy notes, and a bigger structure than the previous wine – this would be a good candidate for a few years in the cellar. I finished with the 2021 Paradise Vineyard Blaufränkisch, which displayed darker fruit plus floral and earthy aromas, medium-full body, and a grippier tannic finish.
Bruliam Wines
Bruliam winemaker Kerith Overstreet founded her label in 2008, and her focus has always been Pinot Noir. Although she works with other Sonoma County (and Santa Lucia Highlands) vineyards, several of her vineyard sources are in the Petaluma Gap AVA. Kerith poured a library wine from magnum, the 2011 Gap's Crown Vineyard Pinot Noir. This still showed lots of bright red fruit along with a savory component, and great acidity and tannic structure, and showed how well the Bruliam Pinots can age. Next was the 2019 Sangiacomo Roberts Road Pinot Noir, featuring a savory profile, with earthy and herbal notes and black cherry fruit and spice in support, a lively mouthfeel with good structure, and a lingering finish. The 2019 Gap's Crown Vineyard Pinot Noir was a bit bolder with more forward darker berry fruit and spice, richer texture, and a more structured finish.
Calstar Cellars
Vintner Rick Davis has made wine for a number of well-known producers including Flowers, Londer, and Halleck – Calstar is his own label, launched in 2001. In addition to Pinot Noir, Rick makes Chardonnay, Sauvignon Blanc, Pinot Meunier, and Zinfandel. Rick was on hand to pour the 2014 Sangiacomo Vineyard Pinot Noir – although the vintage is a bit older than most at this tasting, it's a current release. This had lots of spice and an herbal / savory character along with black cherry and plum fruit plus earthy undertones, with medium body and fine structure. Already maturing nicely, and there's potential for even more development with further cellaring.
DeLoach Vineyards
DeLoach was founded in 1975, and has been owned by the Boisset family since 2003. DeLoach has long been known for its Russian River Valley wines, and it focuses on Chardonnay, Pinot Noir, and Zinfandel. Its Petaluma Gap wines come from Stubbs Vineyard in northwest Marin County, located at a particularly cold site. The 2019 Stubbs Vineyard Chardonnay showed bright apple and pear aromas with undertones of spice, medium body with good acidity and a lively finish. Even better was the 2018 Stubbs Vineyard Pinot Noir, which displayed bright red cherry fruit plus savory herbal and forest floor notes, a vibrant texture and lingering finish.
Guarachi Family Wines
Originally from Chile, Alex Guarachi has been a longtime wine importer, and launched his own label in 2007. He teams up with winemaker Julian Gonzalez, who had previously worked with Paul Hobbs. Sun Chase Vineyard, at 1,400-foot elevation on the flanks of Sonoma Mountain near Gap's Crown, is one of Guarachi's estate vineyards. The 2020 Sun Chase Vineyard Chardonnay had apple and stone fruit aromas with hints of flowers, medium-bodied with a pleasant texture and long finish. The 2021 Sun Chase Vineyard Pinot Noir, with black cherry and spice plus undertones of tea leaf and flowers, was big and structured on the palate, with tannins that suggest a few years of aging should help this youthful wine reach its potential.
Gust Wines
Launched in 2017, Gust is the label from Megan and Hilary Cline. Their father, Fred Cline, had planted two vineyards in the Petaluma Gap, and now Megan and Hilary head up their new Gust label along with winemaker Tom Gendall. I thought the red wines were the highlights at this table. The 2021 Pinot Noir displayed black cherry, tea leaf, and spice aromas with a lively mouthfeel and moderate tannins. The 2018 Syrah was a standout, with a savory, meaty character along with dark berry fruit, pepper, and spice, medium-full body with plenty of structure for further aging. Following this was a pre-release taste of the 2019 Syrah – this had an even more savory and herbal profile, more red-fruited than the 2018 vintage, with loads of structure. This one showed lots of potential but will need time to develop once it's released.
Kendric Vineyards
Kendric's Stewart Johnson planted and farms his Petaluma Gap vineyard located in northern Marin County, where he grows mostly Pinot Noir, plus Chardonnay, Viognier, and Syrah. The first vintage of the Kendric wines was in 2004. (Disclosure – I've helped bottle some of the Kendric wines) I'd tasted some of the Kendric wines at other recent events, so I focused on his Marin County Pinot Noir on this occasion. Stewart started with a barrel sample of 2022 Pinot Noir Clone 37 – this will form the core of the 2022 Pinot. Savory red fruit with floral and tea leaf notes in support, this had a fine texture on the palate and lots of structure, good potential. The 2019 Pinot Noir, made with some whole-cluster fermentation, featured bright and tangy red fruit, spice, and savory and earthy notes, medium-bodied with fine tannins on the finish – tasty now but should develop nicely with more bottle age.
McEvoy Ranch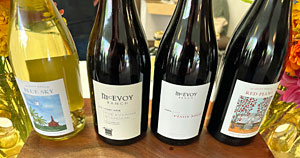 Long-known for their fine olive oil, McEvoy Ranch first planted part of their northern Marin County property with grapevines in 2006. Since 2012, McEvoy Ranch has also taken over farming 19 acres of vines at nearby Azaya Ranch. Noted vintner Byron Kosuge became the McEvoy winemaker in 2017. The 2021 "Blue Sky" Chardonnay, sourced from La Cruz Vineyard and made with no malolactic fermentation, displayed fresh apple fruit with floral undertones, a vibrant texture and long, clean finish. The 2019 "Evening Standard" Pinot Noir – 65% from the estate vineyard and 35% from Azaya Ranch – was a highlight, with savory black cherry, tea leaf, and spice aromas, fine structure and a lively finish. The 2019 Azaya Vineyard Pinot Noir stepped up the savory and spicy character further along with floral undertones, and had vibrant acidity on the palate. From La Cruz Vineyard, the 2021 "Red Piano" Syrah featured dark berry fruit along with savory herbal notes, pepper, and flowers, with a lively medium-full bodied mouthfeel and plenty of structure for further cellaring.
Montagne Russe Wines
Montagne Russe is the label of Kevin Berofsky, who focuses on Chardonnay, Pinot Noir, and Syrah, sourced from cooler-climate growing regions, including the Sonoma Coast and Petaluma Gap. Kevin made his first commercial wines about ten years ago. (Disclosure – I've helped bottle some of the Montagne Russe wines in the past) The 2019 Sparkling Brut Rosé had bright red fruit and stone fruit notes, with fine bubbles and a clean, pleasant finish. The 2021 La Cruz Vineyard Chardonnay showed citrus and green apple aromas with spicy oak undertones, medium weight on the palate with a lively finish. The highlight here was the 2019 Roberts Road Vineyard Pinot Noir, with savory, herbal red fruit, hints of flowers and spice, bright acidity and good structure for continued development.
Panther Ridge Vineyard
Proprietor Suzanne Farver established her Panther Ridge label in 2019. She focuses on Pinot Noir from her 10-acre certified-organic and biodynamically-farmed estate vineyard, which was planted in 2016 on the slopes of Sonoma Mountain at the eastern edge of Petaluma Gap. Adrian Manspeaker makes most of the Panther Ridge wines, while Garry Brooks makes the rosé. The 2022 Rosé of Pinot Noir – farmed and picked for rosé – featured bright and floral red fruit, vibrant acidity, and a long clean finish. The 2020 Pinot Noir had aromas of black cherry, spice, tea leaf, and flowers, with lively acidity and moderate tannins. The pre-release 2021 Pinot Noir, fermented with about 25% whole clusters, showed even brighter red fruit along with an herbal component, with a somewhat lighter texture than the previous wine, and good structure – very youthful at this stage, this will be a candidate for further cellaring when released.
Parum Leo Winery & Vineyard
Parum Leo ("Little Lion") owner/winemaker Laurence Donald has worked at Outpost, Merry Edwards, Felton Road, Leeuwin Estate, and Gary Farrell – quite a list. Laurence and his wife Angela purchased the old Kastania property just south of Petaluma in 2019 and farm the vines there organically, and they work with other vineyards as well. The 2021 Petaluma Gap Chardonnay was bright and floral, with citrus and apple fruit and hints of fresh herbs, medium-bodied with a pleasant and lively finish. The 2021 Estate Vineyard Pinot Noir displayed bold black cherry fruit, spice, and tea leaf aromas, with plenty of acid and tannin structure for further development.
Sangiacomo Family Wines
While the Sangiacomo family has been growing winegrapes in Sonoma County for over 50 years, their wine label was launched in 2016. They farm several vineyards, in Carneros, the Sonoma Coast, and Petaluma Gap regions. James MacPhail is the label's winemaker, and Director of Sales and Hospitality Meghan Delzell and her husband Dodds poured the Sangiacomo wines at the tasting. The 2020 Roberts Road Vineyard Chardonnay had bright floral aromas plus apple and stone fruit and a touch of spice, medium-bodied with a lively texture and fine acidity on the finish. The 2021 Roberts Road Vineyard Pinot Noir featured both red and black cherry fruit, spice, earth, and hints of flowers, with a pleasant mouthfeel and good structure. The 2021 "Block 11" Pinot Noir is Swan Clone Pinot from Roberts Road Vineyard. This showed more upfront spice on the nose plus red fruit and earth, with a firmer tannic structure – shows potential but really needs time in the cellar to mature.
Sojourn Cellars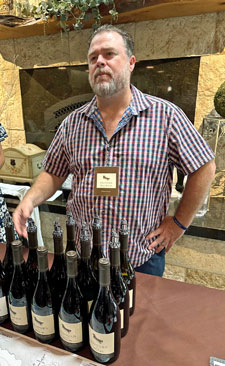 Sojourn was established in 2001 and is headed up by co-founder and Director of Winemaking Erich Bradley, along with General Manager and Winemaker Randy Bennett. Located in Sonoma, the label specializes in Chardonnay and Pinot Noir from Russian River Valley, the Sonoma Coast, and Petaluma Gap, and Cabernet Sauvignon from Napa Valley. Randy poured the wines at the event. The 2021 Rodgers Creek Vineyard Pinot Noir, fermented with about 20% whole clusters, displayed intense tea leaf, black cherry, and earth aromas, with medium weight on the palate, lively acidity, and moderate tannins. The 2021 Sangiacomo Vineyard Pinot Noir showed more upfront cherry fruit plus a savory herbal component, with similar acid and tannin structure to the previous wine. The 2021 Nightwing Vineyard Pinot Noir featured more tangy red fruit on the nose along with spice and floral notes, with a richer mouthfeel, plenty of bright acidity, and firmer tannins on the finish. All three of these young Pinots should benefit from cellaring for a few years.
Thirty-Seven Wines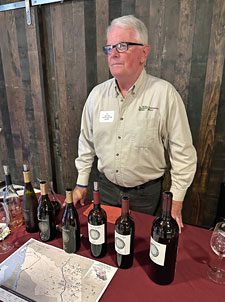 Proprietors Al and Lisa Brayton founded Thirty-Seven Winery in 2007. Their estate Paradise Vineyard, first planted in 1999, is near the intersection of highways 37 and 121 in one of the coolest spots in the Petaluma Gap. In addition to Chardonnay, Pinot Noir, and Syrah, they grow Albariño, Pinot Gris, Riesling, Grenache, several red Bordeaux varieties, and Blaufränkisch. Shane Finley is the winemaker for Thirty-Seven. The 2021 Grenache had aromas of bright red fruit with savory herbal and spice notes, fine acidity, and a long tasty finish. The 2019 Syrah was a standout – savory and peppery dark berry fruit with hints of smoked meat and dried herbs, medium weight on the palate, with great acidity and a firm tannic finish. The 2018 Reserve Petit Verdot showed a plum and darker berry profile plus herbs with spice in support, rich mouthfeel with loads of structure for further time in the cellar. I finished with a library wine poured from magnum, the 2013 Merlot. Black cherry and plum fruit, spice, dried herbs, and nicely-resolved tannins with a long, pleasant finish.
Trombetta Family Wines
Proprietor Rickey Trombetta Stancliff and her husband Roger established the Trombetta label, with the first wine coming from the 2010 vintage. Their daughter Erica is the winemaker. The label's Petaluma Gap wines have come from Gap's Crown Vineyard. The 2022 Sonoma Coast Rosé of Pinot Noir, with fruit partly from Gap's Crown, featured bright strawberry, citrus, and floral aromas with a lively texture and finish. The 2017 Gap's Crown Vineyard Pinot Noir had intense black cherry and spice on the nose with undertones of forest floor, medium-bodied with good structure and a lingering finish.