Paso Robles - April 2012
Another year, another late-April trip to Paso Robles for the annual Hospice du Rhône (HdR) wine event. Since that's an ideal time to get together with friends I don't see too often, we usually arrange some vineyard and winery visits for the day before HdR starts and the morning after it ends. As usual, there were a number of people who joined in for at least some of the visits – Eric Anderson, Jay Selman, Brian Clark, Al Osterheld, Eric Lundblad, Mike Ripley-Lotee, Charlie & Pat Chadwick, Bennett Traub, Sasha Verhage, and Jeff King – quite a crowd this year!
Most of us arrived in Paso Robles by that Wednesday afternoon and attended Augie Hug's "Pinot Pirates" dinner at Villa Creek Restaurant that evening. It's a good way to kick off the festivities surrounding HdR, and the Pinots are a nice counterpoint to the upcoming weekend of Rhône wines. I always enjoy the "Pinot Pirates" dinners, and the food went well with the fine wines brought by all the attendees. The rabbit liver pâté was a great start to the meal and the pan-roasted salmon on quinoa pilaf with fiddlehead ferns was a standout as well.
I scheduled appointments this year with a couple of wineries that I hadn't visited in some years, one that a couple of us had been to in late 2010 but was new to most of our group, and one that was a first-time stop for all of us. Trying to avoid the feeling of rushing around on a busy day of touring, we kept our agenda to three winery visits on Thursday and added one more on Sunday morning. We were able to have a fairly leisurely morning on Thursday, meeting up for our first appointment at 10am.

Thursday - April 26, 2012
Our first stop was at Linne Calodo, just off the intersection of Vineyard Drive and Highway 46 a few miles southwest of Paso Robles. I had visited there a number of times but hadn't been there since late 2007, so I thought this would be a good time to return there. After heading through the entry gate, I could see that things had changed quite a bit since my last visit. There's a dramatic new building that houses the tasting room and other functions. It turned out that this new building (which is actually connected with the small old one) is only one of the new structures and that there's a separate building across the crushpad that contains the actual winemaking facility.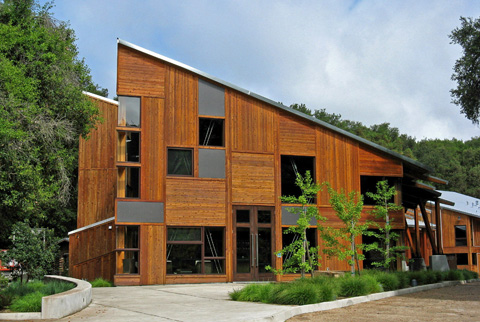 We were greeted outside by the winery dog, Marley, who led us to the tasting room door. Inside, there's a very modern-looking tasting bar with a balcony above, quite a step up from the short counter in a corner of the cramped old winery that used to serve for tastings. Vintner Matt Trevisan was behind the bar, talking with a couple of members of our group who had arrived a few minutes earlier. Matt welcomed us in – he's sometimes been portrayed as being a bit quiet and reserved, but I've rarely found that to be true in my experience, and it was certainly not the case during our visit.
Matt is originally from Escondido in the San Diego area, and he moved to the Central Coast to study biochemistry at Cal Poly in San Luis Obisipo. It was at Cal Poly where he met Justin Smith, whose family owns James Berry Vineyard in the hills west of Paso Robles. Matt and Justin were college roommates for a time, and it was Justin and his family who gave Matt his first look at the world of grape-growing and winemaking. By the time he graduated, Matt was fully bitten by the wine bug and took a beginning job in 1995 at Justin Winery. Moving on from there to Wild Horse Winery in Templeton, he and Justin Smith teamed up on their own winemaking project. They named their venture Linne Calodo, for the calcareous soil that is highly prized for growing winegrapes in the Paso Robles area, particularly in the hilly Westside area.
Tasting Notes: Current Releases & Library Wines

Linne Calodo 2010 "Contrarian," Paso Robles. 68% Grenache Blanc, 17% Picpoul Blanc, 15% Viognier. Medium-light straw color, this displayed bright and ripe pear and stone fruit with slight floral and spice notes. Medium-rich but with enough acidity for balance, the long finish had a pleasant texture.

Linne Calodo 2008 "Sticks & Stones," Paso Robles. 57% Grenache, 29% Mourvèdre, 14% Syrah. Medium color, with ripe red fruits, earth, and spice. Fairly lively mouthfeel with moderate tannins.

Linne Calodo 2009 "Sticks & Stones," Paso Robles. 64% Grenache, 29% Mourvèdre, 7% Syrah. Medium color, this was less fruit-forward than the 2008, with earthy, minerally notes along with bright strawberry fruit. A juicy texture on the palate with more noticeable tannins on the finish, this is quite tasty now and should age nicely.

Linne Calodo 2010 "Sticks & Stones," Paso Robles. 71% Grenache, 19% Mourvèdre, 10% Syrah. Medium-dark color, showing a riper and more upfront red fruit profile than the 2009, but retaining the earth and mineral components. Somewhat bigger mouthfeel with grippy tannins, showing its youth and in need of more bottle age.

Linne Calodo 2007 "Overthinker," Paso Robles. 50% Grenache, 40% Syrah, 10% Mourvèdre. Medium-dark color, featuring black cherry and spice, and with a bigger oak element than the previous wines. Medium weight and relatively smooth mouthfeel but with moderately big tannins.

Linne Calodo 2008 "Overthinker," Paso Robles. 40% Grenache, 40% Syrah, 20% Mourvèdre. Medium-dark purple, this had a darker berry fruit profile along with mineral, earth and spice notes, along with the overlay of oak. Somewhat bigger and more structured on the palate with a more tannic finish.

Linne Calodo 2009 "Overthinker," Paso Robles. 45% Grenache, 33% Syrah, 22% Mourvèdre. Medium-dark, brighter red and black fruits, bigger mineral and earth component, and less noticeable oak. This had a very lively texture and finished with youthful tannins that will need time to smooth out. Shows lots of potential and my favorite of the "Overthinker" bottlings.

Linne Calodo 2010 "Overthinker," Paso Robles. 42% Grenache, 35% Syrah, 23% Mourvèdre. Slightly darker color, more fruit-forward with riper black cherry and plum fruit, earth, and spice. Showing a more dense mouthfeel with chewy tannins, this should settle down a bit by the time it's released in about a year.

Linne Calodo 2007 "Screwball," Paso Robles. 90% Syrah, 10% Mourvèdre. Medium-dark purple, showing a more savory profile along with dark berry fruit, sweet oak, and spice. Fairly rich on the palate, with moderately big tannins and a spicy oak finish.

Linne Calodo 2008 "Screwball," Paso Robles. 70% Syrah, 15% Mourvèdre, 15% Grenache. Dark color, with ripe blackberry, earth, and spicy oak. Bigger mouthfeel than the 2007, with grippier tannins.

Linne Calodo 2009 "Booker Red," Paso Robles. 67% Syrah, 17% Mourvèdre, 16% Grenache. Dark color, with ripe black fruits and spice. Rich but lively, this had big, chewy tannins on the finish, and needs time in the cellar to develop.

Linne Calodo 1999 "Bone Rock," James Berry Vineyard, Paso Robles. 90% Syrah, 10% Mourvèdre. Dark color, displaying dark berry fruit, dried herbs, earth, and spice. Still surprisingly bright and lively in the mouth, with nicely-resolving tannins on the finish – this has aged quite well and seems like it may still not have hit its peak.

Linne Calodo 2000 "LC Red," Paso Robles. 37% Syrah, 33% Grenache, 30% Mourvèdre. Medium-dark purple, this featured earthy and savory aromas upfront along with plum and black cherry fruit. As with the previous wine, it's very lively and textured on the palate, though this still had fairly big tannins. Another older Linne Calodo wine that has aged very well and should continue to drink well for years.
Barrel and tank samples:

Linne Calodo 2010 "Booker Red," Paso Robles (barrel sample). About 60% Syrah, 20% Mourvèdre, 20% Grenache, from a 2008 Marsannay barrel. Medium-dark color, with bright red and black fruits, grilled meat, and spice on the nose. Lively acidity in the mouth, with a long, tasty finish.

Linne Calodo 2010 "Booker Red," Paso Robles (barrel sample). About 60% Syrah, 20% Mourvèdre, 20% Grenache, from a 2010 Cavin barrel. Similar to the previous barrel sample but with more red fruit character, a stronger spice component, and more noticeable oak. A bit bigger on the palate with a grippier tannic finish.

Linne Calodo 2011 Zinfandel, Cherry Vineyard, Paso Robles (barrel sample). Co-fermented with a tiny amount of Chenin Blanc and Chardonnay (field blend). Medium purple color, the intense aromas were like smelling a freshly-baked cherry pie. Bright mouthfeel with moderate tannins.

Linne Calodo 2011 Syrah, Lock Vineyard, Paso Robles (barrel sample). Co-fermented with a tiny amount of Grenache Blanc and Picpoul (field blend). Medium-dark color, this featured spicy and savory dark berry fruit. Very good acidity and a tasty, juicy finish.

Linne Calodo 2011 Mourvèdre, Denner Vineyard, Paso Robles (barrel sample). Medium-dark color, displaying earthy, smoky plum fruit and herbs. Medium-bodied with a fresh, lively finish.

Linne Calodo 2011 Zinfandel-Syrah-Mourvèdre Blend, Paso Robles (blend of barrel samples). Roughly 60% Zinfandel and 20% each Syrah and Mourvèdre. The juicy, ripe Zinfandel component dominates the aromatics, but it was noticeably toned down from the 100% Zin sample. The earthy and herbal notes of the Mourvèdre came through clearly.

Linne Calodo 2011 Zinfandel-Syrah-Mourvèdre-Petite Sirah Blend, Paso Robles (blend of barrel samples). Same blend as the previous sample but with a little Petite Sirah added. The Petite Sirah component added a distinct floral note to the blend and darkened the fruit profile as well. Not surprisingly, the finishing tannins became bigger too.

Linne Calodo 2011 "Overthinker," Paso Robles (from concrete tank). Matt didn't know the exact blend on this wine but said it is about 40% Mourvèdre, more than in the past. Medium-dark color, this showed a complex nose of earthy, savory, and smoky plum and blueberry fruit along with a minerally note. Big but juicy on the palate, with very good acidity and moderately big tannins on the finish. Quite a promising young wine.


The story that follows is fairly well-known. Linne Calodo released their first wines from the 1998 vintage and they were immediately met with acclaim. The 1999 vintage only increased the label's rapid rise. But by early 2002, differences between the visions that Matt and Justin had for the wines led them to split. Justin started his own label, Saxum, with wine from James Berry Vineyard fruit that was already in barrel. Matt retained the Linne Calodo name and other wine blends that were in barrel. Of course, both Matt and Justin have been wildly successful in the decade since, with the wines from each of their labels routinely getting high scores from wine critics.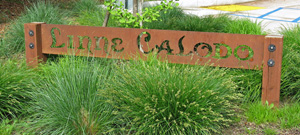 I consider myself fortunate in having met Matt and Justin back when they were still getting ready to release their first commercial wines, and to have spent the better part of an afternoon barrel-tasting with them (and with Mat Garretson) in the cellar at Wild Horse, where they made those first wines. I had the feeling that Matt and Justin were going to make it big, and I sensed that they knew it too. Yes, the wines were really that good, and highly distinctive too. The first Linne Calodo wines were among the early Rhône-style wines from Paso Robles to get big attention, and they also helped blaze the way with Zinfandel-Rhône blends. Even today, few other wineries produce such Zin-Rhône blends and it's questionable whether any do it as well.
Like many smaller wineries, Linne Calodo is a family business. Matt and his wife Maureen run the operation, and even their three young kids (ages 3, 5, and 11) get into the act – they do some foot-treading on whole-cluster fermentation lots. While we were at the tasting bar, I asked about the new winery building. It was a long road to getting it completed – the County approval process was started back in 2004, but it wasn't until 2008 that they were able to break ground, and the project was finally finished in 2009. Matt took a role in the construction himself – something he'd also done with a building project at his first winery job in the mid-'90s.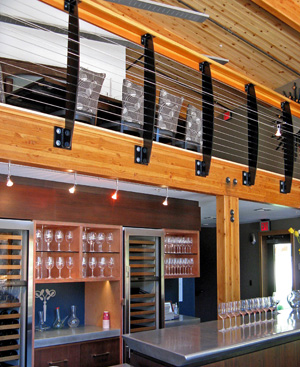 Matt started out by pouring our group some of the 2010 "Contrarian" white blend. When I'd set up our appointment at Linne Calodo, Matt had wanted to take us to see some of his vineyards, but he was concerned on the day of our visit that rain from the previous day and night had left the ground too muddy to do that. But he asked whether we wanted to take a walk through part of his estate vineyard, warning us that we might run into some mud out there. Sure, no problem for us! So, after Matt put on a pair of big boots for the excursion, we walked back outside and down the driveway (led by Marley, of course), passing by the new landscaping that features beautiful native grasses. I remembered seeing wild turkeys on the property during previous visits and asked Matt whether they were still around. Oh yeah…in fact, he was a little surprised that there were not any there that morning.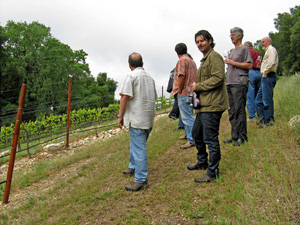 Matt has about 17 acres currently planted at the Linne Calodo estate vineyard. Located in the heart of the Templeton Gap, with its cooling Pacific breezes coming through the coastal mountains, it's at an elevation of about 1,100 feet. The first plantings, about five acres, were begun in 2005 – these include the head-trained Grenache vines on either side of the entry drive. More vines went in during 2007-8. There is Grenache, Syrah, and Mourvèdre, as well as Grenache Blanc and Picpoul. In addition to his own vineyard, Matt has leased a 14-acre vineyard across the road, where he has recently grafted about five acres each of Grenache Blanc and Mourvèdre, plus some Syrah, Cinsault, and Tannat. And there is another recently-acquired 48-acre site three miles to the northwest that Matt will start planting next year – he's planning to start with about 15 acres, to include some Carignane and Counoise. Matt also farms the Cherry Vineyard, not far away, from which he sources some of his best Zinfandel.
In fact, all the fruit for Linne Calodo comes from vineyards within just 3½ miles of the winery. While this furthers Matt's goals of expressing the small area in his wines, it can present a challenge as well, for example in recent years when frost and other weather conditions have reduced the crop considerably. But Matt noted that crop yield on the fruit he farms and buys is usually not more than two tons per acre even during the best vintages – as with many growers in this area, the vines are managed for quality of fruit rather than quantity. Among the other vineyards that Matt buys fruit from are Booker, Denner, James Berry, Heaton, Lock, Cherry, and Cushman.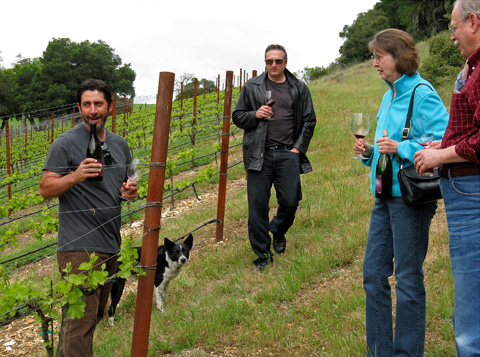 As we walked up the estate vineyard slope, we could see a dramatic difference in the soil from the lower to the upper part of the vineyard rows, with deeper, darker soil below and lighter, rockier soil above. The rocks were a familiar sight – typical Westside Paso calcareous rocks. The vineyard is broken up into many small blocks, with different vine rootstocks used depending on the location. Matt told us that he is doing as much dry-farming as possible and is a big believer in deficit irrigation farming for the vines. He also said that his aim is to farm the vineyard organically. There is deer fencing around the vineyard, but Matt said that birds have been the biggest problem.
Returning from the vineyard, we all headed inside the winery building. We walked past a row of stainless steel tanks with a ping-pong table next to them. Matt has quite the reputation for his ping-pong skills, and I understand that he will take on any challengers! Past this is the large barrel room, considerably bigger than the cramped space of the old winery building. Matt told us about the frustrations of spending hours moving stacks of barrels around in the old facility, just to access one or two barrels in the back (an issue I can actually relate to very well). With ample space in the new building, those scenarios will hopefully be a thing of the past. Besides the size of the space, the other feature that was new to me was the row of large concrete tanks against one wall. As the estate vines have continued to mature over the past few years, Matt has been using more of this fruit in his wines, and he told us that much of it has been going into the concrete tanks.
The new winery space is designed to foster natural cooling, from its siting – partially dug into a hillside and surrounded by shady oak trees – to vents at the base of the walls that bring in cool nighttime air. We learned that the barrel room stays at about 70% humidity naturally, so there is little need to humidify it as many other wineries need to do.
Once the fruit arrives at the winery, most lots ferment with native yeast, but some are inoculated. Matt said he likes to let the yeast from lots that start fermentation early in the crush season take over the later ones. He does some whole-cluster fermentation with Grenache, Syrah, and Mourvèdre, but this varies from year to year and vineyard to vineyard – there is no standard approach although he tends to use around 20% whole-cluster fermentation on Grenache. Syrahs get a maceration of around 30 days, while Grenache gets about 21-27 days on the skins. Barrels are mostly French oak, along with some Hungarian. Matt told us he's been using less new oak in recent years, aiming for a more savory flavor profile in his wines. He also mentioned that he likes the concrete tanks for preserving the purity of fruit in the wines.
I asked Matt what other wines and wineries he particularly admires and might like to emulate, and he mentioned Domaine Tempier and Château Rayas – not bad models! He said that he would like to make a Tempier-like Mourvèdre given the right conditions – he thinks a cooler year in his area might provide the opportunity to do that. Matt told us that his tastes have changed over time, and continue to change. He said that at one point, he made an effort to make lower-alcohol wines but he found this difficult to do with the vineyards he works with. He mentioned that a major issue – particularly with his estate fruit – is that it has tended to be very high in acid, and the sugar level in the grapes gets fairly high before the acids drop sufficiently for a smooth fermentation. He has been trying to dial in the sugar and acid balance in the farming, but said that has not always been easy to achieve. It's something that will take more time as the vines mature and Matt continues to learn each vineyard block more closely.
A crucial key to Matt's winemaking is blending. He adjusts his wines through blending rather than by making water or acid additions. He can add Mourvèdre to add more of an earthy note, Syrah for body, a higher-acid Grenache for more zing. Each variety from each vineyard offers its own character – here is where his use of multiple vineyards and varieties in most wines comes in particularly handy. But as with everything else, Matt's direction has started to change here as well. Two of his bottlings – "Overthinker," from estate fruit, and "Booker Red" – are the single-vineyard wines, and Matt indicated that more are likely to come in the future. And though he likes the fun proprietary names of the Linne Calodo wines ("Contrarian," "Slacker," etc.), he thinks that more future wines will probably feature the vineyard name – he would like to draw more attention to the vineyard, which he calls "the most critical part of winemaking."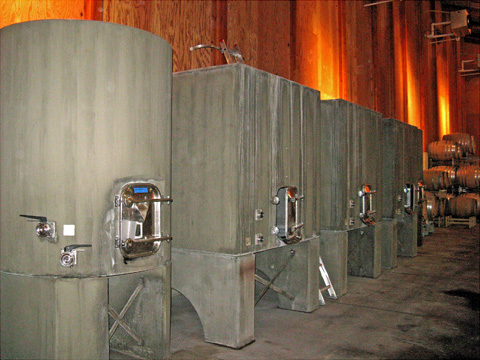 Linne Calodo releases about ten wines each year, all of which are blends – the "Contrarian" white, three Zinfandel-Rhône blends (all Zin-dominated), and six different Rhône blends. The wine line-up has changed over the years, and some bottlings have come and gone, including "LC Red," "Leona's Red," and "Martyr." Matt mentioned that he will probably phase out the "Slacker" Syrah-based blend soon. All the blends change somewhat each year. The "Contrarian" white blend has included various combinations of Grenache Blanc, Viognier, Roussanne, and Picpoul the past couple of years. The "Cherry Red" blend is based on Zinfandel from Cherry Vineyard, and "Outsider" and "Problem Child" are the other two Zin-Rhône blends. As mentioned earlier, "Overthinker" and "Booker Red" are single-vineyard wines. "Sticks and Stones" is a Grenache-heavy blend, while "Rising Tides" is a GSM blend that has more even proportions of each variety. "Slacker" and "Nemesis" are both Syrah-dominated blends.
After our visit, I asked Matt via email about how he differentiates his blends from each other, since some of them appear to be fairly similar based on their varietal composition. I specifically asked about the "Problem Child" and "Outsider" Zin-Rhône blends, which appear to have a nearly identical blend of Zinfandel, Syrah, and Mourvèdre each year. Matt replied that the fruit for the "Problem Child" blend comes from particular hillside vineyard blocks at the estate vineyard and from Heaton Ranch, Denner, and Cushman vineyards. This fruit is always high in acidity and provides brighter red fruit character to the wine. In contrast, the fruit for "Outsider" comes from different sources, lower on the hills and with richer soil – this yields wines with lower acidity and a rounder mouthfeel as well as a darker fruit profile. Here are two wines that look as if they might be similar in looking at the labels but are more different than they appear at first glance. Perhaps it's a fine line to expect everyone to see these distinctions, and Matt says "I think the two wines represent me just being picky." He admits that having two wines such as these in his line-up has the potential to be confusing, but he aims to highlight the diversity that can be found in just the one small area from which he sources all his fruit.
Linne Calodo currently produces about 3,700 cases of wine per year. Matt would like to see the production grow a bit, but as noted earlier, the past few vintages have not yielded a lot of fruit. He pointed out that it can be particularly limiting in a tough vintage when all of his vineyard sources are within a small radius from the winery. Matt doesn't see his annual production growing beyond about 5,000 to 7,000 cases. He wants things to remain manageable and enjoyable for him, as he is very much a hands-on guy in the winery.
Linne Calodo is at a stage that many successful wineries reach at some point. Although the wines are not inexpensive, Matt has had little trouble selling out his production each year, mainly to mailing list and wine club customers. Yet he would like to have some wine to sell through distribution channels and to retain enough to entertain guests at the winery tasting room. Currently, Linne Calodo is open for tastings and tours only by appointment although for a number of years the tasting room was open regularly. There is just not enough wine available to handle regular hours, and Matt does not want to produce more wine just for the sake of having it for the tasting room – as he says, "I have to do it right." But he also has noted that going back to appointment-only visits (as it was in the winery's early years) has allowed him to bring back more of a personal touch in welcoming guests to the winery, something that is easily lost in the high-traffic situation of regular tasting room hours. It's a balancing act for a growing, popular winery, and something that Matt has been actively trying to resolve.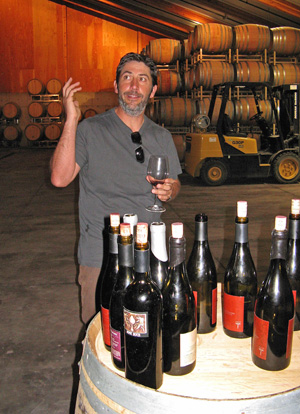 Matt generously opened quite a few bottles for our group, enabling us to taste through three- and four-year verticals of three of Linne Calodo's blends of Rhône grape varieties. We started out with "Sticks and Stones," the blend Matt creates to showcase Grenache from several vineyards in his small section of Westside Paso Robles. The bright, minerally 2009 was my favorite, a view shared by several others in our group. Next up was "Overthinker," another Grenache-based blend but entirely from estate fruit. As with all of the Linne Calodo wines, the clever name has a story behind it, and not surprisingly for this estate wine, the "Overthinker" name refers to Matt himself. Considering the name of this wine, we figured the interesting image on the label must be a brain, but Matt told us that it's actually a geode found in the area – aha, we were obviously overthinking that label! We tasted all of the "Overthinker" wines bottled to date, from the initial 2007 vintage to the 2010, bottled just a week earlier (this will get about one year in bottle prior to release).
The final vertical set of wines we tasted was the "Booker Red" and its predecessor, "Screwball." A Syrah-based blend focused on fruit from Eric Jensen's nearby Booker Vineyard, the 2007 and 2008 vintages of "Screwball" included some Linne Calodo estate fruit to round out the Booker Syrah. Starting in 2009, Matt has been able to get some Grenache and Mourvèdre from Eric, prompting the name change as a way to showcase the vineyard source. Is the old "Screwball" name a playful reference to Eric Jensen? If you've ever met him, it would hardly be surprising! The 2009 "Booker Red" has been in bottle for about a year, and as with the 2009 "Overthinker" and 2010 "Sticks and Stones," it's being released this spring.
After going through all those bottles, Matt asked us how we were doing on time…did we want to taste a few barrel samples? No need to twist our arms there! If you've ever tasted with Matt, you know there's no such thing as tasting "a few" barrel samples, and I got the feeling he would have kept going and going if we not had other appointments to keep that day.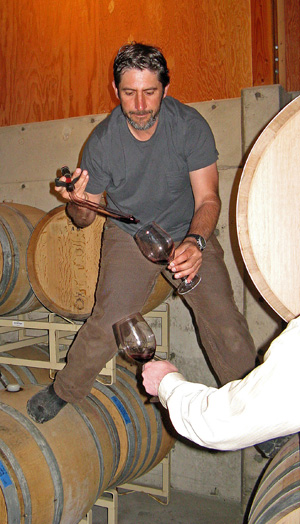 After starting with a couple of barrel samples of the 2010 "Booker Red," we moved on to some components for the "Cherry Red" Zin-Rhône blend. Matt told us that the 2011 Rhône wines have already been blended, and that the Zin-Rhône wines will be blended soon – so here was a good opportunity to make up a rough trial blend of the "Cherry Red," starting with the Cherry Vineyard Zinfandel and then adding some Lock Vineyard Syrah and Denner Vineyard Mourvèdre. Matt wanted us to see what a tiny bit of Petite Sirah might add to the blend too, and it made a considerable difference. It's always fun to try out these one-off blends, knowing they're inexact and will never be precisely replicated. But Matt pointed out that they are still helpful to him, to see how the wines from different vineyards and varieties interact, and to get a feel for how the fruit, acidity, and tannins may balance out in final blending.
After we were done with the barrel samples, Matt had one last tank sample for us to taste, the 2011 "Overthinker" – this was blended in early April and racked to concrete tank, where it will remain for about a year until it's bottled. For such a young wine, it seemed remarkably well-integrated. Matt told us many of his 2011 wines will have higher acidity than usual due to the cool vintage. We finished up our tasting with two older wines. Matt opened a 1999 "Bone Rock" – dating from the days when he and Justin Smith were making the Linne Calodo wines together – and a 2000 "LC Red." Both have aged very well and look to have years of life ahead of them still.
I've always liked Matt, and I've stopped in to taste with him several times over the years, but this was really one of the more fascinating winery visits I've made for awhile – I felt that I gained more insight into a vintner's goals and methods than usual. His way of using blending to achieve flavor, body, and balance in the wines particularly stood out to me during this visit. Matt's approach to farming as well to winemaking continues to change – he seems to do very little according to any set formula. Despite the continued success of Linne Calodo, Matt has clearly not settled into a groove – given his "overthinker" nature, I doubt that he ever will, and he'll continue to follow his own path.
The Linne Calodo wines have always been big, bold expressions of the fruit from their little corner of the Templeton Gap, and while undeniably popular, it's a style that has also had its share of critics. Whether an intentional response to this or just his natural evolution as a grower and winemaker, I thought Matt's recent wines seem more structured and with better balance than some of the Linne Calodo wines of the past. In particular, the 2009 wines showed very well as did the 2011 barrel and tank samples – signs of a bright future. Matt signed off his post-visit email to me with "next year we visit vineyards" – I'm already looking forward to that.
It was lunchtime by the time we said goodbye to Matt, so we headed right around the corner from Linne Calodo and enjoyed some tasty sandwiches at Farmstand 46 before hitting the road again. Driving east and crossing Highway 101, we went past Templeton and out toward Creston, finally arriving at our next destination of August Ridge. I'd visited here in late 2010 with Eric Anderson, Al Osterheld, and Bob Summers. Winemaker John Backer had invited Eric back to taste his new wines, and we thought this would be a perfect opportunity to do that.
Tasting Notes: Current Releases

August Ridge 2009 Sauvignon Blanc, Paso Robles.Light yellow color, with citrus, tart stone fruit, and dried herb aromas. Medium-light bodied with moderate acidity, smooth finish with a touch of bitterness.

August Ridge 2009 Arneis, California.Light yellow color, tart green apple and grapefruit on the nose. Fairly light-bodied and lively on the palate, with the tart quality reappearing on the finish.

August Ridge 2010 Arneis, California. Slightly lighter yellow color, this displayed scents of riper stone fruit and lees. Richer mouthfeel than the 2009 bottling (due to partial malolactic fermentation on the 2010), with medium acidity. A slightly rough finish suggested that some time in bottle will be of benefit.

August Ridge 2009 "Rocco's Red," Paso Robles.50% Sangiovese, 30% Dolcetto, 20% Barbera. Medium-light garnet color, with bright ripe cherry, spice, and vanilla/oak aromas. Medium-bodied with a smooth texture and mild tannins, an interesting and tasty basic "pizza wine" blend.

August Ridge 2009 Barbera, Paso Robles.14% Nebbiolo blended in. Medium-light color with ripe cherry and herbs on the nose along with touches of smoke and spice. The sweet fruit was balanced by fairly bright acidity in the mouth, leading to a moderately tannic finish.

August Ridge 2009 Primitivo, Paso Robles.Medium-dark color, featuring somewhat shy aromatics of boysenberry and spice. A lighter style for Paso Robles, with a relatively smooth mouthfeel and medium tannins.

August Ridge 2009 Dolcetto, Santa Maria Valley. Medium color, with bright black cherry, tea leaf, spice and a light touch of sweet oak. Balanced and fairly juicy on the palate, with moderate but refined tannins and a pleasant finish. Nice wine and my overall favorite of the August Ridge line-up.

August Ridge 2006 Sangiovese, Paso Robles.About 8-9% Cabernet.Medium color, this featured earthy and savory notes along with black cherry and plum on the nose. Lively mouthfeel with a tasty finish, my favorite of the four Sangioveses we tasted.

August Ridge 2007 Sangiovese, Paso Robles. About 8-9% Cabernet.Medium purple color, this was noticeably riper and more fruit-forward than the 2006 bottling. Displaying ripe cherry, herbs, and some vanilla/oak, it was also bigger on the palate, with a smoother texture and finish.

August Ridge 2008 Sangiovese, Paso Robles. About 8-9% Cabernet.Medium color, this had some volatile notes mixed in with the bright ripe cherry, spice, and bigger vanilla/oak component in the aromatics. Less weight on the palate than the 2007, and the oaky character seemed to take over on the finish.

August Ridge 2009 Sangiovese, Paso Robles. About 8-9% Cabernet.Medium color, showing plummy fruit along with earth, smoke, dried herbs on the nose. Bright and lively mouthfeel, this had moderate tannins and a nice finish. My second-favorite of the Sangioveses, some cellar time should benefit this wine.

August Ridge 2007 "Jovial," Paso Robles.64% Sangiovese, 20% Cabernet Sauvignon, 16% Merlot. Medium-dark color, with fairly bright and ripe black cherry and plum aromas along with plenty of spicy oak. Noticeably more full-bodied than the Sangiovese bottlings, this also had a big, grippy tannic finish.

August Ridge 2008 "Jovial," Paso Robles. 68% Sangiovese, 20% Cabernet Sauvignon, 12% Merlot. Medium-dark purple, with similar high-toned, somewhat volatile character as the 2008 Sangiovese, with ripe plum fruit and oak notes coming through as well. A more lush mouthfeel than the 2007 "Jovial" with tamer tannins on the finish.

August Ridge 2007 Nebbiolo, Paso Robles. About 5-6% Merlot. Light garnet color, this featured ripe red fruits plus tarry and earthy components on the nose. Light-medium weight with bright acidity in the mouth, finishing with big tannins.

August Ridge 2008 Nebbiolo, Paso Robles. About 5-6% Merlot. Slightly darker color than the 2007, showing riper upfront fruit and more vanilla/oak influence. A bit bigger on the palate than the 2007, this had very grippy tannic finish.

August Ridge 2009 Nebbiolo, Paso Robles. About 5-6% Merlot. Light garnet color, with some floral aromas along with strawberry, dried herbs, and earth. Lively texture and tannic, but less so than the 2008. This has the potential for some interesting development given more time in the bottle.

August Ridge 2007 "Ingenious," Paso Robles.72% Nebbiolo, 19% Merlot, 9% Cabernet Sauvignon. Medium color, this was an interesting blend that featured mostly Nebbiolo aromas but with the significant herbal character of Cabernet, along with some spicy oak notes. Medium-bodied with fairly big tannins but not as big as with the Nebbiolo bottlings, this had a tasty finish.

August Ridge 2008 "Ingenious," Paso Robles. 74% Nebbiolo, 16% Merlot, 10% Cabernet Sauvignon. Medium-light color, more fruit-forward than the 2007, with higher-toned ripe plum along with herb, oak, and a touch of Nebbiolo tar on the nose. Medium weight in the mouth with grippy tannins.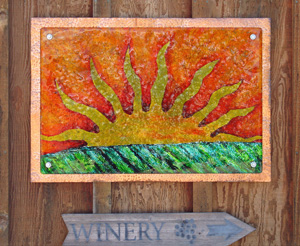 Although John himself was not able to meet with our group when we rolled up early in the afternoon, he'd arranged for Livi Del Gavio-Kusich, a member of the August Ridge winery team, to host us at their tasting room. Livi is pursuing a degree in wine business at Cal Poly in nearby San Luis Obispo, and although she'd only been with the winery for a few months, she was very knowledgeable about the wines.
A bit of background on the estate vineyard and winery – August Ridge was founded by John and Jill Zamborelli Backer. John's background is in business, and like many owners of small new wineries, he still maintains his "day-job." But that doesn't mean that he is not fully involved in running the winery, and he's very much a hands-on vintner at the modest facility. A former home winemaker, John does have a family connection with grape-growing, as his family has done that in the Fresno area since the late 19th century. His wife Jill's Italian ancestry helped lead them to decide on Italian-style wines being the core of the August Ridge line-up. One of their goals is to produce wines that will go with food in the same way that wines from Italy do.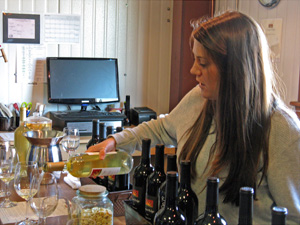 In 2001, John and Jill purchased about 40 acres of land in the low hills between Templeton and Creston. The area has the large diurnal temperature swings that are seen in many parts of the Paso Robles area. The first vines were planted in 2003 and the first August Ridge wine releases were from the 2005 vintage. About eight acres are currently planted at the property, with Sangiovese, Nebbiolo, Cabernet Sauvignon, and Merlot. Both the Cabernet and Merlot are Italian clones of those varieties rather than the French clones more typically planted in California. John has said that these clones have a different aroma and flavor profile that he is looking for. Other fruit is purchased, mostly from vineyard sources within about 30 miles of the winery.
Current releases in the "Cal-Ital" style include Arneis, Barbera, Primitivo, Dolcetto, Sangiovese, Nebbiolo, a basic blend called "Rocco's Red," plus a couple of higher-end blends that include some Cabernet and Merlot – "Jovial" is Sangiovese-based while "Ingenious" is based on Nebbiolo. The Sangiovese, Nebbiolo, "Jovial," and "Ingenious" bottlings are all from 100% estate fruit. The winery also makes a Sauvignon Blanc, Cab, and Merlot. Current annual production is in the neighborhood of 2,500 cases and is not expected to grow too much further.
The simple wooden winery building stands a short way from the Backers' home, both perched on a knoll overlooking the vineyard. The tasting counter was located in a bright corner of the winery. Livi had set out quite a few bottles for us to taste, not only the winery's latest releases but a number of older bottles as well, so we were able to try verticals of several of the wines. Joining us in the tasting area were the friendly winery dog and one of their cats – they kept us all amused during our visit.
As we tasted through the wines, Livi told us more about them. The white wines are all made in stainless steel. She mentioned that the latest release of the Arneis – the 2010 – went through about 25% malolactic fermentation, while the 2009 did not go through any at all, and the differences between the two wines were apparent. The wines are fermented in small lots, and the reds are aged in a variety of new and older barrels. The Dolcetto and Primitivo use about 35% new French oak, the Sangiovese and Barbera get about 40%, while the Nebbiolo and the "Jovial" and "Ingenious" blends are aged in around 50% new oak. Other than a small percentage of American oak for the Nebbiolo, all the barrels are French oak. Most of the reds spend 20-23 months in barrel, with the "Jovial" and "Ingenious" getting about 33 months of barrel aging. The longer barrel aging on gross lees is intended to provide a richer mouthfeel and to bring out the spice components of the wines. Reds typically spend about two years in bottle before release, and the 2009 Nebbiolo was bottled only about four weeks before visit. Livi was quite excited to have participated in that bottling, her first at the winery!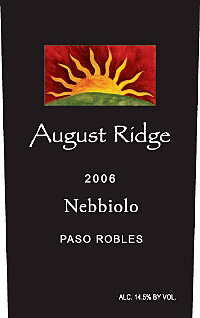 I thought the blending that goes into some of the Italian varietal bottlings was interesting, and I followed up on this by email with John Backer after our visit. There is some Nebbiolo blended into the Barbara (14% in the vintage we tasted), Cabernet blended with the Sangiovese (usually 8-9%), and a little Merlot in the Nebbiolo (typically around 5%). These particular wine blends are hardly unknown – Barbera/Nebbiolo blends have been made in Piemonte and elsewhere, and Nebbiolo/Merlot blends are seen in Valtellina – but they're not that seen that often either, so I was curious about them (blending Bordeaux grape varieties with Sangiovese is more common). John makes the Cab and Merlot additions to build up the body of the Sangiovese and Nebbiolo bottlings, which he feels would be a bit thin in the mid-palate on their own. He mentioned that the Cabernet flavors complement those in the Sangiovese, while he favors Merlot for the Nebbiolo as those flavors tend to remain in the background.
Livi was a charming host at the winery, and it was an unexpected treat to be able to taste through multiple vintages of many of the wines. I think the Central Coast holds a lot of promise for Italian grape varieties, which have too often under-performed in California, so it's good to see August Ridge joining a group of newer wineries in exploring these wines. Overall, the 2009 Dolcetto was my favorite of the wines we tasted, and "Rocco's Red" was quite a nice basic red blend. Not surprisingly for a relatively new winery, I thought that consistency was an issue that's still in the process of being worked out. In general, the red wines from the 2008 vintage were my least-favorites, though I thought the 2009s – the most recent releases for most of the reds – were a noticeable step up. In addition to the "Rocco's Red" and Dolcetto, both the 2009 Sangiovese and Nebbiolo seemed promising, and hopefully this is a sign of good things to come from August Ridge.
Our last visit of the day conveniently took us right back into Paso Robles. We drove slowly up a street near the north end of town, looking for the winery address we were given. Passing the end of a group of metal industrial buildings, we spotted the tell-tale stacks of grape bins before we saw the address itself. After parking and stepping inside the door below the "In Vino Veritas" sign, we met Andrew Jones and Tim Parker of Field Recordings.
Tasting Notes: Current Releases

Field Recordings 2010 Chenin Blanc, Jurassic Park Vineyard, Santa Ynez Valley. Very light straw color, bright citrus and pear with some earth and dried herb notes. Medium-light bodied with lively acidity in the mouth, and a fresh, tasty finish, nice.

Fiction 2011 "Fiction White," California. About 65% Pinot Gris, 30% Muscat, 5% Sauvignon Blanc. Light color, with slightly perfumey stone fruit aromas with an herbal note. Bright and juicy mouthfeel with a clean finish, an exotic and interesting white.

Fiction 2011 "Fiction Pink," California. From Mourvèdre, Syrah, Muscat, and Chenin Blanc. Very light pink color, showing fresh red berries and earth on the nose. Medium-light weight on the palate with some very mild tannins on the finish, very flavorful.

Fiction 2010 "Fiction Red – Fourth Edition," Paso Robles. Blend of Zinfandel, Tempranillo, Grenache, Malbec, Touriga Nacional, Mourvèdre, and Syrah. Medium-dark color, featuring ripe, upfront plum and dark berry fruit, spice, and oak. Fairly rich mouthfeel but not heavy, with moderate tannins on the finish.

Field Recordings 2010 Cabernet Franc, Three Creek Vineyard, Santa Barbara County. 90% Cabernet Franc, 10% Malbec. Medium-dark color, the herbal, stemmy component is noticeable but the black cherry, plum, black pepper, and chocolate aromas help balance it. Lively and medium weight, this finished with grippy tannins – this needs time in the bottle but seems promising.

Field Recordings 2010 "Neverland" Red Wine, Three Creek Vineyard, Santa Barbara County. 60% Cabernet Sauvignon, 24% Petit Verdot, 16% Malbec. Dark color, with scents of ripe currant and plum fruit, minerals, chocolate, and vanilla/oak. Lush and full-bodied, this had big, chewy tannins on the finish. Showing a lot of oak at this point, but that may integrate better given another year or two in the bottle.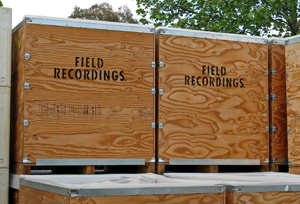 I had tasted several Field Recordings wines at the huge Family Winemakers of California tastings in San Francisco over the past couple of years, and I was intrigued enough by the wines that I thought it would be good to visit. Andrew is the main man behind Field Recordings, along with the related Fiction label. He's originally from Ventura County, and attended Cal Poly in San Luis Obispo. While there, he shifted his attention to wine and viticulture. He worked for a couple of wineries while still in school and then went to work with Sunridge Nurseries, which runs the largest grapevine nursery in California.
As part of Andrew's job at the nursery, he travels throughout the Central Coast, and he currently works with twelve vineyards, including some in both the west and east sides of Paso Robles, Edna Valley, Santa Maria Valley, Santa Ynez Valley, and Happy Canyon. Andrew told us that he had wanted to do something wine-related during the off-season for most of his vine nursery work, and ultimately he established Field Recordings in 2009 and then Fiction in 2011. The first Field Recordings wines came from the 2006 vintage. Tim works with Andrew in the cellar and on marketing.
The idea behind the Field Recordings wines is to showcase some of the vineyards that Andrew works with. The "Field Recordings" name refers to the notion of allowing the vineyards themselves to tell the story of the wines – the wines represent a recording of the conditions straight from the vineyards. So not surprisingly, all of the Field Recordings wines are single-vineyard designates. In contrast, the Fiction wines – a white, red, and "pink" – are all blends from various vineyards. The blends of both vineyards and grape varieties for the Fiction wines change from year to year.
The striking wine labels for both Field Recordings and Fiction feature images of flocks of starlings in flight – better on labels than in the vineyards! The image is meant to convey "natural, unstaged patterns that can never be repeated nor replicated" – in much the same way that the unique circumstances of each vineyard and vintage, as well as the people involved, are meant to be captured in each separate Field Recordings wine. In addition to the graphic look of the labels, the Fiction wine descriptions are certainly…different. "I do not know who tends this vineyard but I can feel them watching me" and "The footprints are enormous and it's hard to keep up, but I've risked too much to slow down now" are just a couple of pieces of the "Fiction." And if you're looking for something made from grapes grown on "8675309 Jenny" rootstock or harvested on "Stardate 65483.3," rumor is that you'll find those among the Fiction wines.
As anyone who's ever tried it could tell you, it's not an easy task to get your new, small winery brand noticed among the sea of producers out there. With this in mind, Field Recordings banded together with a number of other small Central Coast wineries – Herman Story and Sans Liege probably being the best-known of the group – in the Proof Wine Collective in San Luis Obispo. Proof notably includes graphic designers and others – as Andrew told me later, "each member brings unique things to the table," and some interesting ventures look to be in the future of this collaborative group. The graphic design of the wine labels for the Proof wineries is very distinctive, some of the best recent labels I've seen. Designers Alyssa Boisson and Josh McFadden have done labels for other wineries too, including the eye-catching new labels for Alta Maria. An outgrowth of Proof Wine Collective, the wineries involved in that project launched the Plough Wine Group, which represents the labels throughout California with their own sales staff.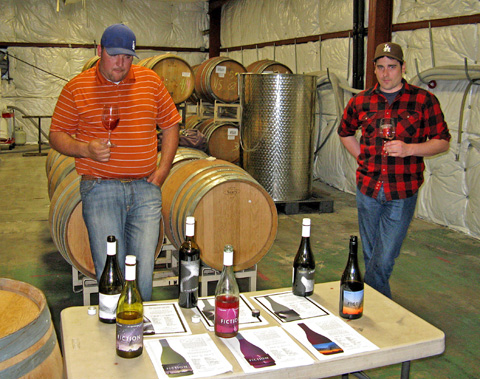 As we started our tasting with Andrew and Tim, they told us that the custom crush facility where they make their wine is owned by the Vintner's Vault, a winery equipment supply company located in the same building. I asked Andrew where he learned winemaking, and he said that he's mainly self-taught – much like many others in the wine business. He pointed to fellow Proof/Plough vintners Russell From of Herman Story and Curt Schachalin of Sans Liege as people whose winemaking he admires. He also mentioned that he really likes the work of many of the newer Paso Robles vintners including Eric Jensen (Booker), Scott Hawley (Torrin), Cris Cherry (Villa Creek) and Matt Trevisan (Linne Calodo). Andrew told us that he prefers to make his own white wines on the leaner, higher-acid side, though he prefers bigger, bolder reds. He aims to retain fresh fruit profiles for the wines.
Andrew and Tim told us about the winemaking for the Field Recordings and Fiction wines as we tasted through six of their current releases. Whites have native yeast fermentation and are made in both stainless steel and neutral oak. The Chenin Blanc – the wine that particularly caught my attention at the Family Winemakers tasting – is generally picked between 21-22 brix and finishes at around 13% alcohol or less. The fruit for this wine is sourced from 30+ year-old vines in Jurassic Park Vineyard, located near Firestone Winery in Santa Ynez Valley. The Chenin Blanc is not fined or filtered, so some past bottlings have had a cloudy appearance (though the current one appeared pretty clear). The "Fiction Pink" Rosé is made from both red and white grape varieties, with about 75-80% red. It's not a saignée, but is picked early and stays on the skins for one to two days before pressing. Like the whites, it's made in stainless tanks and older barrels.
Unlike the whites, red grapes are inoculated with selected yeast strains. They're fermented in bins, some of which we saw outside the winery. The "Fiction Red" bottling typically has about 25% new oak, and the current 2010 release includes less Zinfandel and more Grenache in the blend than earlier vintages. Three Creek Vineyard, the fruit source for both the Field Recordings Cabernet Franc and "Neverland" blend, is located in Happy Canyon, on the eastern edge of Santa Ynez Valley. The Cab Franc was fermented with 50% whole clusters. "Neverland" was aged in 100% new barrels, 33% of which was American oak. All of the Field Recordings and Fiction wines are bottled under screwcap – Andrew told us that they are made for short- to mid-term drinking, and not intended for longer aging.
In addition to the wines we tasted with Andrew and Tim, they have also produced other Field Recordings wines over the past few years. There have been Chardonnays from two different vineyards in Monterey County, a Petite Sirah from Red Cedar Vineyard in Paso Robles, and a red blend called "Chorus Effect," from Koligian Vineyard in Paso Robles. The combined production of both the Field Recordings and Fiction labels is currently about 3,000 cases per year. About 65% of production in 2011 was for the Fiction label, and Andrew told us that this year he expects the production for each label will be roughly equal.
The Fiction wines were unusual blends to say the least, but they seemed well-considered, not just thrown together. For blends of varieties you don't often see in the same wine – Muscat and Mourvédre? – they worked together remarkably well. They're all quite tasty, and priced well for the quality. Of the Field Recordings wines, I preferred the Cabernet Franc to the "Neverland" blend, but they're both well made and should appeal to those looking for the bigger style of reds. I think the latest vintage of the Field Recordings Chenin Blanc continues their streak on this wine, one of the more interesting California Chenin Blancs out there.
Judging by Andrew and Tim, their wine label designs and wine descriptions, and the websites of their collaborative ventures with Proof and Plough, no one here takes themselves too seriously. But although the wine packaging may be fun, there's no hiding the fact that they are producing some seriously good wines. Field Recordings and Fiction are making some distinctive wines, and are moving in a new and innovative direction with their business. I'm not sure what direction they may be headed in five years from now, but it should be fascinating to keep tabs on their journey.
Following a very nice Thursday dinner at Thomas Hill Organics in Paso Robles (with plenty of wine, of course), I spent the next two days enjoying Hospice du Rhône – fun seminars, terrific meals, and loads of exceptional wines to taste. But before driving home on Sunday, Al Osterheld, Eric Lundblad, and I met up for a big breakfast at Joe's Place in Paso Robles and headed from there to one more winery visit, at Peachy Canyon.
Located on the Westside of Paso Robles, Peachy Canyon is one of the older wineries in the area. My last visit there was back in the summer of 2004 (was it really that long ago?), when I joined Eric Anderson and a few other people in visiting with winery owner Doug Beckett. This time, our visit was with assistant winemaker Linda Baehr, who has been at Peachy Canyon since 2007.
Tasting Notes: Tankj & Barrel Samples

Peachy Canyon 2011 Zinfandel, "Savior," Paso Robles (tank sample). From 79% Deaver clone estate free run Zin fermented using carbonic maceration, 21% Zin from Heaton Ranch. Medium color, bright fresh raspberry aromas with a floral note, lively on the palate with a tingly finish. A pleasant and interesting "Zin Nouveau" style wine.

Peachy Canyon 2010 Petit Verdot, "The Odd One," Paso Robles (tank sample). 100% Petit Verdot from Mustang Springs Ranch. Medium-dark color, with ripe blueberry, tobacco/herb, and spice. Medium-bodied with a fairly smooth mouthfeel and finish and surprisingly mild tannins.

Peachy Canyon 2010 "Sin Nombre," Paso Robles (tank sample). 33% Cabernet Sauvignon from Mustang Springs Ranch, 32% Caladoc and 24% Malbec from Sunridge Vineyard, plus Merlot from Cierro Prieto Vineyard. Dark color, showing black cherry, plum, and herbs on the nose, with a strong vanilla/oak element that should integrate better given some time. Big, structured, and tannic, time in the bottle will be helpful here as well.

Peachy Canyon 2010 Petite Sirah, Paso Robles (tank sample). This is 100% Petite Sirah, with 76% of it coming from Mustard Creek Vineyard, 14% from Heaton Ranch, and 10% from Osgood Vineyard. Dark color, displaying slightly floral dark berry fruit aromas, spice, and vanilla/oak. Big and rich in the mouth, but not too tannic.

Peachy Canyon 2010 "Cirque du Vin," Paso Robles (tank sample). Mostly Cabernet Sauvignon, Cabernet Franc, Merlot, and Syrah. Medium-dark color, this was herbal and peppery, with plum and blueberry fruit and a lighter touch of oak. Medium-bodied and fairly smooth, this finished with moderate tannins.

Chronic Cellars 2010 "The Unteachables," Paso Robles (tank sample). 60% Petite Sirah, 21% Zinfandel, 19% Syrah. Medium-dark color, with a subdued nose of higher-toned red fruit – more Zin-like than Petite Sirah – along with spice. Medium-bodied with lower apparent acidity and mild tannins.

Chronic Cellars 2011 Syrah, Paso Robles (tank sample). Made entirely in concrete. Medium-dark color, this featured very bright, pure blackberry fruit along with minerally notes. Big but lively, with moderate tannins on the finish, distinctive and quite nice.

Peachy Canyon 2011 Zinfandel, Mustard Creek Vineyard, Paso Robles (barrel sample). 100% Zinfandel. Medium color, aromas of bright and slightly tart brambly wild berry fruit, earth, and spice. Medium weight with juicy acidity and medium tannins, this was a terrific Paso Zin.

Peachy Canyon 2011 Zinfandel, Mustard Creek Vineyard, Paso Robles (barrel sample). About 80% Zinfandel, 20% Petite Sirah. Medium-dark color, showing the deeper, darker berry fruit that the Petite Sirah component brings to this wine. Bigger mouthfeel than the previous wine, with more noticeable tannins on the finish.

Peachy Canyon 2011 Zinfandel, Snow Vineyard, Paso Robles (barrel sample). Medium color, this displayed ripe fruit and spice, with a darker fruit profile and more body than the Mustard Creek sample. Medium tannins and a tasty finish.

Peachy Canyon 2011 Zinfandel, Mustang Springs Ranch, Paso Robles (barrel sample). From two Zin clones. Medium color, bright ripe cherry with a brambly, peppery note. Lighter weight on the palate with more apparent acidity and a long finish with medium-big tannins.

Peachy Canyon 2011 Zinfandel, Heaton Ranch, Paso Robles (barrel sample). Medium color, with raspberry fruit plus an interesting guava/tropical fruit note, minerals, and spice. Medium-bodied and lively, with a long and pleasant finish, nice.

Peachy Canyon 2011 Zinfandel, "Especial Block," Paso Robles (barrel sample). Medium color, this featured a big, peppery profile along with raspberries and herbs. Surprising weight on the palate for only being around 13% alcohol, this finished with medium-big tannins, quite a promising young Zin.

Chronic Cellars 2011 Tannat, Gravity Hills Vineyard, Paso Robles (barrel sample). Dark color, with black fruits, pepper, and dried herb aromas. Big and structured with a very chewy tannic finish.

Peachy Canyon 2001 Zinfandel Port, Paso Robles (barrel sample). Medium reddish-purple, displaying scents of brown sugar, spice, and chocolate. Lush texture on the palate with a long, smooth finish.


We met Linda just outside the winery, in the hills above Nacimiento Lake Drive a few miles northwest of Paso Robles. Originally from Chicago, Linda went to college in Arkansas, where she majored in microbiology. She told us that she first became interested in wine when she worked as a bartender. At first she thought of going into the service side of the wine business, but her microbiology studies got her interested in the winemaking side. After deciding on that as a career, Linda moved to California and earned a degree from Cal State University in Fresno before going to work at Peachy Canyon.
The winery's beginnings go back to former schoolteachers Doug and Nancy Beckett's purchase of property along Peachy Canyon Road west of Paso Robles in 1982. In 1988, they released their first wine, 250 cases of Zinfandel from Benito Dusi Vineyard. From there, it only took a few years until Peachy Canyon became recognized as one of Paso's top Zinfandel producers, and Zin has remained their signature wine through the years. In the early years, the wines were produced in a small facility near the Becketts' home, and they had a small appointment-only tasting room there as well. It was there where I first tasted the wines with Doug nearly 20 years ago. By the late 1990s, the winery production had outgrown the original facility and the Beckett family purchased the current winery property in 1999. About the same time, they opened a tasting room inside the historic Old Bethel School House along Highway 46, and this quaint spot remains their tasting room today. Doug and Nancy remain in charge of the winery, and their sons now take leading roles – Josh became the head winemaker in 2002 and Jake has been the general sales manager since 2006.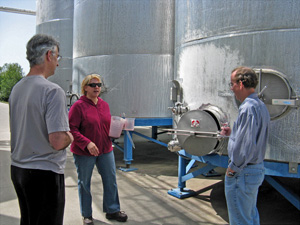 Linda pointed out to us the different parts of the vineyard around the winery building. Peachy Canyon owns four estate vineyards – the one adjacent to the winery is Mustang Springs Ranch. Older Cabernet Sauvignon, Malbec, and Petit Verdot vines are nearby, while a hillside along the drive coming from the main road has new rootstock that was planted last year and will be grafted this year. Linda told us that most of this will be grafted to Zinfandel but that some parts will also have some Carignane and Petite Sirah along with Zin for a field blend. The new plantings will be head-trained and dry-farmed. It's worth mentioning that this part of Paso Robles' Westside is not within the noted Templeton Gap with its cooler coastal influence – most of the Peachy Canyon vineyard sites are in a warmer area, making them ideal for heat-loving grapes such as Zin, Bordeaux varieties, and Petite Sirah.
Other nearby estate vineyards include Snow Vineyard, which was first planted in 1980 and has head-trained Zinfandel on its own roots. There's also Mustard Creek Vineyard, replanted in recent years to Zin and Petite Sirah. Finally, there's the Old School House Vineyard, farther away and within the Templeton Gap. Older own-rooted Zin and Cabernet vines there had to be pulled out recently and the vineyard will be replanted. Older plantings of own-rooted Zin and Cabernet make up this site. Each of the vineyards has features that separate them from the others, from the climate to the slopes to the soils. All of the vineyards are farmed sustainably, and they are certified under the Central Coast's Sustainability In Practice (SIP) program. Grape stems, skins, seeds, etc. are composted each year and returned to the soil. Like more and more growers these days, Peachy Canyon utilizes cover crops in their vineyards to help maintain soil health and beneficial insects to help control pests. In all, Peachy Canyon has around 100 acres of estate vineyards, and they purchase fruit from a number of other local growers as well.
Peachy Canyon produces a variety of wines, nearly all of which are reds. They make just two white wines, a Chardonnay and a Viognier, both fermented in concrete tanks. Not surprisingly, the largest number of wines are Zinfandels – these include Snow, Westside, Old Bailey, Mustard Creek, Mustang Springs, Vortex, Especial, and Incredible Red bottlings. Linda said that of the six small-production Zinfandels the winery makes each year, three are usually 100% Zin and three have some Petite Sirah blended in. There are also several wines from Bordeaux varieties – a Cabernet Sauvignon, Cabernet Franc, Malbec, and "Para Sempre" blend. Add to that the "Vesuvio" Super-Tuscan style blend, a Petite Sirah, "Cirque du Vin" (Zin, Petite, and Bordeaux varieties), and a Zinfandel Port, and you can see that Linda has little trouble staying busy!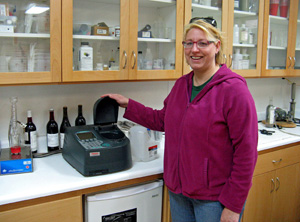 We followed Linda into the winery building, where she showed us her "office" in the wine lab – lots of cool equipment in there. Grabbing some wineglasses, we headed into the winery to taste some tank samples…followed for awhile by a tiny frog (not to worry, he didn't get into any of the wine tanks!). Linda told us that the first few wines we tasted would be bottled very soon and would be going straight to the tasting room, where they were starting to run short of some wines. It's great to sell lots of wine but you need to have a steady supply for tasting room visitors too, a problem many wineries face each year – we've already seen how that's been an issue for Linne Calodo. Linda mentioned that she came up with the name for one of these wines – "Sin Nombre" ("Nameless"). This one was an interesting blend that included Caladoc, a grape variety that was new to me. A cross between Grenache and Malbec, it sounds similar to another grape variety that's blended into Peachy Canyon's "Incredible Red" Zinfandel – Marselan, a cross between Grenache and Cabernet Sauvignon.
As we tasted a variety of tank and barrel samples with Linda, we also tried a few from Chronic Cellars, the project of the Becketts' sons Josh and Jake. These wines, which are made at the Peachy Canyon facility, feature clever names and labels. They have a tasting room just across the road from the winery.
Annual production for Peachy Canyon is currently around 55,000 cases, down from about 85,000 a few years ago. The largest single production wine is the "Incredible Red" at about 35,000 cases per year – this had been a 50,000+ case wine when Linda joined the winery in 2007. Linda thinks that the production will stay pretty close to its current level for the time being, though some of the smaller Zin bottlings may need a bump in production to meet the demands of the tasting room. In addition to Peachy Canyon's production, Chronic Cellars makes around 13,000 cases per year and Linda said that it will probably increase and be closer to 20,000 this year.
Linda told us about the winemaking methods as we walked around the tank room and then proceeded into a separate building to taste some barrel samples. Most wines undergo native fermentations, although the white wines are inoculated. There are two basket presses for smaller lots plus a larger bladder press for the big ones. Linda showed us a room that can be separately temperature-controlled and used as either a hot or cold room as needed. Zinfandel is aged in mostly American and Hungarian oak, while Bordeaux varieties are aged in French oak. Linda noted that older vintages had been kept in barrel for about 18 months but they have been shortening that to about 10 months, both to avoid the drying tannins that sometimes come with more extended barrel aging and also to free up more barrels before the next vintage.
Linda showed us some custom-made 270-gallon concrete tanks (which the winery workers call hippo tanks due to the resemblance) plus some smaller concrete vessels. We tasted a 2011 Chronic Cellars Syrah from tank that had been made entirely in concrete – as I've found with other reds made in concrete, this seems to preserve and focus the fresh fruit character of a wine, while giving it some roundness that you'd get from aging in barrel.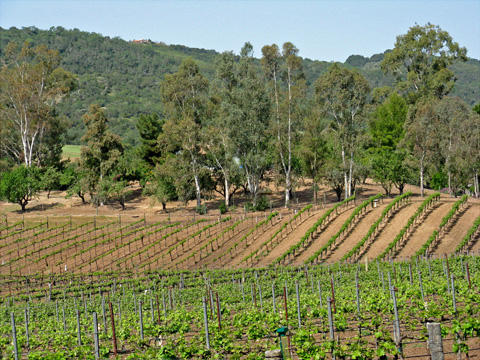 We tasted a number of Zinfandel barrel samples from a variety of vineyard sources, which really highlighted the differences in the wines sourced from these various sites. As we tasted a barrel sample of the 2011 "Especial" Zin, Linda asked us to guess the alcohol percentage. That question typically means that it's unusually low or unusually high. I guessed that it was on the low side (due to the big black pepper character), and Linda told us that it was only about 13% alcohol, rare for a Paso Zin – or any Zin these days for that matter. I'd say that it "hid" its low alcohol quite well, and certainly had plenty of body and flavor.
We finished up with a Zinfandel Port – it's made with something similar to a solera system, with newer vintages blended with older ones. We tasted a 2001 (yes, a 2001 still in barrel), and Linda told us that it's about 13% residual sugar and 18-19% alcohol. Linda mentioned they have not been able make a late-harvest Zin for their Port the past three years due to rain during harvest.
Although Peachy Canyon Zinfandels were some of the first Paso Robles wines I ever tasted, back in the early 1990s, I must admit that I hadn't followed them closely for a number of years. There was a time when they didn't seem to have the same combination of explosive flavor and balance that I'd remembered from the earlier vintages. But I do recall that the winery seemed to be turning things around when I visited back in 2004, and this latest visit just confirmed that they are indeed back on track. The wines we tasted with Linda were very good, with several of them bringing back memories of those earlier Zins. In particular, barrel samples from Mustard Creek, Heaton Ranch, and the "Especial" block were standouts, and the tank sample of the soon-to-be-bottled "Savior" Zin – produced mainly through carbonic maceration – was very distinctive and pleasant.
In the effort to find "the next big thing" in wine, sometimes producers who have been around for awhile are unfairly ignored, and our visit with Linda at Peachy Canyon showed that you don't always need to seek out something new to find something good. It brought back to me why I was drawn to Paso Robles wines in the first place.
Al, Eric, and I were having a great time tasting with Linda, but we all had to take off for the drive back to the Bay Area in the afternoon. This was another fun visit to Paso Robles. There are always interesting new wineries to discover, as well as ones to rediscover. The trip demonstrated to me again that riper wines can be as beautifully-balanced as any when they're made well. And while there are some people who have a tendency to lump all Paso-area producers into a "big, jammy wine" camp, every time I'm there I see how diverse the wines of the region really are. People such as Matt Trevisan of Linne Calodo and Andrew Jones of Field Recordings are producing interesting blends that seem to break the rules, while John Backer of August Ridge is among a promising new group of producers making Italian varieties from Paso Robles fruit. And for all the (well-deserved) attention that the area has gotten for its Rhône-style wines over the past decade, the wines of Peachy Canyon show why it was Zinfandel that first put Paso on the wine map.

Getting together with friends old and new is a big reason my visit to Paso Robles for Hospice du Rhône weekend is my favorite wine trip each year, and there are wineries old and new to experience every year as well. As always, thanks to everyone that we visited for being so generous with their time and their wine!