Visits in this Issue:

Miraflores Winery
Holly's Hill Vineyards
Cedarville Vineyard

A few friends and I drove from the Bay Area to the Sierra Foothills on the Saturday just after Thanksgiving to visit some wineries. Among those on the outing were Grape-Nutz vets Al Osterheld, Eric Lundblad, and Alan Garretson, as well as friends Jane, Danny, Laura, and Rosemary. It's a long day trip to the Sierra Foothills, and this time we decided not to rush things too much and only stop at a few spots. As it turned out, we only made three winery visits, all of which were in southern El Dorado County. They included one place none of us had visited before – Miraflores – along with two old favorites, Holly's Hill and Cedarville.

Saturday - November 29, 2008

Miraflores Winery
We'd first heard about Miraflores Winery a year earlier, when it was recommended to us by Jonathan Lachs and Susan Marks of Cedarville Vineyard. We didn't have time to visit there on that day, so this time we decided Miraflores would be our first stop. As several of us were carpooling separately, we all met each other at the winery, in the Pleasant Valley area of El Dorado County, a few miles south of Placerville. Surprisingly, no one had any problem finding the winery, and even more amazingly, we were all on time!
We proceeded through a pair of large entry doors into the airy tasting room, housed in a handsome new stucco building. Julie and Ross of the tasting room staff were friendly and knowledgeable hosts, and told us about the winery as they poured us tastes of over a dozen current releases along with two barrel samples.
The hilly 250-acre property was purchased in 1995 by Victor and Cheryl Alvarez, after they had searched for vineyard land in Arizona, where Victor is a practicing pathologist. Situated mostly on decomposed granite and volcanic soils at elevations ranging from 2,600 to 2,900 feet, 39½ acres of the property were planted in 2000-01. A total of 62 acres have deer fencing, so there is room for more vines in the future. Syrah is the largest planting with 18 acres, and the vineyard also has Zinfandel, Petite Sirah, Viognier, Muscat Canelli, Cabernet Sauvignon, Mourvèdre, Tempranillo, Cabernet Franc, and Petit Verdot.
Current Releases & Barrel Samples:

'07 Pinot Grigio, Sierra Foothills: sourced from Calaveras County, floral and tropical fruit aromatics, nice acidity and smooth finish.

'06 Viognier, El Dorado: made entirely in neutral oak, stone fruit and tropical fruit in the nose and fairly light on the palate.

'07 Viognier, El Dorado: less tropical fruit and more distinct stone fruit notes than the '06, with a weightier mouthfeel.

'07 Rosé, El Dorado: a saignée from Syrah, this had light salmon color, watermelon aroma and flavor, and refreshing acidity.

'06 Barbera, El Dorado: blended with 8% Petite Sirah, black cherry and spice, medium-rich mouthfeel and not as acidic as many Barberas.

'05 Zinfandel, El Dorado: blend of about 80% estate fruit and about 20% Herbert Vineyard. Medium color, spicy wild berry fruit with sweet oak overtones and a moderately tannic finish.

'06 Zinfandel, Herbert Vineyard, El Dorado: a bigger wine than the '05 El Dorado, with more intense fruit and more noticeable black pepper component.

'04 Syrah, El Dorado: mostly from estate fruit with about 40-45% new oak, medium-dark color, black fruits and oak aromas, with a grilled meat note coming out in the flavors, medium tannins.

'05 Syrah, El Dorado: also mostly from estate fruit, this was less fruit forward, with more savory notes and bigger tannins, very nice.

'05 Syrah, Méthode Ancienne, El Dorado: foot-stomped, native yeast, whole cluster, about 20% new oak. Not overtly stemmy but more floral and spice aromas compared with the regular Syrah. The stems are more apparent on the palate, and the finish is a fairly tannic.

'06 Syrah, Méthode Ancienne, El Dorado: More up-front fruit than the
'05, with plums and darker fruits taking the lead. More noticeable vanilla/oak on this wine as well, and indeed this vintage had 49% new oak.

'07 Syrah, Méthode Ancienne, El Dorado (barrel sample): this will be released in Spring '09. This was still somewhat disjointed, with higher-toned fruit and aggressive oak dominating.

'05 Petite Sirah, El Dorado: very dark color, intense ripe blueberry/blackberry aromas with some earthy overtones, mouthcoating and tannic.

'06 Petite Sirah, El Dorado: quite similar to the '05 but not quite as rich on the palate.

'06 Meritage, El Dorado: 50% Merlot, 40% Cabernet Sauvignon, 10% Petit Verdot. It was tough to taste this wine as we actually tasted it after the sweet wines below, but it showed black cherry and tobacco/herb notes, with a moderately tannic finish.

NV "Princesa" Muscat Canelli, El Dorado: a late harvest wine made with fruit sourced from the Fair Play area, this has 11% RS. Medium gold color, distinct floral Muscat aroma along with intense apricot and orange peel, the sweetness took over on the palate and a bit more acidity would have been nice.

NV "Príncipe" Port, Amador: made from Tinta Cao and Touriga Nacional, just bottled two weeks before our visit. Dark color, mostly primary plum aromas but with some earthy notes, sweet and rich.

'06 Black Muscat, Amador (barrel sample): 18% RS, medium-dark, floral Muscat character along with fig aromas and flavors. Another smooth and mouth-coating dessert wine.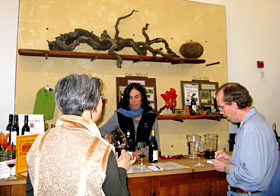 As the vineyard matures, Miraflores is increasingly using estate fruit for its wines, but they still purchase fruit from other sources as well. One of these sources is the well-known Herbert Vineyard, which was bought a few years ago by winemaker Marco Capelli. Planted in the early '70s, Sierra Vista Winery among others has sourced some fine Zinfandel fruit from this vineyard over the years.

The first vintage of Miraflores wine was 2003, and as noted above, Marco Capelli is the winemaker. If his names sounds familiar, it's undoubtedly because he was the long-time winemaker for Swanson Vineyards in Napa, where he worked for a time with the legendary André Tchelistcheff. Marco now consults for a number of wineries in the Sierra Foothills. The Miraflores winery and tasting room opened in early 2007, and the facility is large enough to accommodate custom crush clients as well. The winery produced about 7,200 cases in 2008, and they plan to top out their annual production at about 10,000 cases. A variety of winemaking techniques are employed on different wines – the "Méthode Ancienne" Syrah, for example, is foot-stomped and fermented with whole clusters and with native yeast. Wines are aged in both French and American oak.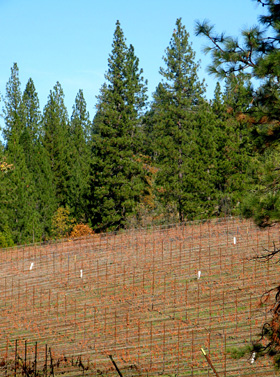 The winery considers Zinfandel and Syrah to be their specialties. As with most Sierra Foothills wineries, prices are very reasonable, and range from about $15 to $30. The wines are not shy, tending toward the bold and intense end of the spectrum, yet they maintain good balance. The dessert wines are among the best I've tasted in the Sierra Foothills. The vineyard and winery are still young – the wines are a bit inconsistent, but generally very good, and clearly show the promise in store for future vintages. Miraflores looks like one of the group of El Dorado wineries that is starting to raise the quality level of the area in general.

Holly's Hill Vineyards

Current Releases :

'07 "Patriarche Blanc," El Dorado: 80% Roussanne, 10% Viognier, 10% Grenache Blanc. Light straw color, pear and stone fruit aromas with floral hints, rich and smooth on the palate with a long finish, very nice.

'06 Roussanne, El Dorado: citrus and honeysuckle, with crisp acidity, and a touch of minerality in the mouth – this wine should benefit with some aging.

'06 Grenache, El Dorado: light red-purple color, bright strawberry and floral aromatics, touches of earth and spice, with refreshing acidity and fairly mild tannins.

'06 "Patriarche," El Dorado: 42% Mourvèdre, 40% Syrah, 11% Grenache, 7% Counoise. Medium color, plum and blackberry fruit with undertones of lavender and earth, some black pepper and spice notes in the mouth, and some youthful tannins – another wine that should age nicely.

'06 Mourvèdre "Classique," El Dorado: flowers, dark berries, and plum – lots of up-front fruit but little of the earthy character that I associate with Mourvèdre.

'06 "Tranquille," El Dorado: 47% Grenache, 33% Mourvèdre, 20% Syrah. A Côtes du Rhône style blend, this displayed more red fruits and herbs than the "Patriarche" blend, along with a touch of black pepper and some intriguing mineral notes on the finish.

'05 "Hill Top" Syrah, El Dorado: medium color, intense blackberry / boysenberry aromas along with some sweet oak and hints of clove and other spices, this is a mouthfilling wine with tannins that are big but not harsh.

'06 Syrah, Wylie-Fenaughty, El Dorado: slightly darker color than the "Hill Top", this shows more complexity in the nose, with dried herbs, earth, and spices mingling with dark fruits. This was a bit livelier on the palate, with moderate tannins.

'05 "East Slope" Syrah, El Dorado: Sourced entirely from estate fruit, this was the biggest wine of the lineup. Ripe dark berry fruit, herbs, and smoky oak are evident, and while the acidity and hints of minerality kept the wine from being too heavy in the mouth, the finishing tannins suggested that patience will be needed for this wine to be at its best.
After finishing our extensive tasting at Miraflores, we hopped in our cars and made the short drive to Holly's Hill Vineyards. Most of our group had visited here before, and it's become a regular stop. As is often the case, Josh Bendick welcomed us from behind the tasting bar. Before long, his wife Carrie – winemaker and daughter of owners Holly and Tom Cooper – came out from the office to say hello too. It's always fun to see one or more of the Bendicks' young daughters and their cats in the tasting room as well.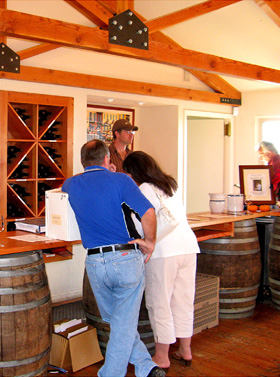 Holly's Hill is one of the Sierra Foothills' Rhône specialists. The first of their two beautiful hillside estate vineyards was first planted in 1998 with the second one following two years later. At over 2,600-foot elevation, this is another of the high-altitude vineyards of El Dorado County. Their first vineyard was originally planted entirely to Syrah, but some of that has been grafted over to other varieties since then. Viognier, Grenache Blanc, Roussanne, Grenache, Mourvèdre, Syrah, Counoise, and Petite Sirah are all currently grown on the property. The winery was launched in 2001, and there are plans to expand the small facility soon.
All fruit is destemmed before fermentation, and older barrels as well as some larger casks are favored for aging, to reduce the added flavors and tannins of new oak. Only French oak is used, and most wines are aged sur lie, with whites remaining in barrel for about six months and most reds about eleven months, with Syrahs aging for up to two years.
Holly's Hill dependably has one of the most solid lineups of wine in the Sierra Foothills. They don't go for the big "in-your-face" style often found in the area, instead crafting more food-friendly wines with good acidity and nuanced flavors. I usually prefer their whites over the reds, though they weren't pouring many whites the day we stopped in. Year after year, the "Patriarche Blanc" is one of the finest white Rhône-style wines produced in the Sierra Foothills (and I think it's often one of the better ones in all of California), and the '07 that we tasted did not disappoint. There are usually some excellent reds too, and the "Patriarche" red blend and Wylie-Fenaughty Syrah were standouts on this visit.
Following our tasting, we had a relaxing lunch at one of the picnic tables just outside the Holly's Hill tasting room – a perfect way to deal with too many Thanksgiving leftovers! Although hazy skies obscured the usually-spectacular view across the Central Valley to Mount Diablo, the bright sunshine and unseasonably warm weather were most enjoyable.

Cedarville Vineyard
Current Releases & Library Wines:

'07 Viognier, El Dorado: light straw color, lots of pear and tropical fruit aromas with a pleasant minerality on the palate. Good acidity balanced the rich mouthfeel, while the finish was long and pleasant.

'06 Viognier, El Dorado: a less ripe fruit profile than the exuberant '07, this was leaner in style with even more mineral notes. With less up-front fruit than in the '07, the oak showed through a bit more.

'06 Grenache, El Dorado: with 17% Syrah and 3% Mourvèdre. Medium color, peppery cherry and plum with spice and dried herb undertones, lively mouthfeel and fairly mild tannins.

'06 Zinfandel, El Dorado: with 6% Petite Sirah, 3% Syrah, 3% Grenache. Medium color, bright ripe berry and black pepper aromas and flavors, with a well-integrated touch of sweet oak and a moderately tannic finish.

'06 Syrah, El Dorado: medium-dark color, bold ripe blackberry fruit, pepper, and herbs, hints of roasted coffee, and medium tannins.

'06 Petite Sirah, El Dorado: from Naylor Vineyard, dark color, ripe blackberry and plum with undertones of earth and black pepper, rich and concentrated on the palate, and a big tannic finish.

'05 Cabernet Sauvignon, El Dorado: medium-dark color, black cherry, plum, and smoky oak, medium-bodied with herb and mineral notes in the mouth, and a long and surprisingly smooth finish for such a young Cab.

'00 Zinfandel, El Dorado: medium-light reddish color, ripe plum and wild berry fruit is still evident, along with a distinctive brown sugar note. The tannins are smooth and fully resolved.

'03 Syrah, El Dorado: medium color, complex blackberry, herb, and roasted meat aromatics, moderately rich on the palate, with a long and tasty finish. An expressive wine that seems like it is hitting its peak drinking window – very nice!

After our delicious picnic lunch, we headed south along scenic Mt. Aukum Road, descending steeply and then climbing again as we crossed both the north and middle forks of the Cosumnes River – the only remaining major undammed river on the western slope of the Sierra Nevada. We finally turned east at Fairplay Road and continued the short distance to Cedarville Vineyard. Parking alongside the small winery building, the nearby vines displayed stunning golden leaves under the fall sunlight.
After admiring the vineyard for a few minutes, we walked inside for our appointment (amazingly, on time again!), where Jonathan Lachs and Susan Marks greeted us. Although I'd visited Cedarville many times over the years, I'd never thought to ask where the name came from. Jonathan and Susan explained that Cedarville was the name of an old mining town that was once located about a mile from the property – a nice tribute to an earlier group of Sierra Foothill pioneers.
Cedarville focuses on Rhône varieties, along with Zin and Cabernet. Jonathan and Susan met while studying at UC Davis, and they purchased and planted the property in the mid-1990s. Their first vintage was 1998, and they moved into their house overlooking the vineyard the following year. Their 15-acre vineyard, on decomposed granite soil, is farmed sustainably and dry-farmed as much as possible. They grow Viognier, Grenache, Mourvèdre, Syrah, Zinfandel, and Cabernet Sauvignon. All of Cedarville's wines are made from estate-grown fruit except for the Petite Sirah, grown nearby at Naylor Vineyard.
The winery itself is larger than it appears from the outside, since barrel storage is inside two caves, built with precast concrete arches into the hillside behind the building. This helps to keep the space naturally cool during the hot summer months. Since the annual production is only about 2,500 cases, the winery is compact and well-designed.
I asked about the 2008 growing season, since it was a difficult one in many parts of California, and Jonathan and Susan told us that they lost about 30% of their fruit to the late-spring frosts. Fortunately, the Sierra Foothills were not impacted too much by the smoke from summer forest fires that caused problems in some other growing areas. They noted that the '08 harvest was completed in only 3½ weeks, finishing at the end of September – a shorter harvest than usual.
We proceeded to taste through Cedarville's current releases as well as a few older wines. As usual, the wines are defined by ripe yet elegant fruit, framed with a deft touch of oak. Jonathan noted that they are using more French and less American oak than in past, and less new oak. Favorite coopers include François Frères, Seguin Moreau, and Meyrieux.
Cedarville continues to produce wines that are among the highest quality in the Sierra Foothills. I thought the current Grenache and the Cabernet releases have taken the most noticeable steps forward from previous vintages. Cedarville's Grenache has always been tasty, but the '06 has a depth and complexity that the earlier ones only hinted at. And the Cab seems to get better every year – graceful and balanced, and without the searing tannins of many Cabs made from mountain-grown fruit. As a bonus, the price of these wines (as with many wines from the Sierra Foothills) remains a bargain for the quality compared with most California wines.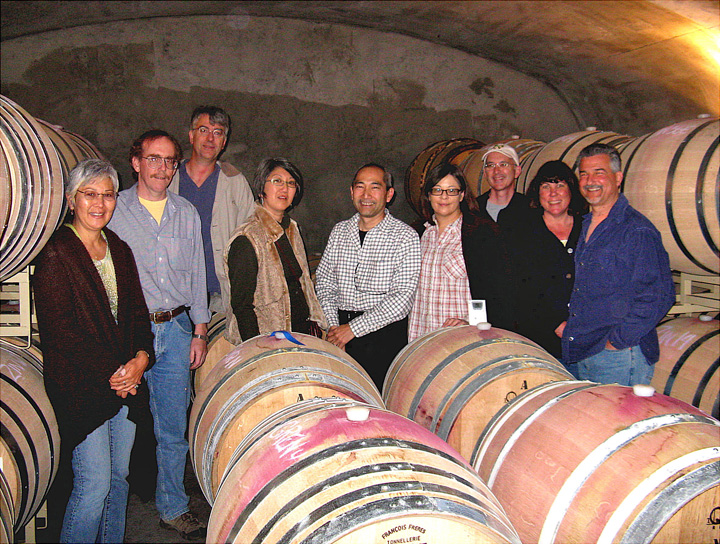 Following our tasting at Cedarville, we relaxed for awhile under the winery's crushpad overhang, enjoying the pleasant weather. Eventually, we said goodbye and continued south through Amador County wine country to the small town of Plymouth. There we had a wonderful dinner at Taste Restaurant – yet another one of Jonathan and Susan's recommendations. This is a top-notch restaurant, certainly one of the finest in the Sierra Foothills wine county. The food was outstanding (don't miss the "mushroom cigars" if you go there), and we popped the corks on many tasty wines that evening too.
We had wisely opted for an early dinner reservation, since it was a long drive back home to the Bay Area. It was a pleasure to visit the El Dorado wine country again, and trying a new winery that's as promising as Miraflores was a nice bonus. The wines from this area continue to climb in quality, and wineries such as Miraflores, Holly's Hill, and Cedarville help lead the way. As always, thanks to everyone that we visited for being so generous with their time and their wine!