---
VISIT TO CHAMPAGNE
(Champagne photojournal)
We felt very fortunate to receive a offer courtesy of the Comite Interprofessionnel du Vin de Champagne (CIVC) and Office of Champagne, USA, to join a media tour to cover the 2007 harvest in Champagne. Over the course of eight days, we were able to visit nine Champagne houses/growers, plus tour the beautiful city of Reims.
Sunday, September 2: Now, I'm not one to go on about flying delays (okay, maybe a little), but we certainly had our share of issues on both ends of the trip. Our itinerary called for us to leave late in evening from LAX. Needless to say, the flight was delayed. Interestingly, the pilot was able to make up the hour difference, only to be delayed docking at Heathrow due to a medical issue on the plane in our stall, but I'm getting ahead of myself.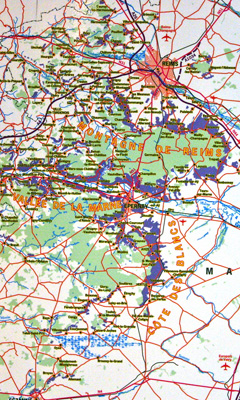 I had cleverly booked myself into an exit row. I couldn't believe my luck! l would have infinite room to stretch my legs, be able to get up at will without disturbing others, etc., because I had my own little foyer. This particular seat arrangement had a two-seater at the exit, with a three-seat row behind and a steward jump-seat attached to the bulkhead in front of me. Okay, so much for silver linings - now the downside. The passenger in the seat next to me was a very nice, but also a very large lady. Access to my tray and all of the audio/video components stored in or around my armrest meant that I'd need to "press flesh" out of the way. I winced.
Then, shortly after takeoff, a group of people arrived to stand in my little foyer. I didn't think anything of it at first, until the stewardess advised one of them to occupy the jump seat in front of me - for the balance of the flight. It turned out the group was British Air employees returning home. Sigh. Well, at least I still had all of this room to my left...where a seat might otherwise have been. But, this too was expropriated from me, as the passenger in the window seat behind decided that this space provided the perfect egress for him. Finally, the coup de grâce was complete.
Unfortunately, the late arrival caused us to miss our connection to Paris. The next flight was full, so we took the one that followed, ultimately getting into Paris about 11:30pm, rather than 6:30pm. I do have to give credit to the British Air ground people, who were very hospitable and gave us meal tickets. That said, they managed to delay one of the bags (Marks' tripod and video camera battery charger) at LAX, and it took us two days to finally get it. A driver had been sent to pick us up and take us to our hotel in Reims, about 1:15 northwest of Paris. So, we finally put our collective heads down for the night about 1:00am or so. But, the important thing was - we were in Champagne!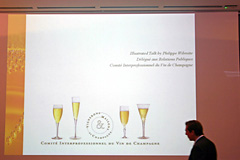 The following morning began with a trip to CIVC headquarters for the Office of Champagne - in Champagne. After a morning-long briefing on the regional history, as well as the appellation itself and our itinerary, and finally a tasting, we were off to lunch - one of many wonderful dining opportunities during the trip.

Here was our itinerary (Friday and Saturday we were on our own, and had set up our own schedule):
Monday, September 3
Presentation by Philippe Wibrotte on CIVC mission and the
Champagne Appellation
Tasting at CIVC
Lunch at Restaurant Millénaire
Champagne Ruinart with cellar master Frédéric Panaiotis
Discussion, visit and tasting followed by dinner at Ruinart
Tuesday, September 4
Champagne Jacquesson with Jean-Hervé Chiquet
Discussion, visit and tasting followed by lunch at Jacquesson
Champagne Pommery
Discussion, visit and tasting followed by dinner at Pommery
Wednesday, September 5
Champagne Duval-Leroy with Ms. Carol Duval-Leroy
Discussion, visit and tasting followed by lunch at Duval Leroy
Champagne Henriet-Bazin with Marie-Noëlle Rainon-Henriet
Dinner in Reims
Thursday, September 6
Champagne Roger Coulon with Eric Coulon
Champagne Philipponnat with Charles Philipponnat
Discussion, visit and tasting followed by dinner
Friday, September 7
Champagne Salon with Agnes
Lunch at Restaurant Le Mesnil
Visit to Abbaye de Dom Perignon, Hautvillers
Dinner in Reims
Saturday, September 8
Tour of Reims and Cathedral with Anne Vezinaud
Lunch at Café du Palais
Champagne Taittinger with cellar master Loïc Dupont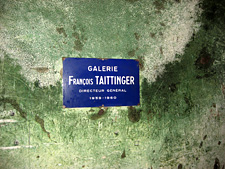 Since we were flying back Sunday morning from Paris de Gaulle, we'd arranged to stay Saturday night at one of the hotels right at the airport. So, Saturday morning we packed up our belongings, leaving them at Hotel Mercure Cathédrale in Reims while we finished our last day in the Champagne-Ardenne.
After the visit at Taittinger, we walked back to town to get our bags. On the way, the smell of fresh baked baguette filled the air. We couldn't resist, so Mark bought one and we sat on the curb, munching on baguette, arguably the most delicious meal possible after such a week. Back at the hotel, we grabbed our bags and took a cab to the TGV train station in Sezanne, just south of Reims. We were taking the fast track to Paris at 200 mph, basically taking a 1:15 trip in 30 minutes. Once aboard, it's hard to discern the speed - especially at night, with no reference points to see out the window. But, as we were standing track side, these things would just scream by us. What a rush! (We'd been hearing and seeing them while out at our visit to Coulon, and were looking forward to the ride - as much as one could look forward to leaving the region).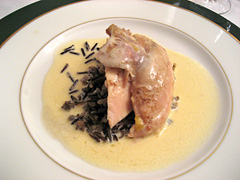 Of course, the airport had it share of pitfalls waiting for us when we arrived about 9:30pm. Elevators were shut down, toilets were closed, etc. Finally to our hotel, we immediately went to our complementary lounge to sooth our wounds, and when that closed down, we descended to the bar to continue the soothage (yes, I made that word up).
The flights back home went a little easier - it was only crying kids this time. And guess which bag didn't make it back? Yep, the aforementioned tripod and battery charger bag. I had brought this home for Mark, because he was traveling on the the Ukraine (shrug) before returning to the U.S. So, we had a little time-sink at baggage claim filing a report. The bag was conveniently delivered by ground to my home early the next morning.
Because all of our media colleagues on the trip were print journalists, our need for "face time" with the interviewee was quite different. Whereas, they could congregate around the subject while asking questions, we had to find some singular way to isolate the individual being interviewed, so as not to include extra faces. Nevertheless, it all seemed to work out reasonably well in the end.